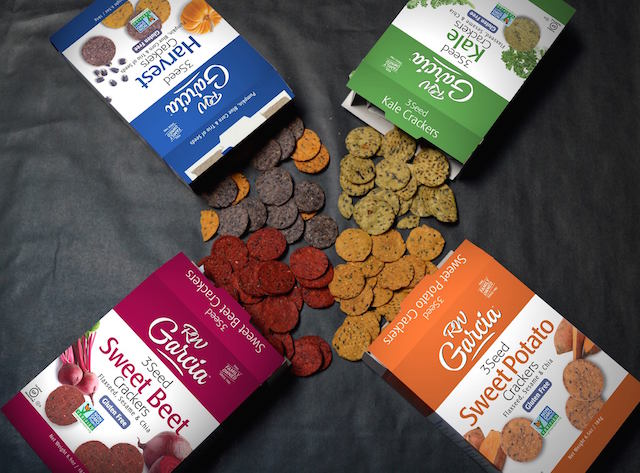 RW Garcia expands its manufacturing facilities to accommodate increased demand for its better-for-you snack products.
For 35 years, RW Garcia has held itself to the highest standards when it comes to producing better-for-you snacks. The company was making organic, non-GMO and all-natural tortilla chips before it was an industry trend because Robert Garcia, founder, president and CEO, would not make a chip he wouldn't feed to his family.
"We are a family owned company and have intentionally stayed that way. Three of my four kids are in the business, but I also have an extended family – the 200-plus people who work for RW Garcia are all family," Garcia says. "I did not build this company by myself. I was involved with it all, but without a family and team behind me, none of this would have happened."
In 1982, Garcia and his wife, Margaret, set out to make the best tortilla chip the world has ever known – a snack that was as healthy as it was irresistible, the company says. Today, RW Garcia continues to "walk the walk" when it comes to producing its snacks, overseeing the product lifecycle from ingredient sourcing through to the end packaging to ensure the highest quality.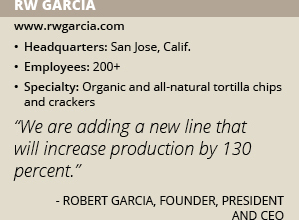 "Years and years ago, if something was a snack item it wasn't good for you. We wanted to turn that around and make something that was a snack item and good for you," Garcia says. "Fortunately, things have turned out well for us."
RW Garcia started in Garcia's home 35 years ago in Boulder Creek, Calif., and has expanded to two facilities in the United States and one in Spain. "It's been the quickest 35 years of my life," Garcia says. "It seems like we just started. This has been a career for me and it's been a fascinating and interesting ride."
Expanding Production
Today, RW Garcia is headquartered in San Jose, Calif., and has manufacturing plants in Lincolnton, N.C., and Las Vegas. The company opened the 63,000-square-foot plant in Las Vegas a few years ago to increase production. It recently added 40,000 square feet to meet increased demand.
"We are adding a new manufacturing line that will increase production by 130 percent," Garcia notes. "Las Vegas has grown very rapidly. We are very proud of this state-of-the-art facility." The company's Lincolnton facility is also about 100,000 square feet.
To better serve international customers, RW Garcia has also opened a 50,000-square-foot satellite manufacturing plant in Spain. "We started in Europe about 25 years ago when we had a plant in California. At the time, we had to ship product via container down through the Panama Canal," Garcia remembers. "Shelf-life quickly became an issue. Not long after that we opened up the plant on the East Coast to better support the UK and Europe. Now, with the opening of our plant in Spain, we are alleviating the issues of transportation, shipping and import duties."
Product Creation
RW Garcia continues to expand its distribution network as it develops new and creative better-for-you products, which Garcia says the company does on a regular basis. "A few years ago we got into the cracker business and now we produce crackers throughout the country," he adds. "That's just gone off the charts as far as growth is concerned."
RW Garcia produces sweet potato, kale and sweet beet crackers that are unique in that the color of the cracker comes from the vegetable. "Our challenge was, how do we make something that looks good, tastes good and is better for you?" Garcia says. "All the colors are natural and come from the vegetable. It's a different take on making crackers."
"Our company is always in innovation mode and we encourage all team members to share in the creative process," Garcia says. "The team is challenged to keep an open mind and think outside the box with what we're manufacturing and how we're doing it. Once you establish that creative thinking, ideas start flowing from everyone, even our buyers and suppliers come up with new product ideas and ingredient innovations."
Key Partners
All the ideas and new products in the world won't mean anything without maintaining relationships with its buyers and suppliers. "We can manufacture the product and design the packaging, but if it doesn't get on the shelf, if our customers – buyers – are not partners with us, we run into problems," Garcia admits. "We are wide open to our customers' suggestions and concepts of what they feel would be helpful in the categories they buy.
"When you have been dealing in the industry for 35 years, you become connected to people who are buying your products," Garcia adds. "They are friends. Our families grow together; our kids get to know their kids and the RW Garcia business family grows larger."
In terms of its suppliers, RW Garcia has a high standard for acceptance of raw materials. The company checks and double checks materials through third-party auditors, so working closely with suppliers is vital.
"Some of our ingredients are difficult to source, so we have to plan all of that out well in advance," Garcia says. "We can only do that if we have strong partners in our supply chain. We know who in the industry will provide us with products that are first rate and of the highest quality."
Organic sweet potatoes, for example, are a finite commodity that RW Garcia currently sources. "We work closely with suppliers to ensure the latest organic, non-GMO and gluten-free certifications are in place and that the suppliers meet our stringent requirements," Garcia explains.
Moving forward, RW Garcia plans to maintain controlled growth. "Our growth is controlled – we stay present in the product lifecycle from raw materials to production to finished goods," Garcia says. "We can't sell more than we manufacture and we are increasing our manufacturing capacities by a substantial amount to keep a balanced growth. I see us in the not too distant future having to do more expansion in brick-and-mortar manufacturing facilities in the United States to meet the demands of our customers and the end consumer who love our products."