Juice on the loose
As the leading producer of fruit juices in the Nordic region, Rynkeby Foods A/S believes in innovation and investing for the future
Established over 70 years ago, Rynkeby Foods A/S has grown – through acquisitions and mergers, as well as organically – to become the leading Danish manufacturer of fruit juices and other fruitbased foods, including jams, wine products, iced tea and stewed fruit. However, its ambitions extend beyond its own national borders. In July 2002, it entered into a partnership with Swedish company Jo Bolaget to combine development, purchasing and marketing activities for the juice business. Arla Foods, Rynkeby's parent company, already owned 50 per cent of Jo Bolaget; the combined entity is responsible for 60 per cent of juice production in the Nordic region. In 2005, Rynkeby's gross sales revenues topped DKK618 million (86 million euros) and a lot of that revenue is being reinvested in the company. New products are the most visible manifestation and the company has been busy with focus groups, suppliers and customers developing the next generation of fruit drinks to retain its existing market and tempt new buyers.
"We've introduced a new 100 per cent NFC juice called 'Rigtig Juice', which is 'Real Juice' in English, and Frisk – which means 'Fresh'. Rigtig Juice, in particular, has shown exceptional performance," said Jørgen Dirksen, managing director of Rynkeby Foods A/S. "Their introduction came about as a result of research that showed a need for more premium products in the market, with a particular interest in mixed products, not just pure orange juice. The combination means there's more room for new ranges." Initially, Rigtig Juice was launched in a onelitre, gable top carton. It has been followed with a 33ml convenience pack and two smoothies variants. It ties in with the company's strategy to increase its channels and consumer classes.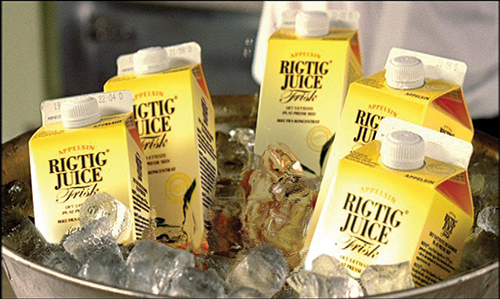 "The general strategy for attracting new customers is bringing convenience stores into our sales outlets," he said. "Our mature position is in the traditional main retailer and supermarket route, the normal family end. The new customers we're getting, the younger buyers and teenagers – are concentrated in the convenience segments. We're coming to the younger market with new concepts, to attract them as buyers." The 33ml carton is one example. The other area that is seeing rapid growth is the 'healthier' end of the market.
"We have introduced a range of Light products, in both the juice and squash markets," said Jørgen. Pure juice is healthy in its own right but consumer palates like sweetness. The Light range still has good taste but it can boast less sugar. "We're highlighting our health aspects more in our advertising and promotions. We launched our Light range this year, in both juices and squashes, where we're the market leader."
While premium and quality products can have a positive effect on the bottom line, upstream costs remain an issue – and concentrate prices are on an upward trend.
"We try to solve the problem of increased concentrate costs with price increases but, above a certain level, they inhibit growth," he said. "Joining the private label segment has helped to increase our cost-effectiveness, although the competition is high. We've also invested in our production facilities, to make them more productive." The Swedish partnership helped grow the market platform and provide a larger scale for development and production.
"We have decided that production in Denmark would be based on a sales level of around 100 million litres a year, and in Sweden on 70 million litres annually," said
Jørgen. That amount of production offers opportunities for leveraging benefits of scale and Rynkeby Foods is in the process of doing exactly that. "As a company, we have decided to consolidate production at one site, in Ringe, Denmark." It is expected that doing so will deliver three distinct streams of benefit.
"When we are involved in innovation, investing in packaging equipment and so on, we can be more focused and create more synergies in one factory, rather than two," he said. "It makes us more costeffective in comparison with our competitors, which helps to secure the future development of the company. We very much need to invest in the future: it seems better to do that at one facility." The new plant represents an nvestment of approximately eight million euros – and that's just in the buildings, hardware and processes. A cornerstone of Rynkeby's success is quality, which is delivered by suppliers and its own staff.
"We ensure, together with our raw material suppliers, that we have the technology and common objectives right – and that's all about quality," Jørgen explained. "Within the company, we communicate our processes and values very effectively. We have several channels to discuss and disseminate our objectives, strategy and values. They include induction training for all new employees, at all levels; we have whole-company 'value days', which include workshops covering the same subjects across the organisation. Training is an ongoing process, to ensure knowledge and understanding of our strategy, targets and mission. We go out of our way to make certain our common values are understood and they, combined with the knowledge of our staff and our high values, go to delivering quality. Our people are proud of our product: they understand what works and they take control of it." The strength of the knowledge base is measured through individual employee assessments and performance monitoring, which leads to annual employee of the year awards.
Innovation is based on R&D. Rynkeby undertakes research, including customer focus groups, to understand market needs. "We continually undertake research on taste and the development of different trends. We make some direct panel tests of new tastes and work with our suppliers to ensure we're satisfying them," said Jørgen. "Our growth is coming from chilled and premium products. Elsewhere, price is very sensitive and discounting is important, depending on the market segment." With market shares of 50 per cent in Denmark and 60 per cent in Sweden, growth in the main range is going to be difficult to achieve – but the recently-launched products, in the chilled and premium sectors, are growing at around 20 per cent. Rynkeby Foods has been satisfying the demand for fruit juices and foodstuffs since 1935 and has gained a reputation for using fresh, high-quality produce. Quality testing at every stage ensures high standards throughout the production process, from the moment fruits and berries are picked until the filled cartons and bottles leave the assembly line. Around 200 people are engaged in supplying the retail, convenience and foodservice sales channels and it has every intention of continuing as the dominant player in its markets. Its objective is to retain and strengthen its market share, whether it is facing competition from domestic or international companies, of whatever size. With Jo Bolaget, it is the dominant Nordic-based supplier of fruit juices in Scandinavia and has 35 per cent of the total market. It aims to get that up to 50 per cent within the coming years – which isn't the easiest of targets to achieve, even from – or especially from – a dominant position. But the strategy is based on firm foundations.
"Realistically, our future growth depends on innovation: we have to continue to add value to our products," Jørgen said. "With a strong position in the chilled market, we have the strength to delver premium products. We believe we have better channel understanding and distribution than our competitors. We are flexible and we use our local understanding of our customers to deliver."