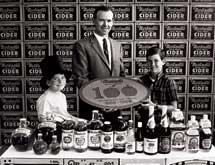 After 145 years in business, a company is bound to go through some ups and downs, but how it navigates through those transitions is what leads to ongoing success. S. Martinelli & Co. has had its share of highs and lows throughout its 145-year history, but the company's flexibility in dealing with challenges has kept it strong since its inception in 1868. In fact, in recent years, Martinelli's dealt with a major fire to one of its facilities and faced offshore competition, but its dedication to producing the highest-quality apple juices and a range of other premium products enabled it to remain a market leader.
"Our Martinelli's gold-medal apple juice and sparkling cider are made from U.S.-grown fresh apples – not from concentrate," stresses S. John Martinelli, president. "This is the cornerstone of our business and something we are very proud of."
Based in Watsonville, Calif., in the fertile Pajaro Valley, Martinelli's offers premium, 100 percent apple juices and ciders, as well as sparkling juices, organic juices, lemonades and citrus drinks, and mulling spices. This coastal region near Monterey Bay produces a range of flavorful apple varieties, which the company uses to maintain the high quality in its products. It partners with local growers who supply tree-ripened, hand-picked apples that it blends to create its premium juices.
Stephen G. Martinelli settled in the Pajaro Valley in the late 1850s and noticed the exceptional quality of the area's apples, so he founded S. Martinelli & Co. in 1868. He started producing fermented Champagne Cider and in 1890, the product won the first-prize gold medal at the California State Fair.
In 1916, Stephen G. Martinelli Jr. developed a process for making unfermented apple juice while he was a student at the University of California. The family's tradition of quality processes continues on today.
Focused on Flavor
Just as Martinelli's serves a global market, it also faces overseas pressures from time to time, and China caused some major market changes over the last 15 years. Martinelli explains China planted apples to feed its people, but for more than a decade, the country grew considerably more apples than the people could consume, which resulted in an oversupply of cheap Chinese concentrate in the global market.
"This lowered the value of apple juice by about 50 percent, but at the same time, the category grew because apple juice became more affordable to more people," Martinelli says. "It was hard on the local growers because the price was so low, but we paid more than market value to keep our growers in business."
Since the recession in 2008, the world demand for fresh apples has grown considerably, he notes, and many more Chinese consumers can now purchase fresh apples, so there is no longer an oversupply. As a result, Martinelli's competitors have to pay a higher price for concentrate, and the price gap between Martinelli's juice and competitors' products has narrowed.
"In 2012, the apple juice market decreased by 10 percent due to higher concentrate prices, but Martinelli's market share increased by 5 percent during this same time," he says. "We were the only brand to increase market share, however there are still not enough apples to go around."
Therefore, for the first time in 145 years, Martinelli's is considering purchasing a farm and growing its own apples. Martinelli explains his great-grandfather's brother was an apple farmer, but that was the last time anyone in the family grew apples. With its own farm, Martinelli's can plant the varieties that make its juice taste better than other brands, he notes.
"The Newtown Pippin is our signature apple," he says. "It is an unattractive, yellow-green misshapen apple, but it has better flavor characteristics for premium apple juice than the varieties you'll find in a grocery store. We want to plant heirloom varieties that aren't popular on the fresh market due to their appearance, but make a better-tasting juice."
With the apple supply being somewhat limited at this time, Martinelli's is diversifying its product line and developing alternatives to its premium apple juices. "We introduced a variety of lemonades containing 11 percent juice in our 10-ounce apple-shaped plastic bottle and 25.4-ounce sparkling glass bottle including prickly passion, mango, watermelon and blood orange. These items have grown very rapidly and provided display opportunities in our traditionally slow summer sales months.
Martinelli's also plans to enter the refrigerated juice market with a pomegranate-blueberry juice, which is made with all U.S.-grown fruit. The second-largest grower of pomegranates in California partnered with Martinelli's to produce this new juice.
"Pomegranates are known for being a very healthy fruit with very high antioxidant levels," Martinelli says. "We used our expertise in blending apple varieties to blend the pomegranate and blueberry juice with Concord and white grape and pear juice to reduce the extreme acidity of the pomegranate juice. We are experts in blending juices to achieve a flavor profile that's truly delicious. You don't have to feel like you're drinking medicine when drinking pomegranate juice if it is blended properly. Our juice is both nutritious and delicious."
Staying Local
To support its ongoing delivery of premium juices, Martinelli's maintains a robust operation, but it ran into some trouble two years ago when a grower-owned cold storage facility across the street from its facility burned down. Martinelli explains that for more than 150 years, the Pajaro Valley had a heritage of immigrant apple growers – primarily from Yugoslavia – who supplied the fresh market with apples. At one time the local area was the largest apple market in the West, but eventually Washington state surpassed the Pajaro Valley because the local growers couldn't supply all of the apple varieties the market demanded all year long.
"In 1928, the Apple Growers Ice and Cold Storage was built by about a dozen Croatian apple farmers to preserve their fruit and sell to the fresh market months after harvest," Martinelli says. "Over time, we became their one and only customer, and their cold storage was dedicated to our fresh apple supply. It helped us to extend our processing season and yielded much fresher bottled juice."
The building stood strong for many years, but when the corkboard-and-redwood-sawdust insulation caught fire during a roof repair, the entire structure was destroyed. Martinelli's lost a considerable amount of fresh apples, finished goods inventory and 60,000 square feet of space.
"Fortunately, we had a very good insurance company and were completely compensated for our loss of product", Martinelli says, "and another local facility was available." Birdseye Frozen Foods had vacated its processing building five years before when it moved much of its production to Mexico, and this 210,000-square-foot structure had become an eyesore in a prominent location in Watsonville. Martinelli's quickly acquired this facility and now has even more space to grow.
"We were totally built-out before, but we are rebuilding this Birdseye facility and now we can expand our business in our hometown of Watsonville," Martinelli says. "We have three facilities in Watsonville, including our 1885 plant located right in the middle of town, the Green Giant plant we acquired in 1994, and now this. The city is thrilled that we're here to stay as we are the oldest and one of the largest employers in town."