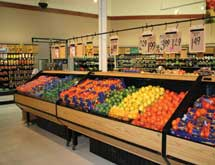 With roots deep in the "Land of 10,000 Lakes," S & R Quisberg is a family owned independent supermarket company based in Baxter, Minn., that believes in making meal planning and the shopping experience as convenient as possible for its customers.
Quisberg's Cub Foods locations in Baxter and nearby Brainerd, Minn., are about five miles apart. Its newest store is the upscale, up-north, woodsy Pequot Lakes SUPERVALU, which is a store of a different color for the Quisbergs.
"Pequot Lakes, which opened in May, is smaller than the Cub Foods warehouse-supermarket model, and the emphasis is on fresh," says President Chris Quisberg, a third-generation, Quisberg family grocer. "The store is quite unique to this area."
According to Quisberg, the town of Pequot Lakes has needed a new operation for many years. SUPERVALU had the land and needed an operator to build out the location. To cater to the shoppers in this community, S & R Quisberg designed a new space with a large sit-down eating area near the deli. The color scheme is rich and warm, according to Quisberg, and SUPERVALU counseled the company on the rest of the details. "Since they have 22,000 stores, we were happy to have their ideas and expertise," he adds. "Once word got out that a new store was going in, it's been non-stop thanks from the citizens."
Family History
When father-son partners Sherm and Steve Quisberg sold their seven Minneapolis food stores in 1985, they purchased a store in Duluth, Minn., and one in Brainerd. "Grandpa" Sherm took over the Duluth location, and Steve ran the Brainerd store. "My dad recognized the potential for the community to grow, and it has," Quisberg explains. Chris joined the business at the ripe old age of 12, when he "put up bananas and more bananas" that first summer on the job.
Sherm is now retired, and Steve serves as chairman of the board. In addition to Chris, two other sons are also in the business – David manages human resources; and Peter is the property manager.
Seven of Quisberg's department heads are still with them from their days in Minneapolis. Jeff Marchand, the general manager, is a 37-year veteran. "My grandpa hired him as a bag boy in 1973," Quisberg says.
Something for Everyone
About four o'clock every afternoon, when the high school and college kids come on, the employee demographic in the stores totally changes, according to Quisberg. Similarly, the customer profile and product selection from store to store is quite a contrast, too.
Sales remain fairly constant throughout the year at the Brainerd location. The Baxter store, located in a lake community, sells more fresh meat and produce and almost doubles its revenue in the summer.
Area shoppers have several choices. There is a nearby Walmart as well as one of 40 Super One Foods location that provide strong competition. The size of these companies gives them a pricing advantage, but Quisberg says they can't compete on service.
"We can provide that personal touch easier than they can," Quisberg adds. "Their top people aren't in the stores every day like we are."
The Cub stores also have pharmacies run by SUPERVALU, as well as Bremer bank branches. For added convenience, Pequot Lakes has six gas pumps on site.
"SUPERVALU has been great to work with," Quisberg comments. "The mechanized warehouse approach separates the pallets we receive by aisle. We can stock the shelves in about half the time. Another great tool is SVHarbor, a supply-chain portal, provided by SUPERVALU that is absolutely essential to our business."
Making Things Happen
With customer counts up but sales per customer down each week, Quisberg sees that today's customers cherry-pick items, shop the sale ads and limit non-essentials. The economy plays a part, with unemployment in Crow Wing County – where the stores are located – at 19 percent, according to Quisberg.
"Customers are eating at home more, but as the economy here is slow to recover, higher sales are tough to come by," he says. "Vacationers aren't as concerned about what they spend, so we hope to see it loosen up a little bit."