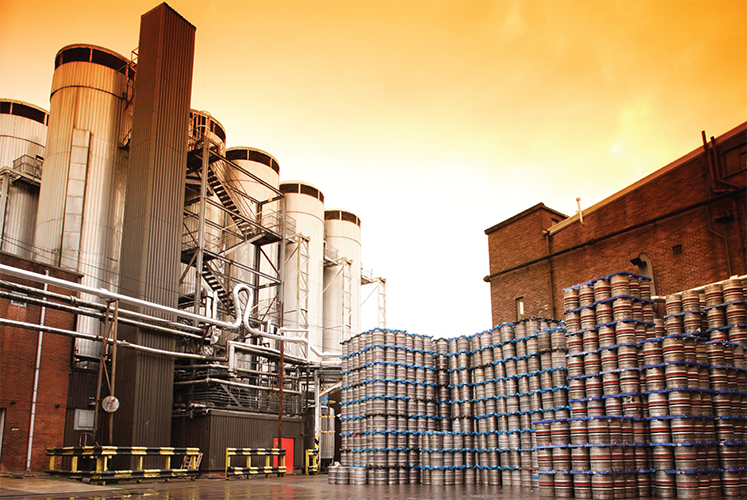 A brewing heritage
SA Brain & Co Ltd, Wales' leading brewer, is this year celebrating 125 years of successful business
This year SA Brain & Co Ltd celebrates its 125th anniversary. The company, which is Wales' leading drinks and hospitality business, brews an exciting range of ales and beers, and has more than 250 pubs across South Wales, the West Country and central Cardiff. In over a century of operations the Brains brand has become a household name in its home country, reflecting both the ambition and heritage of the business, and the progressive spirit and optimism of modern Wales.
Philip Lay, retail director, explains the importance of the celebrations: "As an independent family brewer we have been in existence for 125 years, and it is a milestone that we are very proud of. Our heritage is very important to us and we will be celebrating quietly within the business, but most importantly, we are very proud of the fact that we are in extremely good shape to carry on in the same vein for the next 125 years."
Philip elaborates on the company's current operations: "We are based in Cardiff, where we have been since the company was established, and we service our own tied estate and free trade customers right across Wales, although in recent years we have expanded further into England also. We have around 3000 customers that we service in terms of free trade supply and tech services support, and 150 tenancies and 112 managed houses.
"We have an extensive range of ales, brewed in our Cardiff Brewery," he continues. "These include 45 – an exciting new continental style beer, SA, which is one of the beers that we are famous for, a lighter version, SA Gold and a range of other cask and smooth ales, such as Brains Bitter and Brains Dark."
One of the key reasons for the success of SA Brains is its continued focus on expansion, investment and development: "Like every successful company we are always looking to expand by acquiring new opportunities, whether that be individual pubs or groups of pubs, and by looking at other innovative ways to get our products to the market," Philip explains. "For example, we are sponsors of the Welsh National Rugby Union team, which has proved to be an extremely good way of publicising the Brains brand name."
He elaborates on the company's expansion programme: "At Brains we have an ongoing investment drive, and for the last five years we have been investing in our tied estate, both in terms of acquisitions of new properties and refurbishing existing pubs. We continuously invest in our estate, which means that we have moved the business quite significantly over the last few years from being very much beer and mainstream dominated to a much broader offer. For example, we have been developing bedroom facilities in our managed and tenanted estates – around 30 rooms at present – and have been focusing on developing our food offers across the business.
"One such investment is a pub that we recently acquired and developed called 'Grape and Olive'," says Philip. "It was previously a Whitbread Brewers Fayre pub that we acquired two years ago, and have since refurbished, spending around £800,000 and turning it into more of a casual dining experience. Grape & Olive is a relaxed, contemporary environment with a great menu offering local ingredients, prepared with more than a hint of Italian flair. The Mediterranean comes to Wales!"
To maintain the high quality of food offered at its establishments, Brains works closely with a number of important local suppliers: "For all of our menus we have been very keen on driving provenance within our food and we work very closely with suppliers to source local products wherever we can. We have a major supplier who has worked with us to successfully enter a number of smaller companies into the distribution network, enabling us to bring really good, fresh local produce to the plates."
Philip explains that recent market changes, together with the Government's UK smoking ban have affected business: "The market at the moment is as challenging as I have known. The Government's recent smoking ban, which came into effect in Wales in April 2007, has set a new range of problems for the more traditional pub element of our business. Furthermore, the poor weather during the summer meant that business suffered, and as we enter the winter months the full effect of no smoking will be seen."
Despite this, Philip is confident that the company can continue to be successful: "I think that the business will have to redefine itself a little to cope with the changes. We will continue to do what we are good at, acquiring other sites and adding value to them by using our skills and our focus, particularly in developing our food and accommodation offerings. This, combined with hard work, will ensure that we remain successful for the coming years," he concludes.