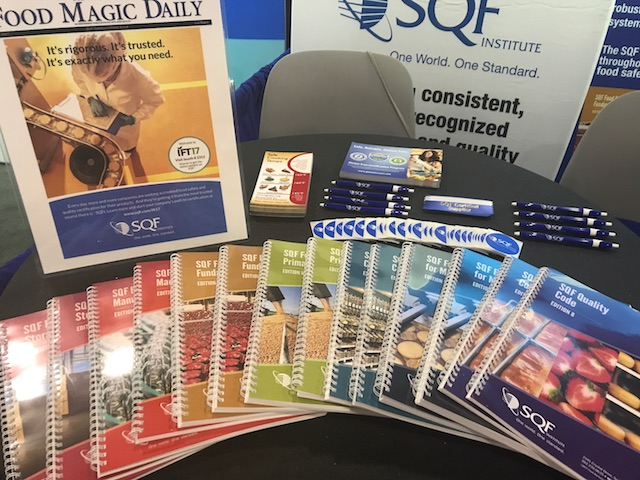 Safe Quality Food Institute
Safe Quality Food Institute holds the food industry to the highest standard with its food safety and quality management certification system.
The Safe Quality Food Institute (SQFI) believes that creating a safer food supply can be accomplished only by demanding excellence at every step along the food chain. "We live in a world that no matter how good you are or how much you work at it, food companies are always exposed to the potential of recalls and problems associated with products they manufacture," Senior Vice President Robert Garfield says. "Leadership needs to do everything they can to protect their brands, and the SQF program can help do that for you."
SQFI is a division of the Food Marketing Institute (FMI), which advocates on behalf of the retail food industry. FMI represents about $875 billion worth of sales worldwide. In 2003, FMI purchased SQFI from the Australian government, which realized it was in business to conduct inspections and enforce regulations rather than develop food safety management programs. "The FMI board wanted to do everything they could to ensure safety of products coming into establishments and thought it was a good fit," Garfield says.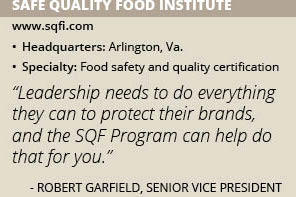 Today, retailers and foodservice providers around the world recognize the SQF Program as a rigorous and credible food safety management system. It is the only certification system recognized by the Global Food Safety Initiative (GFSI) that offers certificates for primary production, food manufacturing and distribution. "We have more than 10,000 facilities that utilize our program," Garfield notes.
Why Choose SQF?
In 2007, a large nationwide retailer sent out a letter requesting its suppliers become certified to a GFSI benchmarked program, which set the stage for retailers everywhere following in its footsteps. "That's not why companies should consider SQF," Garfield explains. "It's about brand protection; not just about having a certificate to show their buyer. It's about doing everything you can to limit the possibility of a recall or having something go wrong."
The SQF Program allows independent eyes or auditors to look at a company's program and improve its food safety and food quality management. SQF certification enables suppliers to assure their customers that food has been produced, processed, prepared and handled according to the highest possible standards at all levels of the supply chain.
"When we do individual workshops called "Information Days," which are day-long seminars we hold to teach new customers about SQF, we tell them that if they are just simply here to satisfy their buyers requirement for certification, they are here for the wrong reason," Garfield says. "It's about doing everything you can to protect your brand, your buyer and your bottom line."
SQFI sees a mixed group of mindsets when it comes to buy-in from the C-suite or ownership. "We like to think everyone out there, from company leadership to machine operators are just as interested in food safety and quality management, but that's not always the case," Garfield adds. "We insist that everyone in the organization needs to be committed to food safety."
Audit Adjustments
On an annual basis, auditors have the opportunity to assess a facility's management team for their commitment to food safety and one of the ways to do that, SQFI believes, is to make audits less predictable. "Facilities should not be in the habit of preparing right before the scheduled audit and, possibly, letting things slide the rest of the year," Garfield says.
"Our program currently mandates one of three audits to be unannounced," Garfield explains. "Making them unannounced does something that we are very interested in because it makes the program less predictable. An auditor can show up at any time within a 60-day window. That doesn't allow the facility to work its tail off for the two weeks prior to the audit because in the next 60 days, auditors can show up any time. What we have found during the past two years is that unannounced audits enhance management commitment."
In January, SQFI will offer suppliers the opportunity to become an "SQF Select Site," which means they voluntarily participate in unannounced audits every time. "This lets buyers know they are ready to be audited at any time," Garfield says. "We are also going to introduce several areas where we feel we can take the predictability out of the audit, so instead of an auditor coming in and auditing the facility the same way, we'd like to see the auditors routine changed up to enhance the food safety program at the facility."
Although the adjustments to the program may feel like SQFI is trying to "catch" members, Garfield says the goal is to show facilities where they can continue to improve their food safety and quality management program. "Where are the areas that you can improve in your operation?" Garfield asks. "That's critical to us and important to our clients. It's about finding continuous ways to ensure that audits aren't about obtaining a certificate to hang on the wall, but finding ways to improve their food safety management program."
Continuous Improvement
SQFI prides itself on talking to boards and leadership teams to ensure continuous improvement is always front-of-mind at the facilities. "At the Summer Fancy Food Show, I talked about CEOs sleeping better at night by making sure food safety is on the mind of not just them, but everyone at the facility, truly fostering and cultivating a dynamic food safety culture," Garfield says. "Getting the entire organization involved shows that the responsibility of good food safety and quality practices is everyone's job."
Years ago, Garfield remembers the owner of a frozen blueberry company asking him about the SQF Program. He was worried about how much money he would have to spend to implement the program and be ready for an audit. "I discussed with him the value of his brand and making the investment to protect it," Garfield remembers. "I saw him at a meeting about two years later and he told me he took my advice and implemented the SQF program. He said it took about 12 months and a lot of effort by his employees to prepare their plants to be ready for an audit, but he sleeps better at night knowing he's protecting the brand."
A solid food safety management program is a cost savings to companies because the cost of recalls is enormous, Garfield notes. "The identity of a brand is hurt so badly by a major recall that no one wants that to happen," he adds. "That's incentive enough for people to say, 'I have to do everything I can.'"
Food Safety Culture
Developing a food safety culture is a company's biggest challenge and Garfield says it has to start with management. "I ran plants for 10 years including a large dairy operation that produced half-a-million gallons of milk per week," he says. "I was looking at ways I could challenge the employees at the plant to improve sanitation and food safety because I wasn't happy with the way it was going.
"One night I decided to change up my routine and I walked into the plant at midnight instead of my normal daytime check up. I caught my team off guard and my actions sent a clear message to everyone at the facility," he continues. "My expectation was that we would be food safety audit ready all the time and that I would come back at any time. I saw a marked improvement in the food safety management processes, which is the culture I wanted to promote in the facility."
CEOs can also show a deeper commitment to food safety management by training their employees. "Auditors usually ask employees 'soft questions' to determine commitment such as, 'What kind of training have you had this year,'" Garfield says. "It's an indicator that the company is keeping their employees appraised of the latest in food safety."
Auditors may also inquire whether the facility has had problems with equipment, how long it took to get fixed and what was done to fix it. "That indicates how the facility is operating, the management style and if everyone is working together on food safety management," Garfield explains. "Auditors may even go to the maintenance department because they are often open about company maintenance practices."
Future Compliance
Garfield circulated the exhibit floor of the Summer Fancy Food Show to explain to small manufacturers and new brands the importance of SQF certification. "I thought I'd get through most of the floor in the first day, but I only got through an aisle-and-a-half because everyone we talked to was interested and engaged to learn about food safety and quality solutions," he says. "It's the smaller, medium and privately owned companies that really are getting the message."
The rules and regulations of the Food Safety Modernization Act (FSMA) are on everyone's mind and SQFI's FSMA Resource page explains the legal and regulatory complexities of the act. Small companies with less than 500 employees needed to be compliant with FSMA in September. Very small manufacturers need to comply by September 2018. "But they need to start now," Garfield says. "A food safety and quality management program is not something that's done overnight."
For further education on how to manage and sustain the SQF Program and regulatory compiances of FSMA, the 12th annual SQF International Conference will be held from Nov. 7-9 in Dallas. "It is a fabulous conference," Marketing Director Sarah Malenich says. "Not only because of the content and networking experiences, but also because of the practical and non-technical presentations that are available."
With more than 800 attendees and growing every year, the SQF International Conference offers a mix of food safety seminars as well as some unique and interesting industry topics. "We also have a lot of free resources available to all stakeholders on our website and our code is 100 percent free to download," Malenich adds. "We have a lot of training available in-person and online that people can utilize to familiarize and understand our program better. This year, we have attended 18 different meetings and trade shows because we're trying to educate the industry that good food safety programs aren't just nice to have, but it's a must have in today's world."