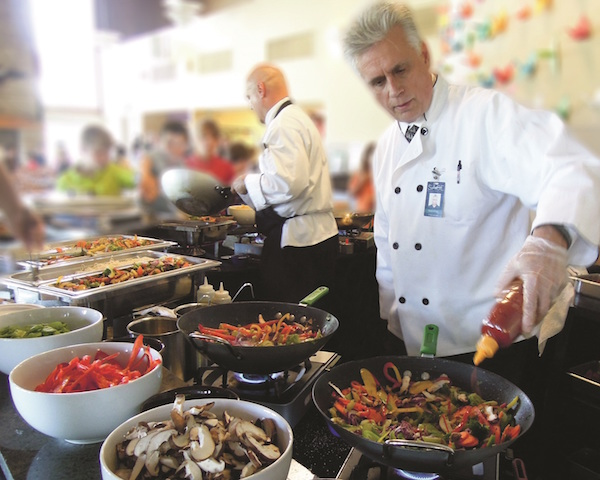 SAGE Dining Services serves 'restaurant-quality food' made from scratch in independent schools and colleges.
SAGE Dining Services sets a standard when it comes to student dining services, Chief Operating Officer Marcel Gallo says. "We serve restaurant-quality food in a school environment," he declares.
Lutherville, Md.-based SAGE Dining provides its services to independent schools and colleges. President Paco Rodriguez co-founded the company with his wife, Chief Financial Officer and General Counsel Tina Rodriguez, and partner Ken Pensolfini in 1990. "[Ken] was the food geek, and Paco and Tina were the financial wizards," Gallo says.
The three initially operated the business out of a spare bedroom in the Rodriguez house. When their fourth child was born, they moved the office to the basement of the house. But in its first year, SAGE Dining won four accounts and has since gone on to serve more than 250 venues in 36 states, as well as British Columbia.
"We serve about 150,000 students with at least one meal a day," Gallo says, noting that each of the company's venues has its own distinct needs. "Every menu is written specifically for and at each location, whether it's a private school or college. We try to figure out what they like, and we write the menu according [to their preferences]."
Fresh Ingredients
Gallo joined SAGE Dining 12 years ago and redirected the way it prepares its meals. "Part of the task given to me was to really give us an upgrade," he recalls, noting that the company improved its "from-scratch" method and batch cooking.
SAGE Dining sources many of its ingredients from local vendors, including farmers. For example, "We have schools where there's a dairy down the road [that we use]," Gallo says.
Sometimes the schools themselves can be a source of fresh ingredients. "Seventy percent of our venues have gardens where we try to get something we can feature on the menu," he says, noting that these offerings take many forms.
Allergen Safety
SAGE Dining works hard to accommodate students with food allergies. "Eating is a life skill," Gallo says, adding that the company makes its menus available for parents to see online, with an interactive allergen filter that tells students what items they can safely eat.
"Everything you can't eat on the menu gets watermarked," he says. "Everything you can stays in bold."
SAGE Dining also recently introduced a mobile app that allows users to view the menu, ingredient lists and set up a custom allergen profile. "It can tell you what you can have," Gallo says. "You also can set up your favorites and it can tell you when your favorites pop up again."
The app also allows students to provide feedback that goes directly to SAGE Dining. "If there's a recipe we're seeing a lot of [comments] on, we can share it with other schools," Gallo says.
Guiding the Way
The company's Spotlight Program provides guidance on healthy eating through color-coded dots that rate items based on nutrient density. For example, red is assigned to deep-fried foods you should eat in moderation, while yellow is assigned to slightly more nutritious items.
"Green is for things like steamed vegetables; items you can eat a variety of," Gallo says. Research has shown that the colored dot approach is an effective learning method, he adds.
Gallo is proud of SAGE Dining's Performance Spotlight Program, which utilizes the guidelines created by the United States Olympic Committee for athletic performance. If a student athlete is looking to learn about what foods to eat and proper portions, it guides them, Gallo says.
"Our dieticians lay it out based on the range of the activity," he says, noting that it also utilizes guidelines from the NCAA.
In Demand
Now is a good time for SAGE Dining to be in business, Gallo says. "This year, more so than ever, the largest schools are calling us," he says, noting that they want the company's level of quality and expertise on allergens. "Eight percent of the kids today have some sort of food allergy."
SAGE Dining also stays in demand by following trends. "We see these things out there and figure out how we're going to integrate it in the schools," he says, noting that the company is looking at ways to put ramen noodles in its programs as well as bao buns and dumplings.
The company also has embraced vegetarian concepts and started a food truck-inspired concept. But unlike others, it does not just serve hamburgers and fries. "It's the healthy, mashup food truck version," he says. (Can you give an example of what it serves?) "Think Vietnamese banh mi sandwiches, tacos with Asian fillings, Indian kati rolls, hand-cut french fries and grilled jumbo pretzels."