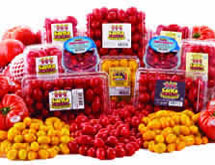 When it comes to tomatoes, Santa Sweets Inc. of Plant City, Fla., grows only the best of the best, COO J.M. Procacci maintains.
Started about 15 years ago in its present form, "We went into the business of growing tomatoes for taste," he says. Whether they're the company's famous grape tomatoes, its signature heirloom, The UglyRipe™, or its line of organic tomatoes, all of Santa Sweets' pro­ducts are "indisputably delicious," he asserts, because the company takes great pride in growing, harvesting, packing and delivering the world's finest tomatoes.
For every growing season in its early years, Santa Sweets multiplied its crop. It started with 50 acres, then expanded to 100 acres, then it grew to 400 acres, and now has 4,000 acres. The firm grows in New Jersey, southeastern North Carolina, in nor­t­hern and central Florida, and in Guaymas, Sonora, Mexico. "We follow the sun," Pro­cacci explains. The tomatoes are distributed throughout the United States, Canada and Mexico. Approx­i­mately half of its customers are restaurants and half are retailers, he says.
In Good Taste
Santa Sweets produces roughly 1.75 million pounds of tomatoes each week. "Our tomatoes dis­tinguish themselves from that of our com­petition because of their consistency and shelf life," Procacci states, explaining this is achieved through the company's growing and operational protocols. "Once the tomato is harvested, we don't deviate from the proper tomato temperature chain. We don't let the product get too warm or too cold. This gives it added shelf life. Another factor is the nighttime growing temperatures. We try not to pick any areas that get too hot at night or too cold.
"But the key element to our flavor is variety," Procacci continues. "It's the overwhelming factor in how good a tomato tastes. We have won every taste test that we've come across, and we always win for consistency of flavor. We buy all of our round- and heirloom-type tomato seeds from BHN Research, the best R&D development facility when it comes to tomatoes, in our opinion."
One of a Kind
Santa Sweets is well known for its F1 (first generation) variety grape tomatoes, which were not hybridized with any cherry, Roma or other known tomato types to create its unique shape or flavor. "It's still an indeterminate plant; it's about as close to a wild tomato as you can get," Procacci says. "It is the best grape tomato variety," he adds. "It is much more difficult to grow than other varieties out there, but we stay true to our corporate mission to provide the highest-flavor tomatoes that we can produce."
Its UglyRipe tomatoes are hand-pick­ed and hand-packaged individually in protective foam sleeves to protect their del­icate, wrinkled skin. They have a meaty, beefsteak flesh and hearty tomato flavor. The company's organic tomatoes have the same flavor as its conventional products but are certified through Quality Assurance Inter­na­tional, a third-party auditor that verifies its grow­ing con­ditions and production methods adhere to USDA organic standards.
"We are one of the largest prod­ucers of organic tomatoes in North America," Procacci stresses. "We use environmentally friendly pesticides and fertilizer app­li­cations." Santa Sweets also recently began mar­­keting its SweetRipes product, a rinse-and-reseal packaged tomato pro­duct for on-the-go snackers.
Although the pro­d­uct is ideal for anyone, Procacci says the company plans to reach out to a younger audience and pro­mote healthier eating habits among children and teens. "We have characters on our label, Tom, Matt and Otto – which spell out Tom-a-to – who are little round grape tomatoes with arms and legs, and yellow baseball hats," Procacci describes.
Social Responsibility
In the past couple of years, Kevin Delaney, director of corporate sustaina­b­ility and productivity for Santa Sweets, has helped the company establish a three-fold corporate social res­pon­si­bility (CSR) program. At the fore­front of this initiative is a recently completed two-megawatt solar field at its packing house in Cedarville, N.J.
The company's sys­tem stretches across 10 acres and consists of more than 11,000 solar photovoltaic panels.;Based on typical utility pollution and the expected energy produced, Delaney estimates the system will prevent more than 86,000 tons of car­bon dioxide emissions, as well as more than 380 tons of sulfur dioxide and more than 120 tons of nitrogen oxide.
"It's important to note that we are strongly committed to seeing that farmers do not succumb to the temptation of turning their farms into solar fields," Procacci remarks. "We don't want to produce any energy that we do not use ourselves because this program is about sustainability, not about getting on the latest bandwagon of green by creating solar energy as a hot commodity. We feel that farmers should make sure they keep their land as farmland because farmland is as precious to future generations as the water we drink and the air we breathe."
The other two focal points of Santa Sweets' CSR initiative are improving its employees' access to wellness care as well as education."Under the education umb­rella, we've partnered up with a few organizations that are in the communities in which we operate that give our migrant workers access to free English classes before or after work," Delaney says. "Under the wellness care initiative, we've partnered up with an organization in south Florida called Collier Health Services to have a Ronald McDonald health mobile unit on site to help with healthcare four to six times a year, and it's as free to the employees as are the English classes."