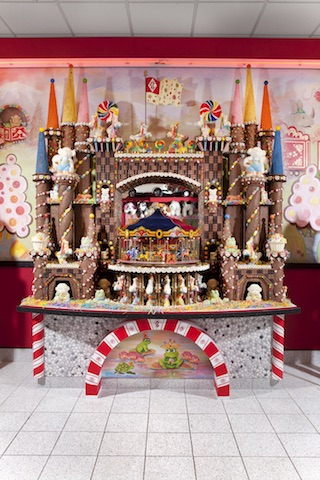 Sarris Candies is well known for the quality chocolates and ice cream it creates, as well as how it supports the Pittsburgh community with fundraising and the business sector with private label options.
When Bill Sarris, president of Sarris Candies Inc., thinks about his parents starting the business, he sees them as powerhouses behind the brand. Founder Frank Sarris and his wife, CEO Athena Sarris, used their dedication to quality to ensure Sarris Candies is the strong business it is today, and Bill Sarris takes pride in continuing with what they established.
"My mom, Athena, and my dad were the kingpins in this business," Bill Sarris explains. "My dad was the face of the company, and everyone knew him. I would stay in the background managing our production, while he was out there building our brand."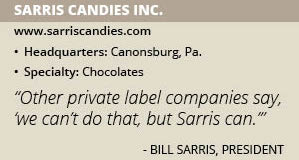 Today, the Sarris Candies brand is known for the superior, rich taste of its chocolate. The Sarris Chocolate Factory and Ice Cream Parlour covers an entire city block, with more than 100 yards of chocolate, novelty candy, plush toys, and ice cream on offer for the thousands of people who come to visit each year. The old-fashioned ice cream shop is decorated with red and crystal booths, crystal chandeliers, and wall murals that tell the Sarris story. The company offers more than 3,000 different chocolate candies in any shape one could imagine, including 4-foot-tall bunnies and a 2,500-pound hand-made chocolate castle display.
"Our brand is quite strong in our designated area – about 150 mile circle centered from Pittsburgh, which goes into Ohio, West Virginia and Maryland, but we also ship candy all over the United States," Bill Sarris says, "People who have left Pittsburgh still want their hometown chocolates, and we've been around for more than 50 years, so we have a lot of customers like that. We also do a lot of school fundraising, so many generations have had our candy. They become loyal customers because they grow up with the candy they love."
"We spend a lot of time building our brand," he adds. "We always make the best chocolates we can, and stay away from fads. When people come into our stores, they want their hometown favorite, they aren't going to waste calories taking a chance on something else."
All About the Chocolate
Frank Sarris courted Athena by giving her a box of chocolates and it pleased her, but he knew he could make better candies. He started by producing small amounts of chocolates in his basement for friends and family, but word quickly spread, so he introduced his goods to the local market. By 1963, he had outgrown his basement and took a chance, and built a small candy shop next to their home. Within five years, the family demolished the house to create a larger candy shop, and Frank and Athena moved into an apartment above the store. In 1982, Frank and Bill decided to add an ice cream parlor to serve the Sarris' homemade ice cream and toppings. Sadly, Frank passed away in March 2010, but Athena and Bill, other family members, and a staff of dedicated employees continue to ensure quality in the candy and ice cream operation.
"We are all about the chocolate and always have been," Bill Sarris says. "Regardless of what we put inside, it's still all about the chocolate. We use the basic ingredients to make our chocolate, but it's all about the beans we choose and the milk."
Sarris Candies still makes one batch at a time, cooking caramel in a copper kettle and creating creams with fresh fruit purees. There is "no secret recipe to candy," Bill says, but he knows not to mess with the formulas or make the batches too large that the company can't control the quality. The company will bring in new equipment that helps its employees in their jobs, but nothing that will affect the integrity of the product.
Quality is important to Sarris Candies not only because of its long-term reputation, but also because it has a large private label business. With its co-op and private label work, Sarris Candies can produce anything its clients require. "Other companies say, 'we can't do that, but Sarris can, call Bill Sarris'," Bill says.
Also, the company has been supporting local fundraising efforts throughout its history, making the process simple for schools and organizations to make huge profits, while keeping the quality high to ensure sales are easy. Additionally, the Sarris family has built the Frank Sarris Public Library in his hometown of Canonsburg, the Frank Sarris Transplant Clinic at UPMC Pittsburgh, and much more. Visit sarriscandies.com to see the entire group of their philanthropic gifts.
"I am so proud that this is still a family business," Bills says. "I'm proud of the employees we have here, the way they help operate our business, and the brand we have built. And I'm proud we did it in our hometown of Canonsburg."