Feeding the future
Having offered the best in organic produce to the people of Atlanta for over 13 years, Savi Provisions now sets its sights on supporting a sustainable food future
Known for its friendly and casual environment, Savi Provisions is a neighborhood destination for locally-sourced gourmet and organic foods, fine wines, craft beers and spirits. Founded by Paul Nair – on a farm-to-table, chef-driven model, which focuses on quality, atmosphere and community over profit – the first location opened in early 2009 in Atlanta's Inman Park neighborhood, and was inspired by New York City's beloved delis and bodegas. Savi Provisions was created to act as an integral part of the neighborhood that each location serves, aiming to provide an affordable, gourmet and healthy market experience, and combine it with today's demand for convenience and local sourcing. Today, under its Savi Franchise System, Savi Provisions has successfully opened several locations throughout the Greater Atlanta Area and has a recent market entry in Nashville, Tennessee.
"The concept behind Savi Provisions was created initially out of need and a realization that there was a sincere demand for an urban, friendly and convenient place that people could come to for food, groceries, and fun," Paul explains. "After spending time in New York City, I came to the conclusion that other cities needed what New York was so fortunate to have in virtually every part of the city: the neighborhood deli. These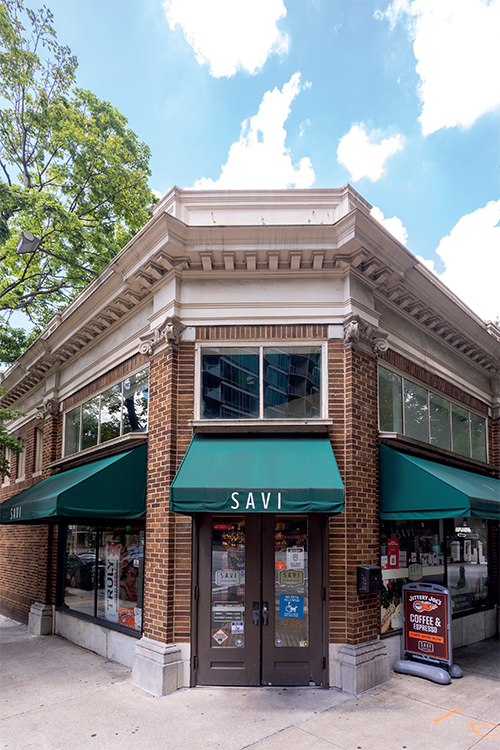 were places where people shopped, congregated, developed relationships and built upon community, and this need was how Savi Provisions was born. We take convenience a step further by offering online ordering for several of our locations, and we partner with third-parties to offer delivery of our gourmet foods locally."
Something for everyone
As Paul goes on to detail, what makes Savi Provisions so special is its dedication to the high-end products offered to its customers. "Quality offerings is what has ultimately led to the success and expansion of the concept," he notes. "What also sets us apart is our focus on chef-driven, fresh-made meals. Our carefully curated wine and beer selection includes something for everyone, and our customers will always find some of the finest meat and cheeses in the area available. In addition to savory sandwiches, breakfast offerings, wraps and salads, customers can also expect to find gourmet sides and a long list of delicious, made-to-order options.
"In recent years, we have witnessed a resurgence of the local farmer, the farmer's market, farm-to-table, and a renewed commitment to understanding what we eat and where it originates. With Savi Provisions, we revisit the role of the original purveyors who built generational relationships with farmers, vineyards and distilleries to serve their local communities. We deeply value the relationships that we have built with suppliers and we are confident that their products have greatly contributed to the company's ongoing success."
Paul is not short of a word or two about Savi Provisions' own people either. "Our people are what makes the business work! We are grateful to our franchisees and their employees for their passion and hard work each day to uphold our collective mission of serving our communities. Savi Provisions is a brand that was founded with a vision to create opportunity and an unparalleled experience equally for people who work in the business and also who frequent the stores."
Community spaces
In early June 2021, Paul announced the launch of a brand-new concept, dubbed UPop – which is short for Urban Provisions Offering Petroleum – which will be a high-end food and beverage concept located in a new-to-Georgia gas station, Acro. UPop will offer chef driven prepared foods, beer, wine and liquor, as well as a bistro offering small plates. "UPop is a concept that elevates the traditional gas station experience," Paul declares. "With it, we are further expanding our high-end convenience footprint in the South and beyond. This first location serves as the prototype for future locations, and we plan to expand this concept to consumers in Cary, Durham and Raleigh, N.C."
Savi Provisions' recent achievements come in the wake of the company navigating the challenges poses by the Covid-19 pandemic. "In many ways, we were fortunate to have a model that already leaned heavily on prepared foods and takeaway items," Paul states. "We pushed online ordering at several of our locations and implemented Drizly, which helped us facilitate alcohol delivery.
"We also opened an Atlanta location at AMLI Lenox, which features a unique self-pour 14 beer tap wall, 16 wine options, and a variety of spirits. The bar is completely card-based to provide a low-touch experience for guests. It will dispense beverages via Enomatic equipment. This feature provides a convenient option for dine-in, grab and go, and passerbys."
With every step it takes, Savi Provisions is dedicated to serving local communities. It is a key player amongst companies aiming to safeguard the planet through changing food habits, and its dedication to providing legitimate community spaces through a common love of food and wine is truly admirable.
"Ultimately, we hope to be a designated space for gourmet foods and excellent customer service in every major city throughout the nation," Paul concludes. "Through our franchise model, we hope to continue enhancing local economies and influence buying decisions towards healthy, organic foods that pour back into the community, and we plan to do so with the confidence that there are plenty of opportunities for future growth within the US and beyond!"
www.saviprovisions.com