SAVOR aims to offer a sense of place on every plate it serves.
As the foodservice and catering arm of international public facility manager SMG, SAVOR wants to reflect at each of the 140 facilities it serves worldwide a customized experience that will leave a unique impression on every guest.
"Our identity is tied to the culture and people of each community," Division Senior Vice President of SAVOR Scott Campanella explains. "We consciously modify our name to showcase each location. For example, SAVOR…Savannah, is a 20-year client."
SAVOR becomes part of the fabric of a community by not only following SMG's 40-year tradition of dedicated stewardship, but also by focusing on three brand pillars: hospitality, community and taste.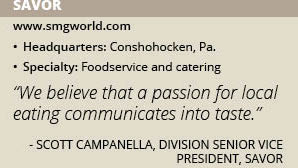 "We're more than just a large food company in North America," Campanella says. "Because our facilities are funded by public dollars, our motivation is to shine a light on who we are by shining a light on where we operate."
The Conshohocken, Pa.-based company has longstanding relationships with many of its clients, some for more than 30 years. SAVOR maintains its client relationships through its ability to anticipate the needs of its clients before they can be expressed. "We have an obligation to listen and lead them into the best decisions we can," Campanella says. "Our client relationships require a tremendous amount of trust, and we don't ever want to violate their trust."
Valuing Partnerships
With each client, SAVOR takes a hyper-local approach and commitment to hospitality. "Hospitality is at the core of who we are," Campanella notes. "Not only do we anticipate our clients' needs, but we are also a servant leader. Our clients have entrusted us to execute their programs, often as an extension of who they are and the communities we're located in."
For each community it operates in, SAVOR's goal is to tailor its services at each venue to its region. "We want to activate the communities we're in," Campanella says. "We want to hire locals on every level."
That is why SAVOR works with ProStart, a high school training program, to cultivate students' interest in the culinary arts. "We make commitments to expose these students to our facilities, or hire them once they graduate," Campanella says.
SAVOR also tries to activate communities by working with local farmers and producers. "This is a fundamental part of who we are," Campanella says. "We get into the community, hire within the community and bank in the community. If you look at the partnerships we have, there are many at the local level, which are managed by our general managers. Our purchasing decisions are made at the local level, too."
Community First
SAVOR's employees help the company celebrate with its communities. "We are nothing without the people and businesses who support our operations," Campanella says. "It's really beneficial when you have employees who have a natural interest in looking after the people they live with, including neighbors and family." Each year, SAVOR employees donate thousands of hours in community service to help improve lives in their local communities through Habitat For Humanity, recycling initiatives and more.
"In SAVOR…Savannah, at the Savannah International Trade & Convention Center, we have the Georgia Grown Food program," Campanella says. "In this one venue, we donated more than 11,000 pounds of food, and our employees donated nearly 1,700 hours of community service. We also have an art extension program there where we feature local artwork so out-of-town guests can have an authentic Savannah experience.
"Ultimately, there are a number of things we do beyond just being good stewards to the building," he adds. "For us, the building is for the people of its community."
Tasting Success
With each community it operates in, SAVOR taps into the local culture to shape its menus. "We believe that a passion for local eating communicates into taste," Campanella notes. "It's our goal to offer a sense of place on every plate that we serve. We do that by partnering with local bakeries, chocolatiers, fishmongers, local caterers and distilleries. Together, with our network of vendor partners, we nurture and harvest, transport and package, prepare and serve, manage and create."
As the company looks ahead, SAVOR aims to continue partnering with local and regional businesses, including prep cooks, wait staff and farmers, to grow and expand its client venues. "Working with local partners not only validates SAVOR's commitment to community, but it also creates an intimate opportunity where we can glean a deeper understanding of what we can do to strengthen the culinary fabric that binds the local producers to our culinary endeavors and the people we serve," Campanella concludes.