S&B Burger Joint plans to steadily expand as its unique menu and lively atmosphere continue to draw a crowd.
One-of-a-kind burgers, "bloody good" Bloody Marys and rock 'n' roll have made S&B Burger Joint into an instant sensation throughout Oklahoma and southern Illinois. "All of our burgers can be made into sliders so you can try different ones instead of one huge burger," co-founder Shannon Roper says. "There are a lot of burger chains in Oklahoma so I really feel like that helps set us apart. Bloody Marys are our thing too, made with infused vodka."
Roper and Bryan Neel, friends and business partners, started the Oklahoma City-based burger joint seven years ago as a way to inject new life into a bar they had owned together for a decade. "The bar wasn't really doing spectacularly, so we decided to put a kitchen in it and called it Shannon and Brian's, so S&B Burger Joint," Roper explains. "The restaurant took over and we started selling a lot of burgers and had lines at the door."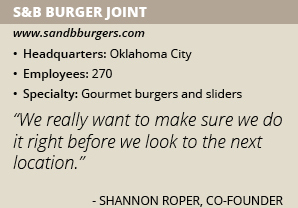 Because of S&B Burger Joint's success, Roper and Neel opened a second location in Oklahoma and met their current investors, which led to greater expansion. Today, S&B Burger Joint has nine locations – eight in Oklahoma and one location in Carbondale, Ill.
S&B Burger Joint offers 14 unique burgers and seven different Bloody Mary recipes, as well as hand-dipped milkshakes, classic cocktails, tacos, salads and sides. Each Bloody Mary features vodka that is infused with a unique meat or vegetable. For example, the Bloody Jerk is made with beef jerky-infused vodka and the Bloody Bacon uses jalapeno and bacon-infused vodka.
Quality and Fun
"We attract fun people; we are a rock 'n' roll burger joint," Roper says. "We do appeal to all ages and have a lot of families come in, but millennials are our biggest customer base."
S&B Burger Joint is popular among millennials because of its reasonable prices, quality, fresh ingredients and innovative food. "We have different features every month and change our menu about once per year, adding new and creative items," Roper says.
Roper describes the atmosphere in S&B Burger Joint as laid-back and casual. Because it's a rock 'n' roll joint, the music is played a bit louder through a music video system. S&B Burger Joint will also feature live bands a couple nights per week in three Oklahoma locations.
"We appeal to someone who is looking for a fun time, entertainment and more of an experience than just going somewhere to fuel up," Roper adds. "S&B Burger Joint is for someone who really wants to come in and enjoy the whole experience."
Pay it Forward
Giving back to the community is one of S&B Burger Joint's priorities, and why it started "Pay It Forward Tuesday." A percentage of all sales made on Tuesday are donated to the organization, school or family that is being sponsored that week. Patrons can also donate additional funds if they are able.
"The community supports us and we want to give back to the softball, baseball, schools, organizations families and individuals," Roper says. "We have donated close to $240,000 total. The community is our customer base and they support us, so we want to support them."
S&B Burger Joint has become a favorite in each community it moves into, which is why the company plans to continue steadily expanding. "We are opening a couple stores per year and taking our time between each opening to maintain what we have and secure what we've got before we expand too heavily," Roper says. "We feel like it's a great concept that can travel anywhere and we will go out of state, but we really want to make sure we do it right before we look to the next location."