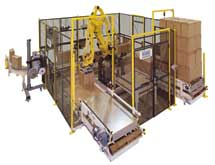 Schneider Packaging Equipment Co. Inc.
Adding an automated packaging system can save countless man-hours and provide streamlined operations. Schneider Packaging Equipment Co. Inc. takes the guesswork out of getting a product to market quickly and efficiently with its automated end-of-line packaging solutions for the food, beverage, tissue, paper, pharmaceutical and plastics markets.
Celebrating its 40th anniversary, Schneider built its success by providing innovative end of line packaging solutions for manufacturers. The company is an expert in cartoning, case packing, palletizing, robotics and full-line integration taking the customer's primary package to unit loads ready to ship. Schneider lends its expertise by designing packaging solutions that focus on reducing costs while increasing production.
"Manufacturers are always looking for ways to streamline their production," says Terry Zarnowski, sales and marketing director. "We provide automated end-of-line solutions that increase productivity with faster throughput rates, flexibility for current and future needs, fast changeover time, and safety. We design efficient and reliable solutions that fit all their needs."
Schneider works closely with customers to develop packing solutions to fit a need. When designing a solution, they start by understanding the issue at the product level.
"Every product has a personality," Zarnowski explains. "A gable top dairy container, for example, may be coated or uncoated, cold or warm, and each behaves differently at time of manufacture. We work to understand and accommodate that personality. We design a personality-specific solution that incorporates calculating throughput rates, ergonomic flow throughout the facility, and changeover rates."
Product personality includes understanding the product inside the container. "We have to take the product characteristics into account," Zarnowski states. "Understanding that ice cream cones, for example, need to be handled gently, we need to process them at high speeds while being gentle to avoid damage to the product. Our engineering staff looks at what solutions we have designed for similar products or look to solutions we have developed in other market segments to come up with a solution for the new product."
Incorporating more robotics has increased efficiency greatly. Schneider continues to expand its technology in product handling as part of its continuous cycle of improvement. It has been using smaller, less costly robots for product orientation for carton loading, case packing and palletizing. By using vision guidance, robots capture images to determine location and for quality checks such as verifying count, size and label verification. They use very small, end-of-arm tooling for fast pick-and-place of individual items. These robots are capable of performing 120 picks per minute depending on the robot model and application.
A recent co-packing project had many variables to consider. "Our client had a machine for a bagged product," Zarnowski states. "The bags could con­tain 12-count, 24-count, 2 stacks or 4 stacks or any combination. They want­ed to pack laying down, on their side, with combo horizontal and vertical pac­k­aging for flexibility.
"With a conventional non-robotic sys­tem it could take several hours to do a changeover," he adds.
"Our new design replicated the functionality of the old technology using robotics," he continues. "Since adding the new machine, their reliability and efficiency has skyrocketed with very fast changeovers and minimal downtime."
All Schneider systems are designed to work at maximum efficiency. When an emergency stop or jam occurs, in most cases, the system will continue where it left off. Configurations are custom designed so new machines can be integrated into current processes. Many systems can be modified with additional parts or software for new products.
Systems are constructed of welded tubular steel with an open and accessible design for easy maintenance and are available from painted steel to heavy wash stainless. User-friendly touch screen operation is standard, and most systems require minimal or no-tool change­overs for quick product line changes. All Schneider systems are held to the highest standards and must pass a rigorous process control checklist.
From start to finish, Schneider truly partners with its clients. Offering a multitude of services, it provides installation, training, ongoing support, lifetime service and replacement parts for all of their machinery. It coordinates scheduling to avoid interruptions in production.
Working Together
Schneider realizes that a collaborative approach with its suppliers is critical to its success. Close relationships provide opportunities to work through different scenarios and come up with the most efficient solutions. The company says it works closely with a number of leading vendors. These vendors include Domino North America, a supplier of a variety of high-quality digital coding and labeling technologies.
"We innovate with all of our suppliers to come up with the best solution for an application," Zarnowski states.