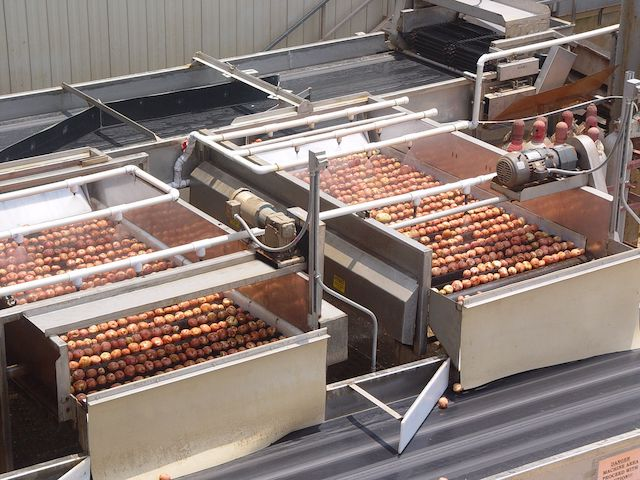 Schoenmann Produce has become one of the largest fruit and vegetable distributors in the Houston area.
Cary Hoffman never imagined he'd own a wholesale produce company one day. He went to college where he earned a number of degrees including a master's in business administration and a doctorate in business and economics.
After college, Hoffman found himself a white-collar job working for a research company that focused on economic development in underdeveloped regions of the United States.
"I had no interest in buying a wholesale produce company," he admits. "But I saw an ad in the paper about a produce company for sale. Since my family was in the produce business, I just wanted to see the operation."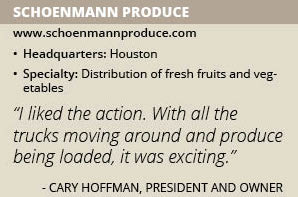 Touring the distribution facility changed his direction in life. He realized that he liked the blue-collar business. "I liked the action," he says. "With all the trucks moving around and produce being loaded, it was exciting."
Hoffman purchased Schoenmann Produce in 1973. The company was already well established since being founded in 1910. But under his leadership, Schoenmann Produce grew to become one of the largest distributors in the Houston area and the Gulf Coast.
Distribution Capabilities
Schoenmann Produce distributes between 600 to 800 varieties of fresh fruits and vegetables to restaurants, cafes, schools, hospitals, grocery stores, wholesalers and merchants. It distributes in Texas, Louisiana, Mississippi, Alabama and the Southeastern Seaboard.
The company operates out of its state-of-the-art distribution facility in Houston. The 100,000-square-foot facility has five cooling areas and sits on more than 34 acres. Equipped with 75-car cold storage capacity, the facility features a fully refrigerated dock, customized potato and tomato packing lines.
It also has pressurized ripening rooms for bananas, avocados and tomatoes as well as various temperature and relative humidity controlled coolers. The company also owns a fully refrigerated fleet of trucks.
To ensure quality, the distribution facility is monitored regularly by third-party inspections and participates in a variety of food safety and sanitation programs. In addition to its own quality control group, the company has USDA quality control inspectors on the premises at any given time. Schoenmann Produce also uses Primus-certified auditors or those employed by its customers.
Hot Potato
In the 1980s, the company underwent a major expansion when Hoffman branched out into the potato business. Responding to requests from foodservice companies for different potato varieties, he bought a potato packaging company and later founded MountainKing Potatoes.
"We had difficulty getting potatoes at the prices we needed," Hoffman says. "So I bought a farm and we started growing russet potatoes and some red potatoes."
MountainKing Potatoes are mostly grown in Hoffman's Colorado farm, but also through suppliers in Texas, Kansas and California to ensure a year-round supply.
However, since Schoenmann Produce distributes MountainKing Potatoes, Hoffman soon started noticing a growing hunger for yellow potatoes from the company's customers. Being a savvy businessman, Hoffman responded to the growing demand by buying Yukon Gold seeds and planting roughly 60 acres on his potato farm in Colorado.
Today, MountainKing Potatoes offers many varieties of potatoes that include its famous Butter Gold, Butter Russet, Butter Reds and Fingerlings brands. Between all his brands, Hoffman sells roughly 400 million pounds of potatoes per year. That's more than 10,000 truckloads of potatoes.
"In recent years, small potatoes, like our fingerlings, have become really popular," Hoffman says. "As a result, we have become the largest grower of yellow flesh potatoes in the United States."
Well-Known Suppliers
Although Schoenmann Produce is a proud distributor of MountainKing Potatoes, it also distributes for other growers.
In addition, the company distributes fruits and vegetables for a large number of well-known suppliers. They include Andrew & Williamson, ASG, Bonipak, Capurro, Chiquita, D'Arrigo, Del Monte, Dole Fresh, Driscoll Berries, Farmer's Best, Freshkis, Garguilo, Gourmet Veg Pack, Greenline Beans, Kitchen Pride, Mann Packing, Pacific Tomato, South Mill Mushroom and Sunkist.
Schoenmann Produce carries a full line of premium fresh fruits and vegetables that are never frozen. It is committed to providing consistent quality, competitive pricing and dependable product sources and distribution outlets. Due to its large variety of clientele, the company can buy more economically to offer competitive pricing and turn over its inventory quickly.
Schoenmann Produce offers customized service programs tailored to the customer needs. In addition, the company hosts workshops for its industry and public tours of its facilities. It also employs a corporate chef to help its customers develop recipe ideas.