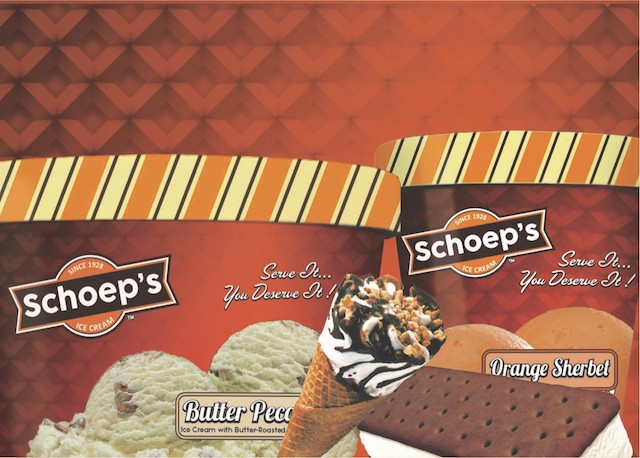 Ninety years in business, family ownership and a dedication to its staff members help Schoep's Ice Cream maintain its leadership position.
The rest of the world is catching up, but the United States led the way with the belief that ice cream is good year-round – not just in the warm months. There are many states in our country that don't warm up for very long at all, so why should people deny their taste buds of the pleasures of this creamy delight? Schoep's Ice Cream has been producing America's second-best-selling treat since 1928 (ice cream is second only to cookies), and has grown to be one of the largest independent ice cream manufacturers in the United States. Having withstood the Great Depression, a world war and a number of other major events, Schoep's stays strong by maintaining its founding traditions of quality and flavor, while focusing on family.
Based in Wisconsin, Schoep's was established by E.J. Schoephoester in 1928 when he began making ice cream in the back of his Madison, Wis., grocery store. He used a single hand-cranked freezer and churned until the rock salt was melted and the cream was so thick it was hard to turn the crank. In 1940, P.B. Thomsen, a well-known butter maker from Windsor, Wis., bought into the company and began wholesaling ice cream to ice cream parlors and other stores in two-and-a-half gallon containers. Since then, Schoep's has been owned and operated by multiple generations of the Thomsen family, which has helped to fuel the company's ongoing success.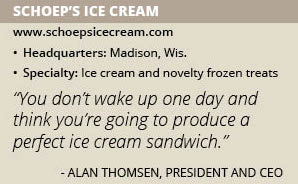 "I am in the third generation of the family, and it allows you to look at the business differently than most corporations," President and CEO Alan Thomsen explains. "You think about the families who are manufacturing your products, and we think of our employees as members because we feel they are really part of something. The entire management team has that same belief structure – no one is a number here. Everyone is an individual on a growth program, and if the company succeeds, then all of the families succeed. There are more than 100 families we are responsible for here, including our own."
Quality Focus
Schoep's is dedicated to maintaining a high level of quality in all of its products. The company offers a full line of ice cream flavors and package sizes, as well as lines of sherbets, low-fat ice creams and frozen yogurt. Its Big Event line of frozen novelties includes treats such as fudge bars, sundae nut cones and ice cream sandwiches.
In terms of flavors of ice cream, Schoep's offers far more than the standard vanilla, strawberry and chocolate. The company introduces new flavors all the time and it will take some away but bring them back by popular demand. Other flavors are produced only seasonally. In addition to its basic flavors, Schoep's offers the new Sea Salt Caramel and its unique Malted Milk flavor, as well as the ever-popular Badger Tracks variety, which is vanilla ice cream with fudge cups and swirls of caramel and fudge. Schoep's ice cream is available in all 50 states and Puerto Rico.
Thomsen notes that Schoep's dedication to quality is very important, and it relies on its staff members to uphold its standards. This is achieved, he says, because of Schoep's culture and how it values everyone who works there, even as the market changes. "As a company, we've continued to evolve," he says. "It can be a challenge to find good members, but when we do, they fit into our culture well. It doesn't matter what job they have – they are treated no differently than I'm treated. They also have the ability to look forward and see they can do something positive.
"We focus on promoting from within and offer education programs and programs to pay for their schooling if they so choose to advance their career that way," he continues. "For example, our current plant manager started as a line operator 10 years ago and in that time, he earned his bachelor's degree and now holds a strong position in the company."
Schoep's is able to do these sort of things because it has remained an independent company throughout its history. This has been challenging for Schoep's, Thomsen says, but it is important to his family that the company's members know ownership is working as hard as they are to ensure it remains a family-run operation. "When you get into the old-suit-and-tie position and stay there, you see how different it is nowadays," Thomsen stresses. "You have to engage people differently from how it was when we grew up. I have the benefit of working through the family's second generation in this business, getting to understand the culture here at Schoep's and out in the field where we are calling on our major customers. We adapt to the changing marketplace so we can strongly understand the need of our customers while maintaining that family feel. If you don't consider the other person's position, you've made your first and last mistake."
Ongoing Innovation
As it enters its 91st year in business, Schoep's plans to maintain what has gotten it this far, while advancing to meet the ongoing changes of the market. For example, the company has been looking into plant-based proteins for the production of its products, because plant proteins are popular not only in retail, but also with its school and nutritional clients, such as hospitals. Schoep's is using almond and other nut-based ingredients in its products, while also developing unique nut blends to create new taste profiles and cater to new eating habits.
"We continue to innovate, and we've invested a lot of effort the past 10 or so years in developing ways to manipulate proteins," Thomsen says. "We are doing things structurally in the products so we don't have to use artificial stabilizers and things of that nature. We've worked hard on that, allowing us to create some unique processes to enhance the mouth feel and make better products. Not only are we delivering higher protein in our products, but we're delivering a much nicer, more texturally pleasing product that will hold up in the distribution channels."
Moving forward, Schoep's plans to use its innovations to provide value to customers in its current sales channels. Thomsen stresses that using its products to make a difference in customers' operations will continue to be important for the company.
"We have a vast knowledge because we manufacture a variety of different items – retail and single products, school cups, ice cream sandwiches and three-gallon cans," he says. "There are many years of knowledge that back up the manufacturing – you don't wake up one day and think you're going to produce a perfect ice cream sandwich.
"We will continue to spend a great deal of time in teaching and training and really developing the future of the company," he adds. "I see folks who I've worked with the last few years in developing the management team, and they grab hold of things I wouldn't have thought of in the past. It's exciting to see the growth of our leaders and members and see them grow their careers while feeling good about the work they are doing at Schoep's Ice Cream."