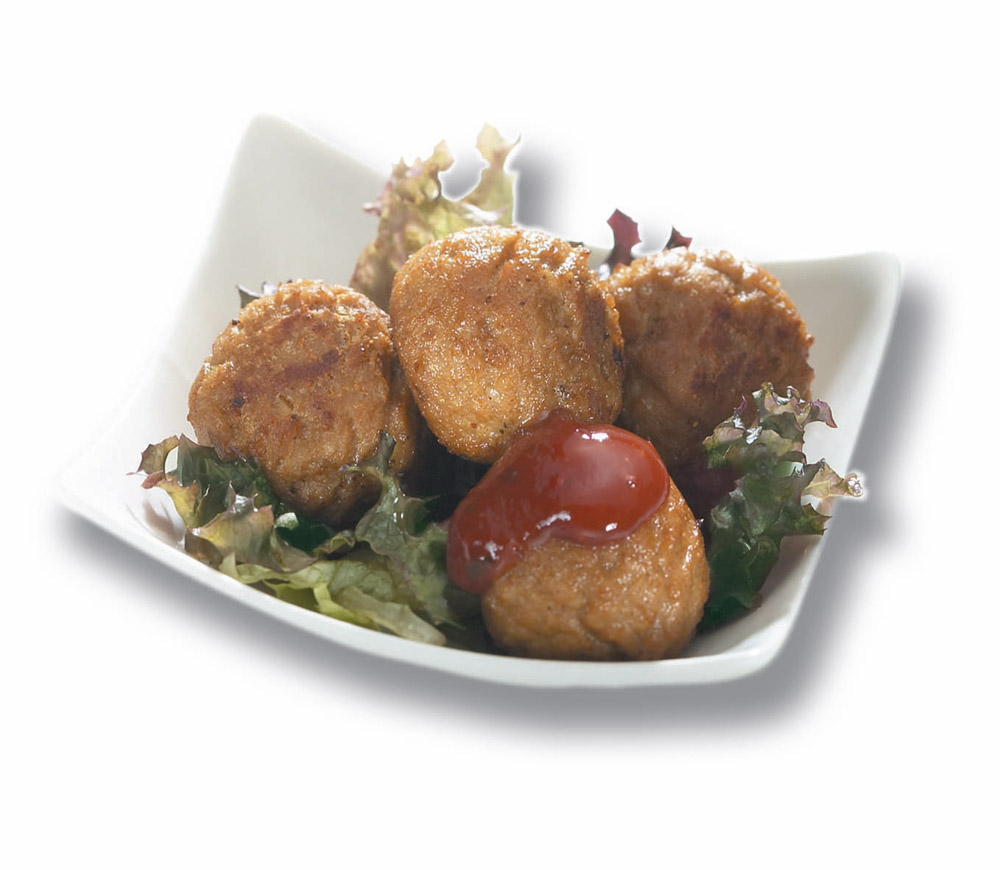 Plenty of bite
For 20 years Schouten Europe has been working to better the image of vegetarian foods through improved quality and taste
"It was my great-grandfather, a baker by trade, who first established the family business back in 1893," states Henk Schouten, managing director of Schouten Europe. "However it wasn't until 1991 that the company first moved into vegetarian products, meaning today it is able to call upon 20 years of experience in this food category. Through its own brands, including the GoodBite range that has been in existence since 2002, and its private label work, Schouten Europe uses around 30 different varieties of vegetarian meat substitutes that go together to create its range of meat-free hamburgers, sausages, snitzels, bread fillings, barbeque and tofu products."


Meat alternatives
As Henk goes on to explain, the company's move into the vegetarian food sector was driven by a combination of factors: "The company had long boasted a history of working with soya, soya beans and proteins, and it was this experience, together with a collective belief that there needed to be alternatives to meat products available to the masses, that spurred on Schouten Europe to become a specialist producer of vegetarian foods.
"At the time there was no competition in the Dutch market, yet there was clearly a demand for alternatives to meat products as they were being imported in from other countries on a large scale. When Schouten Europe took the decision to produce vegetarian products it entered into working relationships with a number of contractors, many of which still exist to this day. What this means is the company handles all of its own product development and the purchasing of raw materials, while the production itself is carried out at eight different factories contracted by Schouten Europe. This allows the company to concentrate on its product range and its ability to bring exciting new ideas to the table."
This range of products is today found all across Europe in the food service sector and in the retail markets of Holland, Belgium and Germany: "The company's entry into the German retail sector is a relatively recent development and one that it hopes to follow with moves into the UK and France. Schouten Europe is very much interested in finding several strong partners that would be keen to make inroads into these retail markets with it," Henk continues.
One of the qualities the company has honed over the last two decades is its ability to adapt its products to the needs of the various markets it sells to, for example in Germany it produces a range of special German sausages while in Belgium it offers a special vegetarian meatballs in tomato sauces dish that is exclusive to that country: "In this industry it is important for companies like Schouten Europe to constantly be working on new developments and new products," Henk says. "One of the most recent products to be launched by the company is its line of fresh vegetarian minced meat, a very special product that is virtually unchallenged on the market and gives vegetarian consumers the ability to make their own burgers, sausages and so forth, adding in whatever flavours, spices and herbs they wish.
"Another thing the company has been doing over the years is working to improve the overall quality of meat substitutes. More often than not in the past a number of meat alternatives have been found to be too dry and tough or too soft and spongy. Schouten Europe has paid a great deal of attention to these issues and now prides itself on creating products that have a good texture, products that are now marketed together under the brand name, GoodBite."
Challenges ahead
With competition levels increasing in its core markets, Henk is well aware of the challenges the industry faces and, more importantly, how Schouten Europe can overcome them: "This market sector is undoubtedly growing with more and more big companies entering it and this competition will hopefully help develop the food category. The biggest hurdle of all however will be overcoming the negative image vegetarian food has in some quarters for its purported poor taste. This is something that we believe can and will change over time as the market becomes more and more mainstream.
"The way in which Schouten Europe can play its part in this is by playing to its key strengths, namely its flexibility, its ability to adapt quickly to changing consumer needs and its extensive knowledge of working with meat alternatives. Very few companies possess this level of experience and Schouten Europe takes this and puts it to use in its own in-house commercial laboratory for product development."
UK and French markets
Considering the vegetarian food segment to this day still only brings in revenues that equal between one and two per cent of those made through meat consumption, Henk is under no illusion that it will take time for the business as a whole to develop, yet he is confident that Schouten Europe has the necessary traits and qualities to leave its mark on the industry: "The way in which Schouten Europe can grow as a company in the years ahead revolves around expanding into new retail markets, in the UK and France in particular, and continuing to improve the quality of its food products. The company is one of many that now has a responsibility to convince consumers in all countries to take a chance on vegetarian food and Schouten Europe has enough confidence in its products to know that when they do, they will be very pleasantly surprised."