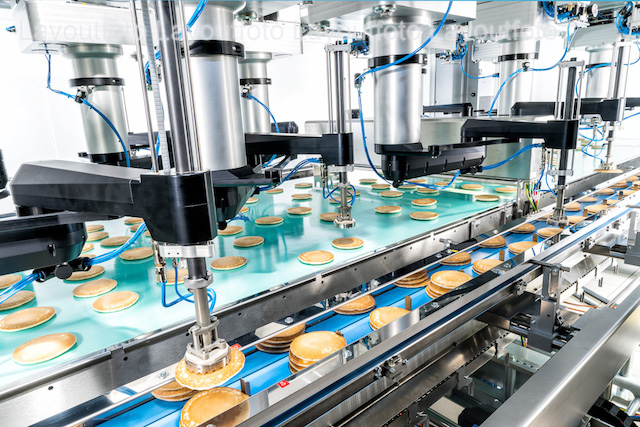 Schubert leaps ahead as it debuts its lightline Flowpacker machine, combining a Pickerline and a Flowmodul in one system.
The Schubert Group has been breaking technological ground for more than 50 years and will be showcasing its unwavering commitment to innovation at Pack Expo in September with the unveiling of its new lightline Flowpacker to the North American market. "Modularity is our core competence," says Hartmut Siegel, CEO of Schubert North America. "Modularity, flexibility, efficiency and reliable technology are the cornerstones behind the success of our top-loading packaging machines. The machines' modular design, along with their advanced mechanical design and intelligent control systems, ensure exceptional effectiveness."
The family-owned Schubert Group, headquartered in Crailsheim, Germany, produces its digital, robot-based packaging machines with a clear focus on the interplay among simple mechanics, intelligent control technology and a high degree of modularity.
Gerhard Schubert founded Gerhard Schubert GmbH in 1966 and began the construction of the first carton erecting and gluing machine (SKA). Over the next few years, he developed the first SSB modular machine (Schubert-Sondermaschinen-Baukasten) for filling and sealing cartons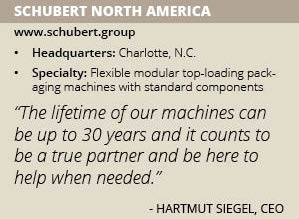 via top-loading, whereby the line could be assembled from various mechanical modules depending on the task.
By the 1970s, Schubert was already considering how he could use robotics to maximize the flexibility and adaptability of packaging operations. In 1981, he presented the first groundbreaking result of these considerations at the Interpack Show: ROBY, the first-ever packaging robot. The Schubert Group's two-axis SNC-F2 robot was first used in 1985. More than a decade later, Schubert launched the first machine with an intelligent control system and the VMS packaging machine control system set the stage for a simple machine structure with a reduced number of mechanical components. This led to the development of today's modular sub-machines.
Today, Schubert provides manufacturers of food, confectionery and baked goods, dairy products, beverages, pharmaceuticals, cosmetics and technical products with automated packaging solutions that can be easily adapted to changing market requirements and trends in product format.
Since establishing Schubert North America in Charlotte, N.C., in 2015, the company has been focused on expanding its portfolio in North America. Schubert has geographically grown the most in North America with $77.3 million in sales in 2018, which more than doubled compared to previous years.
"As a German manufacturer, having a presence in the United States and an office in Canada is important because at the end of the day, the customer relationship is long-lasting and it goes far beyond just selling a machine," Siegel says. "We are focused on building relationships and strengthening our presence because the lifetime of our machines can be up to 30 years and it counts to be a true partner and be here to help when needed."
Game-Changing Innovation
Schubert will introduce its new lightline Flowpacker to the North American market in September during Pack Expo 2019 in Las Vegas.
The Flowpacker combines a Pickerline and a Flowmodul in one system and is part of the lightline machine series, which allows manufacturers to master standardized packaging tasks with great efficiency at attractive investment costs.
Depending on product characteristics and the desired film, the seamlessly integrated Flowpacker is equipped with one of four sealing technologies. For especially heat-sensitive products, Schubert has developed a new patented sealing technology: first, an ultrasonic sealing system closes the Flowpack's longitudinal seam, then a heat-sealing system with a flying cross sealing unit is used. This flying cross sealing unit adapts to the variable speeds of the upstream pick and place robots and therefore, ensures high sealing quality with constant sealing times.
The machine also integrates Schubert's 3-D image processing system to recognize the product position, orientation, height and quality, ensuring that the robots pick up only flawless products. "Baked goods manufacturers greatly benefit from Schubert's pick-and-place robots combined with its image camera systems, especially for handling sensitive products," Siegel says. "In fact, the exhibition Flowpacker machine will be installed at a North American baked goods manufacturer after Pack Expo."
As manufacturers will increasingly demand integration-ready, flexible and compact machine systems, Schubert will continue to innovate solutions that meet their needs. "The high level of interest we experienced during the last U.S. trade shows – especially from companies in the food industry – promises ongoing positive developments in 2019," Siegel says. "We're on the right track and are winning more and more customers in the North American market with our highly flexible packaging solutions."