Seattle Gourmet Foods exceeds its competitors with its levels of quality and service.
When it comes to ingredients, Seattle Gourmet Foods (SGF) does not settle for anything but the best. "We don't compromise when it comes to our ingredients," Vice President of Sales and Marketing Chris Ratliff asserts. "If we're making chocolate covered fruits, we'll source our fruit regionally to assure quality that complements our chocolate."
General Manager and Executive Vice President Tom Means agrees. "Our company mantra is 'a commitment to excellence,'" he says. "We're committed to going above and beyond to serve our customers fully. Seattle Gourmet Foods is a reliable vendor that considers our customers to be our No. 1 asset."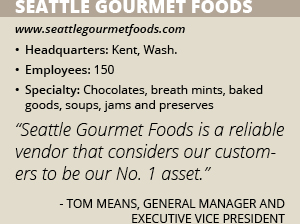 Based in Kent, Wash., SGF serves the gourmet food industry with several lines of products, including chocolates, baked goods, breath mints, soups and chili, tea cookies, and jams and preserves. The company, Means explains, was born out of a Seattle department store's candy kitchen.
In 1993, it incorporated itself as Frederick's Fine Chocolates in Kent. Over time, through strategic acquisitions, "We added another 13 brands to our repertoire," Means recalls.
In 2006, SGF acquired its flagship brand, Dilettante Chocolates, a producer of gourmet chocolates that has recipes dating back to 1898. "The founder was a third-generation chocolatier," Ratliff explains, noting that this year marks the brand's 40th anniversary.
Today, SGF's other core competencies include its breath mints. "In addition to Myntz!, we do an upscale slider mint tin called 'Oral Fixation,'" he notes.
For customers looking for baked goods, SGF has its Merlino Baking Co., Coffaro's Baking Co. and Biringer's Farm Fresh brands, Ratliff says. "We also make several chocolate related bakery items under the Dilettante brand," he adds.
A Major Player
SGF has a unique position in the gourmet foods industry, Ratliff says. "We can provide high-quality gourmet foods in large volume," he declares. "That's how we continue to grow and become an important player."
The company also serves a wide range of customers. "We work with everybody from the local specialty shops to national retailers," he says. "Costco is one of our big partners, [and we also serve] Walmart Supercenters, Whole Foods, Trader Joe's, Kroger Groceries and some of their different subsidiaries."
SGF also is one of the biggest players in the breath mint category and one of the largest panners in the United States, Means adds. "Panning involves taking a center like a nut, a piece of dried fruit or a coffee bean and spraying chocolate onto it inside of large revolving kettles," he explains.
Evolving Operations
Last year, SGF expanded its production and distribution capabilities. "We actually moved some of our production facilities into a 150,000-square-foot facility here in the Seattle area," Means explains, noting that the new facility houses its breath mint, bakery and kitchen production lines.
This has allowed the company to deliver to customers in more a timely fashion. It also enabled SGF to add to its chocolate capabilities and "find a lot of efficiencies," Ratliff says. "With all the prices of ingredients going up, it has allowed us to offset them," he states. "The chocolate market has been especially volatile for the last five years."
The company also is adjusting to changing tastes in packaging. "The individual serve size has definitely increased in importance in the market," he says. "We've begun offering products in smaller, individual-sized packs."
Packaging also has become a driving force to getting products to market, Means says. "Packaging has to be sharp, make the most use of the space, and we work with other retailers on packaging that accomplishes that goal," he says.
SGF also has moved toward specialized products, Ratliff adds. "Gluten free continues to be an important segment that we're constantly working with," he says.
The company also is moving toward utilizing non-GMO ingredients. "Individual states are implementing regulations about GMOs," he says. "By the end of this year, we plan to be using non-GMO ingredients in our facility in Kent."
Running Lean
SGF prides itself on running in an efficient and cost effective fashion. "In terms of management, we run this very lean," Means says. "I run it with 13 key team members and an open door policy which enables a great deal of quick decision making and collaboration."
The level of communication, Means adds, allows SGF to react to its customers' requests on short notice. "We want to continue to cultivate this environment because we are able to make decisions very quickly and respond [promptly] from a manufacturing standpoint," he says.
Ratliff agrees. "It has a family feel about it," he says. "It doesn't feel corporatized. It's a fun environment, and we do a lot of internal surveys and find that all levels of the SGF team enjoy what they do."
Some people have enjoyed working for the company so much that they have been with it since day one, including Means. "They've grown with the company," he says. "We've got a score of key lead and supervisory positions that have been with us a number of years, [allowing them] to know the products and know the business."
Growing Together
SGF plans to keep growing organically, Means says. "[We'll continue] to develop products and strategies to allow our business to grow in our current lines," he says.
Often, he says, other firms that are interested in selling their brands approach the company. "We entertain those that fit within the framework of what we're doing here," Means says. "We have a quality reputation [and look for those] that fit within the framework of what we're doing here."
Ratliff also predicts that SGF will grow the Private Label manufacturing side of its business. "We are able [to] support national chains," he says, noting that the company has grown with its Private Label clients. "We help them grow their brand and business, which in turn grows our own."