The ingredients for success
Food importer, cash and carry store operator and online retailer, SeeWoo Foods, is making sure that authentic, Pan Asian ingredients are available for customers across the UK and beyond
The origins of SeeWood Foods can be traced back to 1975, when it began supplying Pan Asian ingredients to the Chinese catering trade in London's Chinatown. From its humble shophouse beginnings in Lisle Street, coupled with a small consolidation warehouse in Wembley that became the central hub of its operations, it didn't take long before the brand became synonymous for its authentic, high-quality food import and distribution service.
Moving 46 years on from its foundation and we find Emily Tse as CEO of a business that has evolved and transformed itself over the decades. She gave FoodChain some more background on how the growth came about. "The business flourished a at time when many of the first-generation Chinese were emigrating to the UK to set up restaurant and takeaway businesses," she explained. "Off the success of our original Chinatown store, the business began to expand rapidly, moving to a much larger distribution warehouse in Park Royal and opening two successful cash and carry sites in Greenwich, London and later in Glasgow, Scotland."
To this day, SeeWoo Foods continues to operate out of these two sites. However, the Chinatown store is under new management after a Group demerger in 2017. In fact, Emily stepped into the family business after her father passed away two years ago, and describing herself as a female entrepreneur, she is aiming to bring some of her own knowledge and experience to refresh SeeWoo Foods' offering. She continued with some further details about its current operations. "Each of our cash and carry stores in both Greenwich and Glasgow cater for trade and retail customers and our no-membership policy means anyone is able to purchase high-quality goods from us without any restrictions," she said. "Both sites provide free customer parking and our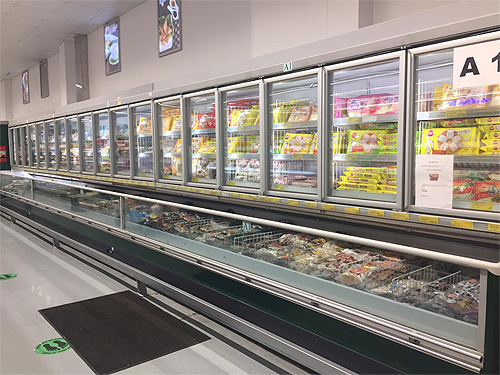 staff are multi-lingual, offering a much friendlier shopping experience for all."
One of the biggest developments that SeeWoo Foods has experienced occurred last year, as in 2020, having outgrown its existing premises, it moved its headquarters to a 60,000 sq ft central distribution warehouse in Biggleswade in Bedfordshire. "This state-of-the-art facility is energy efficient, and built for modern day distributors, which has improved our warehouse operations considerably," revealed Emily. "The additional benefits of our new location included a large saving on our transport and fuel costs as we are located on one of the major arterial routes that links the North and South, as well as being much closer to Felixstowe where our imports arrive."
However, the timing of this move coincided with the first lockdown in the UK, and as Emily highlighted, this did bring its challenges. "It set us back three months and operationally it was a nightmare," she admitted. "But we have a strong team and great partnerships, such as our banking partners HSBC who supported us all the way, and in some ways the slower pace gave the business an opportunity to get settled in.
"Biggleswade is one of our finest achievements, and moving to this location has elevated the brand. The site's vantage point and the sophisticated facility coupled with our high caliber neighbors has given our longest standing members of staff a sense of pride."
This latter point was important to Emily, as she stated that its team of employees are SeeWoo Foods' greatest asset, and therefore the move to Bigglewade represented far more than just a new site. "We are proud of everything it signifies, which we see as a modern SeeWoo that still holds traditional values at heart. The move was a huge achievement during the first lockdown and we are now able to offer a full trade counter service to our clients that live locally, opening up a new pool of customers," she confirmed.
Delving deeper into what is available from SeeWoo Foods and Emily reveals that cash and carry is really just the tip of the iceberg. "Our business started off being a supplier to trade customers, and over the years we opened our two sites in Greenwich and Glasgow where we were able to cater to retail customers," she stated. "In both our cash and carries, we have a fresh meat and seafood counter, and offer authentic, seasonal exotic fruit and vegetables. We also have a large selection of ambient goods, offering both retail and trade sizing and frozen items such as dim sum, buns, seafood and vegetables. We offer a free delivery for foodservice customers with a minimum spend and rely on our small, but very efficient in-house transport team to co-ordinate the logistics," she added.
"We are also working with a selection of overseas vegan suppliers and are looking to introduce a plant based range for Pan Asian cooking, serving both retail and trade customers alike. The technology behind manufacturing these products is fascinating and we are pleased to be part of this global movement.
"Keeping abreast of consumer trends is something I am really interested in and as a business, this is key for us," Emily continued. "We are always on the lookout for new food trends and are working hard to update our retail ranges so they appeal to a broader and much younger audience."
This ambition to make sure the business remains a leader in its industry and the willingness to make bold moves where it sees an opportunity came to the fore in recent times, when the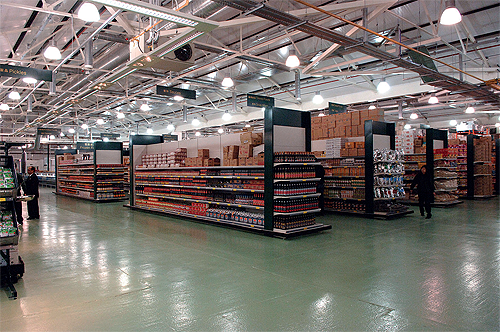 company adapted to the needs of the market and set up its online retail store, SeeWoo Express. "This idea was already in our plans, but the pandemic fast forwarded this service," Emily explained. "SeeWoo Express allows retail customers to get Pan-Asian ingredients delivered straight to their doorstep – this helped a lot of customers who were self-isolating and were unable to visit our stores.
"The website sells both fresh and ambient products that have been carefully selected by our experienced teams and from previous sales. In addition to this, the products are constantly monitored so our customers will always have new products to look forward to.
"We are also partnering up with a zero emissions logistic carrier to provide same-day deliveries enabling customers to receive their orders faster, and this service will be piloted for selected postcodes in Glasgow."
Given that SeeWoo Foods now has various avenues from where clients can source products, a streamlined and efficient supply chain is more important than ever. "Having nearly five decades in the business, SeeWoo Foods has secured enviable partnerships with our overseas suppliers but what we are most proud of is how we have established a robust, end-to-end supply chain for our customers," Emily divulged. "We look at maintaining and building relationships with our suppliers that are based on trust. Our suppliers play an integral part in helping us import products to the UK, enabling us to provide a wide range of products to sell in our stores.
"One of our key suppliers is Pearl River Bridge, they are a leading brand of Soy Sauce in China, and we are proud to be their sole distributor in the UK. Our strong relationship means we have been able to supply high quality sauces and products to our customers.
"I regard our robust end-to-end supply chain solution as one of our unique selling points, as it is not something that every one of our competitors can offer," she emphasized. "We help many overseas hospitality businesses realize their vision of setting up in the UK, from importing goods, to warehousing and final distribution under one roof and we have worked with many big brands already."
2020 was a tremendously difficult year for the hospitality sector and had ramifications for the entire food and beverage industry, but Emily describes 2021 as having 'a new energy coming through as we emerge from the pandemic'. "It was a massive feat to survive and we are looking forward to our opening party at Biggleswade – celebrating our staff, all our valued customers and suppliers that have supported us over the last 24 months – cementing the next chapter of our journey," she said. "As a small aside, we have also recently been invited to become an official sponsor of the Royal British Legion's Centenary Cookbook, released in May 2021. We regard this as a real honor for SeeWoo Foods."
Looking further ahead, and past the difficulties caused by coronavirus, and Emily and the SeeWoo Foods team have formulated some ambitious plans, as she revealed. "On the horizon, we are looking to reduce our carbon footprint both in store by upgrading our refrigeration and chillers to more energy efficient technology, working with our overseas suppliers to look for plastic alternative packaging and certainly to reduce our food miles now Brexit is done.
"With Covid causing such restriction with global supply chains, we also plan to become more self sufficient. The UK has plenty of fresh local produce and who knows, we could be manufacturing our own products in the years ahead!
"With more British National Overseas passport holders heading to our shores, we will see fresh talent in the marketplace," she concluded. "This is an exciting opportunity for a serial entrepreneur such as myself, as the possibilities to grow our brand in other areas are endless. SeeWoo Foods is already synonymous for its quality and service and will continue to prosper as we regenerate and modernize for the coming years. These are very exciting times for us as we embark on the next chapter. We are excited for the future and what it has in store for us." D
www.seewoo.co.uk