Sendik's Fine Foods prides itself on collaborating quickly on a more personal level with its customers.
Sendik's Fine Foods believes that the key to success is its personal commitment to consistently provide the finest products and the best service at a great value. Founded in 1926, the Brookfield, Wis.-based company celebrated its 90-year anniversary in May and today is known as the go-to place for quality, a tradition co-owner Jim Balistreri says he wants to continue.
"My grandfather and his brothers opened the first Sendik's store on the corner of Oakland Avenue and Capitol Drive in Shorewood [Wis.]," Balistreri says proudly. "As a third-generation family member of the company, it feels great to be a part of a lineage that has been able to be successful for many years."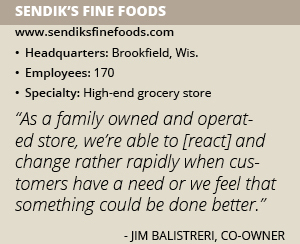 Balistreri co-owns the grocery store with his siblings Tom, Lori and Angela. All of them are in-store daily, working hard as a small team. "My brother still goes down to the produce market and buys the freshest produce possible for our store," Balistreri says. "That's the real key to our success, the fact that we're hands on and that our goals haven't really changed concerning our long-standing commitment of providing the best products and service at a great value."
Personal Attention
Although Sendik's Fine Foods has only one store – a stark contrast to the major chains it competes with in its neighborhood – Balistreri notes it is that fact alone that makes the supermarket unique.
"We only have one store, so as the owners we are onsite, which is something that those competitive chains do not have an opportunity to do," he explains. "As a family owned and operated store, we're able to collaborate quickly on a more personal level with customers. That means we're able to react and change rather rapidly when customers have a need or we feel that something could be done better."
That ability to react and change instantly has played a key role in the company's 90-year success, Balistreri notes. "It's the fact that we still provide a personal commitment to our customers," he says. "Yes, there have been changes in the industry, but everyone still has to eat at the end of the day. People have a lot of choices between the restaurants and even hardware stores as they're getting involved and having food in their stores. So we pride ourselves on not losing sight of the values that we established the company with."
Close Collaboration
With its emphasis on customer service and guest satisfaction, Sendik's Fine Foods has many employees who the company could not do without, Balistreri says. "Those that we currently have on staff are great," he says. "Yet, as good as they are, right now getting more good help is definitely a challenge."
That's why the company is focusing all of its energy on providing employees with extensive training to make sure the best service is offered. "For instance, if you're a deli clerk you're trained on the equipment and then trained on the products," he explains. "We have high-end meats and one of our vendors is Boar's Head, so they'll come in and go over each product to give staff a greater understanding of them."
"We also do what we call a 'slice, show and offer' in our deli section, which you don't see at most grocery stores," Balistreri says. "So when a customer asks for a Boar's Head Ovengold Turkey Breast, they can have it sliced and shown to them so that it's the size and thickness they want, and they can taste it as well. So it's about going that extra mile for the customer and ensuring our staff is giving them what they need."
That same collaborative effort goes hand-in-hand with Sendik's Fine Foods' vendors. "I've always believed that when I go to buy something, it has to be good for all three parties: the vendor, our customers and me," Balistreri explains. "If you go into it with that attitude, you will come out with a winner because vendors are very happy. A happy vendor takes better care of me and a happy me takes better care of our customers."
Rogge's Foods has been one of the company's longstanding vendors and has been very good to the company over the years with its quality seafood and meat products, according to Balistreri. "They have always been a listening and resourceful ear when we needed ideas on how we can either sell more or provide a better product for the customer," he says. "They have been in the game with us and stick with the same model of freshness and value like us, so they do a great job."
Thinking Ahead
In first-quarter 2017, Sendik's Fine Foods aims to remodel its store; in particular, the deli section to keep up with current trends. "Our customers are looking for more prepared foods, and although we do that we want to do a better job at it," Balistreri says. "We may also put in some new cases that allow us to display merchandise better and hold a bit more product as well."
In addition, the company recently installed LED lighting to ensure its building was energy-efficient as well as new refrigeration systems and state-of-the-art ovens to improve its kitchen efficiency. "A good oven has always been talked about by our wonderful chef as being just as important as having good employees, because when used properly you can get a lot of products done in a very efficient manner," Balistreri says. "So we've put in the equipment that allows us to be very efficient at producing all of the foods we need to prepare fresh daily in our kitchen."
"When it's all said and done, I'd like us to continue having the commitment that our store was founded on," Balistreri concludes. "Other people have come around and they may have had more stores, but we don't ever want to stray from consistently providing the best products and service at a great value. Though we do have aspirations to possibly open another store some day, we would love to be able to do that and grow with our personal commitment in mind."