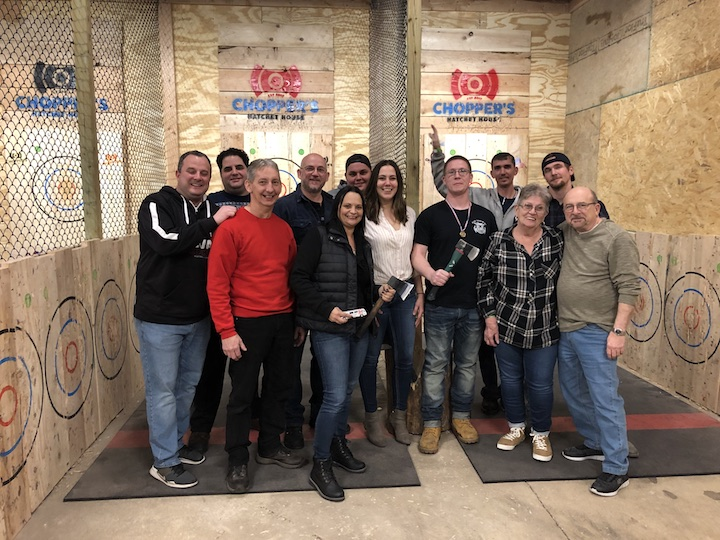 Sentry Equipment takes pride in being a family business that supports small family businesses, and does this with ongoing, comprehensive service.
Rob Romarino might spend a day training someone how to make 10 different ice cream flavors. As president and owner of Sentry Equipment, a distributor of Electro Freeze ice cream machines, he says this is part of the "cool and fun" job he comes to every day, and it adds to the level of service the company provides to its customers. Romarino is the second-generation owner of Sentry in his family, and this helps the company understand the level of service its clients need to succeed.
"We have been family owned since 1981, and what separates us is that we bring family values and a customer-first focus to equipment sales and the service process of the equipment," Romarino says. "We are a family-owned business that sells to family-owned businesses – a lot of frozen dessert stores, retail stores and chains."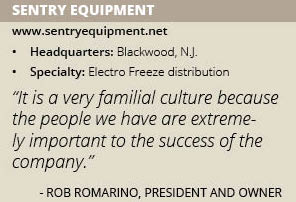 Based in New Jersey, Sentry was established by Romarino's father and uncle; his uncle has since retired and Romarino took ownership of the operation in 2014. The company distributes equipment to the Pennsylvania, New Jersey and Delaware market, and remains a top Electro Freeze partner every year by taking a consultative approach to its work. Sentry also has been recognized by SmartCEO magazine during its Family Business Awards.
"You see the rate of failure when you go from the first to the second generation, and then from the second to the third, and it's staggering," Romarino says. "We have taken this company to another level. We may only be able to sell where we can sell, but we still keep it going because of the relationships we have with customers, vendors and our employees. It is a very familial culture because the people we have are extremely important to the success of the company."
Client Connections
Sentry's market may be spread out over a large geographic area, but it maintains a connection to its customers with its dedication to service and consultation. "I'm not in the sales business, I'm in the customer creation business," Romarino says. He explains it's about helping clients succeed in the industry in a number of ways. This includes educating customers at Sentry's Ice Cream Academy, open-house seminars, frozen treat schools around the country and meetings at clients' locations. The company also sends out a newsletter every month, posts a blog twice a month and maintains a video series called "3 Minute Tips," which cover topics such as the increases in minimum wages, winterizing Electro Freeze equipment and the art of creating sundaes.
"We provide industry tips to help their businesses," Romarino says. "When we do these things, it's not machine-sales focused, it's focused on what we see happening in the industry. We stay in contact with them and teach them through our digital profile online." He notes the company's website and video series is so extensive that it is helpful getting Sentry meetings, even after cold calls, because potential clients can see what it brings to the table.
"We also have an open house every year in March," he adds. "It's a two-day event with about 15 vendors and free seminars, and we can showcase the equipment. We do topical seminars to help them as they approach their busy season so they can better their business. The machines they buy from us last 15 to 20 years, so our relationship is maintained by how well we service the equipment and the things we do for them after the sale. In the end, our success is dependent upon the success of our customers."
Sentry's team is small, Romarino notes, but the culture has been key in perpetuating a high level of service. He stresses "no one is more important than anyone else," and they all push each other during the summertime busy season, working for the same goal. As a result, he has people who have recently celebrated 30-, 25-, 20-, 15- and 10-year anniversaries with the company.
"The relationships we have with our customers and the people who work with us here – seeing the effort they put in on a daily basis with our customers is the biggest source of pride I have," Romarino says. "The fact that they work so hard, care about the company and have the company's and our customers' best interests at heart really means a lot to me.
He stresses Sentry is not out selling commodities, and that is key in its success. "It's about the quality of product our equipment provides," he says. "When you couple that with everything we do for our customers, it puts us ahead. We help with the layout and design of their location, we do menu architecture and advise on aesthetics and pricing. We teach them how to make ice cream and other desserts, we work with contractors on their building, work with their suppliers and help with their cash-flow analysis. We have our finger on every step of the process so they know that when they get into a partnership with us, they are supported."