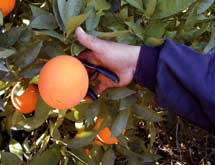 Sequoia Orange Co. does not just bend the rules, it challenges them – and it wins, too. In 1993, it won a 22-year court battle against a federal regulation formally called the Agriculture Marketing Act of 1937, or "prorate" in layman's terms. Prorate was a government program that limited the amount of oranges and lemons Arizona and California growers could sell in that week's national market. For instance, if Sequoia possessed 5 percent of the market share and the expected demands for that week were 5 million cases, then Sequoia could only produce 5 percent of the 5 million cases for that week.
According to Jamie Wilson, a third-generation owner and president of Sequoia Orange, the prorate law was something that most citrus producers loosely followed, even the larger ones, which is why the company was surprised when the government filed a lawsuit against his family's company and other growers.
"We fought with our own lawyer for 22 years to deregulate the market," Wilson says. "The way we did that was when we got sued for bending the rules, we countersued Sunkist and the government, and the law eventually came down by 1993."
In a summary from the 9th U.S. Circuit Court of Appeals, an excerpt explains the reason for the ruling. The secretary concluded the prorate cheating reflected dissatisfaction with the citrus marketing orders, and that the orders had become divisive, according to the excerpt.
Now, citrus producers of all sizes in California and Arizona are allowed to run their businesses with less government interference, a modus operandi that fits well with Sequoia's independent nature.
On Its Own
Sequoia's original founders, W. & M. Marks, were brothers from Nebraska who started a packing house in Lemon Cove, Calif., in the state's citrus-favorable Sierra foothills. The Marks' packing house eventually changed hands and landed under the helm of Sam Finkle who owned it for a number of years and trained Oleah Wilson, Jamie Wilson's grandfather. As Oleah Wilson gained more knowledge in the industry, Finkle sold half of his business to him. As Finkle neared retirement, he sold the other half of his business to Oleah Wilson and his son, Marvin Wilson. The two operated as a packing house under the Sunkist marketing arm.
Then, the Wilsons met the Pescosolidos. "The Pescosolidos came in around 1975 or 1976, and the Pescosolidos said they wanted to get involved so my dad said, 'What can you bring to the table?'" Jamie Wilson explains. "Back then, we were still marketing through Sunkist and selling a little bit domestically, and Carl [Pescosolido] said he could get us an export business to Japan, so my dad let him buy in."
It was the beginning of Sequoia's venture into the world of vertical integration. In the coming years, the two families would buy more of their own groves and phase out outside growers. Today, Sequoia grows, packs and markets all of its own oranges, and only its own oranges, and it can nearly say the same for its grapefruit market. Sequoia is the largest Melogold grapefruit grower in its area, and to hold onto that market it will work with a few outside growers but most of its Melogolds are from its own fields.
"We are not 100 percent vertically integrated, but we are absolutely not a commercial packing house," Wilson explains. "If 'Joe Blow' brought me 100 acres of his oranges and asked me to pack and market them, I would tell him, 'No.' We sell and pack our own 3,900 acres, and that's pretty much all we do."
Sequoia comprises three companies: Sequoia Enterprises Inc., its marketing arm; Sequoia Orange Co., which is the packing house it runs in Terra Bella, Calif.; and the Badger Farming Co., which grows navel oranges, Valencia oranges, Minneola Tangelos and Melogold grapefruits from 3,900 acres spread from Ivanhoe, Calif., south to Bakersfield. Wilson says keeping its operations in-house helps the company ensure quality, especially in a time when food safety standards are becoming stricter. The company employs a full-time entomologist who specializes in pest control and manages a program that uses low-impact chemicals.
Another benefit of its in-house abilities is reduced shipping time. The average time from tree to consumer on the West Coast is two to three days. For the East Coast, the average is one week.
Quality Produces Quantity
As Sequoia grows into its future, Wilson says the company will continue to improve the quality of its product, and by doing so, he hopes it also will produce more fruit. Instead of increasing its production by adding new acreage, Sequoia will tend to what it already owns in order to get better fruit and more fruit out of the ground.
"We are at the point now of bettering what we have in the ground, so instead of having 100 acres that produces 400 full boxes per acre, we want to try and get 800 full boxes per acre," he says. "Through proper nutrition for our trees, proper pruning and making our trees more healthy, we will grow in our quantity and quality instead of our acreage."