California oranges are considered by many to be among the finest in the world. Unlike their Florida counterparts – which are said to be more suitable for juices – most believe California navels are the best for eating by hand, partly because the warm, arid climate in which they are grown tend to produce more blemish-free fruit. Because Sequoia Orange Co. has been growing high-quality citrus fruit in California for close to 40 years in its current form, the Exeter, Calif.-based company has long since perfected the art of growing oranges, President Jamie Wilson says.
The Sequoia brand originated in the late 1800s when W. & M. Marks – two brothers from Nebraska – migrated to California to try their luck in growing oranges in the Sierra foothill community of Lemon Cove, Calif. Some of their first labels were "Aksarben," which is Nebraska spelled backwards, and "Brownies," which the company continues to use today.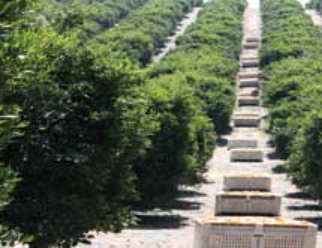 Over time, Sam Finkle took ownership of the company. Oleah Wilson, Jamie's grandfather, worked in the fields for Sam Finkle, eventually making his way up to packing house manager. "My grandpa acquired half of the business from him," Wilson says. "When Sam didn't have any children to pass the business onto, my dad, Marvin, came out of college and purchased the other half. And that's how the Wilsons got involved."
After Finkle retired, Oleah and Marvin Wilson operated the Lemon Cove orchard as a commercial Sunkist packing house. In the early 1970s, the two befriended grower Carl "Skip" Pescosolido, whose marketing background from years spent in the oil business combined with the industry knowledge of the Wilsons, turned Sequoia into a dynamic orange enterprise.
Family Business
When Pescosolido became partner, Sequoia severed its ties with Sunkist and began operating as an independent citrus packing house. As the company grew, it acquired additional groves and two more packing houses in Terra Bella and Exeter, Calif. The operation grew to about 5,000 acres of citrus groves from Bakersfield to Madera, Calif., and became the first fully vertically integrated company with no outside growers.
According to the company, Sequoia was a leader in the export business and helped the industry enter into new international markets. It also led a 20-year battle to deregulate the U.S. citrus industry, which it eventually won in 1992. Sadly, Skip passed away before he was able to see the end of the battle that he spearheaded for so many years. Marvin Wilson passed away in 2000, followed by Oleah Wilson in 2003. Jamie Wilson then took over the reigns as president of the two-family owned business – a role he says he never expected to fill. He is joined by his brother, Jeff, who works in the field, as well as Phil and Win Pescosolido, who also run the business.
"I grew up in 20 acres of oranges, but had zero interest in wanting to work in the family business," he admits. "But during my junior year at the University of Southern California, my parents came down and talked me into it. Seeing the job market back in 1994 – which wasn't much better than it is now – I decided to give it a chance. I came back, started in the packing house and learned the business from the ground up.
"As I sit on the desk as president, I am also a salesman that handles domestic and export sales," Wilson continues. "I talk to customers on a daily basis, and I don't know many sales people they talk to who own the packing house and own the groves. But that's what we do – we are the grower, the packer and the shipper. We are 100 percent vertically integrated."
Melogold Grapefruit
Sequoia Orange Co. ships almost 2 million packages of citrus annually. Its products include navel oranges, which are picked and processed between October and May, and Valencia oranges, which follow the navel crops between May and October. In the meantime, the company produces specialty mandarin oranges, tangelos and melogold grapefruit – a hybrid between a pummelo and a white grapefruit.
The company packs two different grades of oranges; the first grade goes to grocery stores and the second grade goes to wholesale markets and bags. In addition, it exports about 25 to 30 percent of its product overseas. Its largest export market is in South Korea, followed by Japan. "I would love to introduce the domestic market to our melogold grapefruit," Wilson notes.
"We sell about 98 percent of them to Japan, and they made waves in South Korea this year. But we can't get the domestic market to try these things. We send boxes out every year and try to get people onto them, but the retail on them is so high it makes them untouchable. We do sell them by the box on the Internet, though."