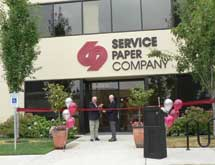 To stay in business for more than 75 years, Service Paper Co. has managed to meet the demands of foodservice and janitorial distribution clients looking to keep their products fresh. According to General Sales Manager Jim Vahrenwald, those products are starting to turn green.
"Everything that is new is anything under the green umbrella," he says. "In foodservice, [it is] sustainable packaging and compostable packaging, and it has been gaining momentum in the last five years."
Service Paper Co. is a supplier to thousands of Northwest businesses. Along with headquarters near Seattle – where it opened a new 175,000-square-foot distribution center in the suburb Sumner, Wash. – the company has locations in Portland, Ore., and Spokane, Wash. Plus, its affiliation with Network Services Co. gives it national distribution capabilities. The company boasts extensive local warehousing and maintains a 99 percent fill rate, and it also specializes in after-the-sale support.
For the foodservice industry, Service Paper Co. specializes in disposable packaging, industrial packaging supplies and sanitary maintenance products. The company is considered an industry leader in the development and implementation of total sanitation programs for supermarkets, packers, processors and foodservice establishments. Its services include on-site training and follow-up monitoring to maintain safety levels that exceed health department standards.
"We have the ability to be consultants in the market for our customers," Vahrenwald says. "We spend a lot of our time training the sales staff to have them act as vendor partners."
Strong Bonds
Customer and vendor relationships are important to Service Paper Co., and the company makes sure it takes the time to emphasize this to its employees. For customers, this means having the Service Paper Co. sales force serve as a training force, as well.
"We also utilize a number of different technological elements, so our sales force is equipped with laptops that allow them to go out to sites," Vahrenwald says.
That same dedication to customer service is what has led Service Paper Co. into green products for the foodservice and janitorial categories. In the same manner, the company leverages its relationships with vendors who specialize in these products.
"Across the board, we've identified new vendors and stocked our distribution center with these products and trained our salespeople on these products and technologies," he says.
Service Paper Co. offers a range of products for every kind of foodservice establishment, it says. The company provides stock, specialty or customized packaging, and works with clients to contain product costs.
"We've also spent a lot of time consulting with customers, on new product availability, point-of-sale materials and mini-product shows that we customize for specific client needs," Vahrenwald says. "This is how we stay up to speed or ahead of the curve to provide those products to the market."
The company also caters to the retail food industry through its packaging expertise. Service Paper Co. has products for deli, bulk foods, produce, bakery, meat and seafood departments, as well as holiday and seasonal packaging.
For industrial clients, Service Paper Co. says its goal is to design industrial packaging that effectively markets and enhances its customers' products while improving the overall efficiency of their operations. Service Paper Co.'s innovative software enables clients to place orders electronically and simplifies inventory management.
"We partner with leading manufacturers to ensure just-in-time delivery of [customers'] orders, while reducing acquisition costs and increasing [their] warehouse space," the company says.
The company also offers labor-saving chemicals and equipment designed to handle the specific cleaning requirements of each client. This includes dispensing systems, sanitary paper products, chemicals and janitorial equipment.
A Green Future
No matter what industry it serves, Vahrenwald says Service Paper Co. has a bright future in green products. And much like its already exemplary customer service record, he believes the company's ability to advise its clients on the green products that best suit their needs will propel sales to new levels. As long as Service Paper Co. maintains this focus, growth will follow.
"The company has a tremendous amount of opportunity in the category of renewable, sustainable resources," Vahrenwald says. "We stay ahead of the competition through the knowledge we provide our customers."