Serving up delights and turning on the glamor with Rhubarb Hospitality Collection
When one sits down at a white linen-covered table, perhaps under a lofty ceiling or the endless possibilities of an open-sky terrace, the stainless-steel cutlery seems to glimmer with a certain prestige, the champagne flutes call out for French grapes, and everything seems to stand still while appetizers are brought out by cheery waiters.
It's special. It's a moment to remember – an occasion to revisit on rainy afternoons. Rhubarb Hospitality Collection (RHC) was founded to create moments in time such as this. Established in 1996, the focus was on luxury events from the start; however, the group has since grown into an international premium hospitality brand known for operating a broad spectrum of services, including restaurants, bars, Business & Industry (B&I) catering, as well as continuing to flourish within the wider events industry.
One key moment occurred in 2007 when RHC secured its first permanent location within the UK. Fast forward to today, and the hospitality group now manages several permanent locations across a slew of iconic venues, including the Royal Albert Hall, Sky Garden, 22 Bishopsgate, Ascot, Frameless and Mamma Mia! The Party. Just ten years on from that first permanent location, RHC expanded across the pond with two new projects in New York: the renowned sky-high destination restaurant, Peak, and the acquisition of an events business known today as Events by RHC.
More recently, European developments have been at the fore of RHC's growth strategy, as the company proudly opened Frederick's in Berlin. Housed in the former Hotel Esplanade, the restaurant and events space has a rich history – and its atmosphere reflects that. RHC invites diners to sample reinvented German-origin dishes and international flavors within the glamorous aesthetic of the roaring 1920s.
Delivering the best
To create extraordinary dining experiences and events such as these, RHC leads from the front with a seasoned and passionate team; design idiosyncrasies blend with a uniform mindset toward hospitality and the possibilities and pleasures afforded by the consumption of food in gorgeously stylized environments.
Concept development, project mobilization, managing partners, and consistent client engagement – these are some of the skills and services offered by the RHC team. Accredited as a caterer at over 80 landmark, jaw-dropping venues across the UK and US, from world-famous museums of wonder to a treasure trove of historical royal palaces, the hospitality company has become well-known for its relentless pursuit of excellence and staunch defiance of traditional boundaries associated with events and catering.
To better understand the business behind the famous name, we recently sat down with PB Jacobse, CEO at RHC. "We are an incredibly entrepreneurial business made from a team of creative, focused, and passionate individuals," he begins. "We are proud of our decidedly hands-on approach and our constant ambition to achieve consistency in our overarching mission, which is to deliver the best to our clients and partners – with no exceptions.
"We also have a full-time, in-house creative and food development team," PB Jacobse adds. "With creativity being at the heart of what they do, they are continually looking at trends and inspiration from across the globe to stay ahead of the curve and offer memorable experiences, whether at an event or restaurant. Indeed, we are kicking off 2023 with an exciting start, opening Larch, a new gift shop, café, and Italian restaurant situated opposite Sky Garden.
"We will be welcoming guests from the middle of February, serving hearty Italian fare in the restaurant as well as warming drinks in the café. The gift shop will offer a range of Sky Garden souvenirs and gifts for the garden, so visitors can take a small slice of the Sky Garden home with them."
Perfect partner
Other recent developments have boosted RHC's renown, while also conjuring excitement and pride within the company itself; for instance, the firm was honored to be chosen as the sole catering partner for the opening party of the iconic Hudson Yards in New York City, a 28-acre real estate development, which is home to more than 100 different shops and culinary experiences, as well as offices for leaders in industry, modern apartments for professionals, and dedicated spaces for cultural institutions like The Shed.
As PB Jacobse explains, the event had over 20,000 attendees and RHC served themed food and drink across all floors. "It was truly a magical moment – seeing UK and US teams come together to beautifully deliver a truly memorable night," he reflects. "The success behind an event such as this inevitably comes down to the people involved.
People first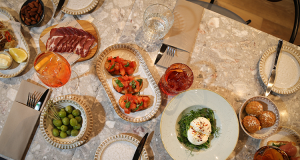 "Simply put, people are our business: hospitality begins and ends with how we treat one another – and, in turn, our guests – at work," PB Jacobse goes on. "Values are personal to each company, and they should be the backbone to your business. It is no good having values if nobody believes in what they represent. Our core values, which are all connected to how we treat people, have become a reminder of what is important. They are as follows: passionate, creative, focused, humble, and excellence."
Since its founding, RHC has utilized a number of strategies to motivate and inspire its various teams – from teambuilding events to nights out, the company is keen to ensure that employees across the business are actively engaged with one another. Transparency is also key, and international growth plans are available to those who wish to know more about RHC's wider strategies.
PB Jacobse breaks it down a step further: "It is about listening to your people and looking after them where you can. At the end of the day, anyone can recruit staff – but retention is key, and people stay for people. Recruitment remains tough for us all in hospitality and we feel this in London, New York, and Berlin.
"We are lucky that we manage to attract new talent at RHC, especially those looking for career progression; however, it remains the case that hospitality is an industry that needs more support. It is very simple for us: take care of your people and your people will take care of you…"
And it has clearly paid dividends for the hospitality giant. With new locations popping up across Europe and the US, RHC is clearly working on its growth trajectory. PB Jacobse describes the company's plans in more detail: "We only go for projects that really excite us and where we know we can make a difference. All of our venues are in iconic locations, and we love to have destinations with a story.
"The design of Frederick's in Berlin, for example, remains faithful to the building's heritage with its Belle Époque architectural style," he continues. "This has been juxtaposed with murals from Berlin-based street artists and modern features that reflect the city we know today; it represents a fusion of the old and new, combining an industrial aesthetic with the gloss of bohemian glamor."
With landmark openings such as this now behind it, RHC can begin thinking about the next three-to-five years. What can we expect? "New openings, new countries, new experiences – all with the same quality," PB Jacobse answers. "We are on a journey, and there are some very exciting times ahead at RHC for sure."