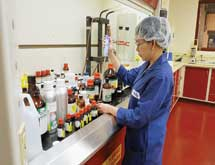 Vanilla is the world's most popular flavor, according to the FDA, and of the approximately 2,000 metric tons of vanilla produced around the world annually, the United States consumes 70 percent. Obviously many people love vanilla for its sweet and floral notes, but many others consider it an accurate adjective for "plain" or "boring." Regardless of which sector of consumers food producers want to attract, Sethness Greenleaf Inc. can develop a flavor that fits their needs.
Believing that "our flavors make the world smile," Sethness Greenleaf was founded in 1880 to serve the U.S. food and beverage industries, and now has a formulary with more than 40,000 flavors. The company's dedication to creativity, technology, innovation, quality, affordability, reliability and service allowed it to introduce Green River soda to the world and expand its presence into Central and South America, Europe, the Middle East, Africa and Asia.
Sethness Greenleaf's biggest market is the beverage industry, but it also develops products for the dairy, confection and baking markets. The company has created products for candies, dairy beverages and desserts, frozen confections, alcoholic beverages, bar mixes and frozen cocktails. Not only does it custom design flavors that meet customers' preferred flavor profiles, but it also ensures the flavors meet the necessary application requirements.
"We celebrated our 130th anniversary, and that speaks to the type of company we are and the quality of our people," explains Tom Schufreider, vice president of global sales and marketing. "It says a lot about our values and the value we bring to our customers, as well as the energy and vision of the company's management. I am definitely proud of the way we do business and the reputation we have with our customers. We're the best little-known, 130-year-old company there is."
Creativity and Science
When developing new flavors, Sethness Greenleaf relies on the expertise of its flavor chemists and its corporate chef, who works in the company's applications laboratory. In addition to developing flavors in response to problems or challenges customers are having with a product, the company also actively works with its customer base to provide them with creative new flavor ideas and cutting-edge applications.
"We provide our customers with relevant and pertinent information," > > Schufreider explains. "Our goal is to help customers make an impact with their product."
The company works with its custo­mers' marketing and R&D departments from "ideation to formulation," he notes. Customers may need a flavor for a new product, and the team at Sethness Greenleaf works to understand the attributes required in the desired flavor. If it already has a flavor like that in its library, the company works with the customers to determine how the flavor should be customized to their needs.
Oftentimes, however, customers come to Sethness Greenleaf because a flavor is not doing what it should be doing in the application – the flavor affects the product in the wrong way, for example.
"We are leaders in the development of beverage emulsion technology," Schufreider says. "Our flavorists are continuously improving the long-term performance of our emulsions so they deliver the longest possible shelf life for the customer. For example, citrus oils are used in many beverage flavors and our emulsion technology keeps those oils stable throughout a beverage for an extended period of time without ringing or dropping out.
"This is a core competency for us, and recently we've created customized emulsions for alcoholic beverage app­lications including wines, cordials, liqueurs and cocktail mixes," he adds. "This science is always being refined, and we plan to remain a cutting-edge manufacturer in this area."
Adding Function
Pitch-perfect flavors and application technology go far in helping customers succeed in their markets, but Sethness Greenleaf supports those efforts with "legendary customer service," according to Schufreider. The company promises only 15 days from order to shipment, and commits to keeping raw materials on hand to ensure it can manufacture a flavor as it receives the order. The goal, he says, is to deliver the freshest-possible product.
"It's no different than food – fresher is better," he stresses. "We have always focused on providing a quick turnaround. As we grow, it's always a challenge to maintain, but we're good at it because it's a primary focus of ours."
Much of the company's recent work has dealt with energy drinks and other "functional beverages," such as those that aim to deliver various nutrients and vitamins. Known as "fortification," Schufreider says, customers in these markets want their beverages to have calcium, Vitamin C, the B vitamins, Q10 and many others. Some beverage clients also want their drinks to contain "cosmaceuticals," which are ingredients that are good for consumers' skin. Fortification adds value to beverages, he explains, because they provide benefits other than just refreshment.
"Functionality in beverages is going much more mainstream," Schufreider says. "We help our clients add nutrients, vitamins and minerals to their beverages, but often these vitamins have their own flavors, and we have to ensure they work in harmony with the beverage's primary flavor."
Additionally, in response to the clean label and environmentally sustainable trends, consumers want their products to contain natural ingredients and clear supply sources.
"We strive to provide the same flavor profiles, but we have a shrinking pallet of ingredients when we're limited to all-natural," Schufreider explains. "Our experience, creativity and knowledge helps with this, but we also stay on top of new ingredients that are available, governmental regulations and any third-party restrictions. Whole Foods and Trader Joe's, for example, each have their own list of unacceptable ingredients or restrictions for the products sold through their stores."
Schufreider believes Sethness Greenleaf will continue to respond to customers' needs and grow its business because the company provides "terrific flavors with great value." Sethness Greenleaf is a nimble and creative flavor house, he says, and offers quick turnaround of high-quality products.
"Our reputation with our customers is fantastic," he stresses. "We have an extremely loyal customer base because of the quality of our products, the service we offer and the quality of our people – who are trustworthy, creative and respond rapidly."