Long-term family ownership ensures Shady Maple Companies maintains the values of quality, freshness and customer satisfaction in every part of its business.
If you dine at the Shady Maple Smorgasbord on your birthday along with a paying adult, you get your meal for free. Shady Maple gave out more than 97,000 free birthday meals last year. This promotion costs the Shady Maple Companies a lot by giving away that many meals each year, but Marketing and Sales Manager John Gehr explains this was the best marketing decision Founder Marvin Weaver ever made because it attracts people from down the road as well as from hours away.
"We are known for our quality and freshness, and that is from the consistency of a family owned business," Gehr says. "Our employees are consistent too – we have people who have been here for more than 20 years. With the smorgasbord, we can sit 1,200 people at a time, so you can bring in a group of six to 15 and you can all sit together. You pay, sit and the dining time is yours, and people really enjoy that family atmosphere you can't get anywhere else. From ownership to employees to our customers, we really speak family."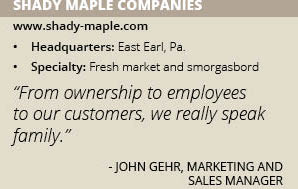 Based in East Earl, Pa., Shady Maple Companies is known for the Shady Maple Farm Market and the Shady Maple Smorgasbord and Gift Shop, although the company also operates the Central Market in Lancaster, Pa., and the Amish Market in Hanover, Pa. The Farm Market will celebrate its 50th anniversary next year, and continues the values on which it was founded – providing the highest-quality products and services at the best value. In addition to a large variety of local produce, the Farm Market offers more than 300 items made from scratch in its bakery by its more than 100 bakery employees. The Farm Market's on-location smokehouse also provides nearly 100 varieties of high-quality smoked meats.
"We have the largest and freshest produce section in possibly all of Pennsylvania," Gehr says. "There are soup and salad offerings, there are more than 100 and they are made in house. The bakery goods are all made in-house, and with the meat section, people travel from all over the Mid Atlantic because our own in-house butchers smoke all of our meat, from bacon to chicken to sausage to scrapple. There also is a regular grocery store in the middle of the store.
"We are known for our variety, freshness and pricing," he continues. "We have the largest store in Lancaster County, and we are at auction numerous times a week for produce from local farmers and from Philadelphia. We can buy at a high volume and can price it incredibly well for our customers, so they know they are getting the best price and freshness. We buy everything local as long as it's in season."
Honoring with Quality
The Shady Maple Smorgasbord is nearing its 35th anniversary, and it also is known for its large variety, quality and freshness of food. The company estimates it serves nearly 1.5 million people each year from its 200-foot buffet line. There also are two to four grills cooking fresh items, such as omelets and pancakes in the morning, with burgers, steaks and fish cooked the way you want later in the day.
"Customers pay before they are seated, and that price includes everything," Gehr says. "The only extra is tax. They get to eat as much as they want and stay as long as they want, and we have more than 50 choices of drinks. We encourage people not to waste food because of the moral implications, but we want people to try different things because there is so much variety. The highest-priced night is Tuesday with seafood. For $24.99, you get salad bar, fresh fish cooked the way you want, desserts and drinks. I don't know where else can you go and get various shrimp, scallops and haddock, as well as fried chicken, ham and mashed potatoes for $24.99 plus tax. There is clams, mussels, beef brisket and New York Strip – you can eat reasonably and more than get your value."
On Thursdays, kids eat for $4.99 while adults pay $19.99. There is more of a kids-focused menu with pizza, and a face painter is available in the lobby. Wednesdays are the day when anyone currently in the military or who has served gets 25 percent off the price of the smorgasbord and 10 percent off at the gift shop. The gift shop is a 44,000-square-foot space located underneath the restaurant.
Gehr notes the grocery business is becoming more competitive, but Shady Maple Companies maintains its focus on quality, freshness, variety and value, which continue to make the Farm Market and Smorgasbord popular destinations.
"We are family owned – my boss is one of the owners and a son of the founder and he's hands-on every day," Gehr says. "It is truly in the owners' hearts to make it about people, and they want to honor the employees and customers with the best food and experiences they can give. Our decisions are always based on those values, and doing things that way can work and it does work. From the internet to cell phones, things have changed drastically with business, but Shady Maple stays the same."