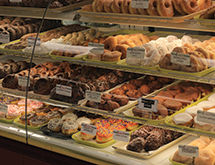 Shady Maple Farm Market is known throughout Pennsylvania for its smorgasbord, which features 200 feet of authentic Pennsylvania Dutch cooking. Giving customers as much as they want isn't restricted to the smorgasbord, however, and President Elwood Martin says going all out to provide customers with exceptional service and variety has been the key to Shady Maple Farm Market's long run of success.
The company's origins began with a single roadside stand run by Henry Martin and his wife, selling produce they grew on their family farm. By 1970, their son-in-law and daughter – Marvin and Miriam Weaver – took over the business and expanded to a modest 3,000-square-foot building on the farm property. In time, an opportunity to expand to more general grocery products through IGA came up, and the Weavers jumped on it. Over the years, the store continued to grow as more people discovered Shady Maple's high-quality produce and affordable prices.
Today, Shady Maple's main location in East Earl, Pa., spans nearly 80,000 square feet. The smorgasbord feeds thousands of people every week, with waiting times of up to an hour on weekends and on special occasions. Shady Maple also features a café, a fast-food restaurant and banquet facilities for up to 1,000 people. On the retail side, the main market has been joined by a gift shop, a furniture store and a full-service RV dealership.
Even though the company faces some stiff competition on the retail side from the Walmarts of the world, Martin says Shady Maple continues to hold true to the principles of first-class service and affordable prices that have made it a destination for shoppers for years. Staying competitive in today's environment means always giving customers the best service for the best value, he says.
Standing Out
One of the most important areas in which Shady Maple stands out from other grocery stores is through its service, Martin says. While other retailers make do with a skeleton crew of one or two employees behind the counter, Shady Maple makes sure it always has enough staff to handle customers' questions quickly and effectively. For example, there are times when there are as many as 10 employees working behind the market's deli counter, and its bakery department has a regular staff of 70. "The biggest thing we have is service," Martin says. "That's where some of the chains don't want to compete on that level."
In addition to its service, Shady Maple also offers customers a variety of unique products that mass-market retailers don't. For example, the market makes its own donuts from scratch, and it has three smokehouses used to smoke its own meat on-site. Because Shady Maple produces so much on its own, the market can guarantee a high level of quality and freshness. "The chains have gotten away from that, and that's one place where we can do well," Martin says.
A True Difference
Shady Maple has become famous for combining many different services under one roof, and recently the market has expanded its reach to other locations. Within the last two years, Shady Maple has opened bakery stores in Lancaster and Hanover, Pa., where customers can buy the full assortment of the market's baked goods. Martin says the Hanover location in particular has been a good move for the market. "That has done a real nice job because it's an hour-and-a-half away and we've been able to introduce people to the Shady Maple brand," he says.
By continuing to focus on areas where it can provide greater value to its customers and augment that with superior service, Shady Maple expects to remain a trusted name for a long time to come. "Those are things that keep people tuned in because they have value," Martin says. "This is real food and people can tell the difference."