Shannon Ridge Vineyards takes a unique approach to sustainability.
Most vineyard and farming operations employ some sort of sustainability practice within their operations, whether it be rotating crops or reducing water use. Shannon Ridge Vineyards and Winery takes its commitment to the environment far beyond industry standards while also creating a new business opportunity for itself.
The company's patented Ovis Cycle system, named for the Latin word for sheep, involves ranching 300 head of the titular animals on the 1,200 acres of farmland on its home property in Clearlake Oaks, Calif. The sheep eat grass, weeds and low leaves from vines, greatly reducing the vineyard's need to mow grass and almost entirely eliminating the use of gas-powered weed eaters in its operation. "We have the ultimate sustainable system," President and CEO Clay Shannon says.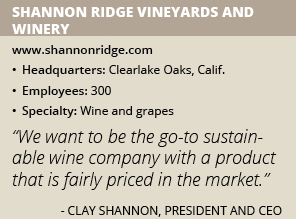 Other benefits of the Ovis Cycle include reducing the company's use of herbicides and manual labor, as the sheep eat weeds and vines that would otherwise be removed manually. Sheep also eat cover crops, dry grasses and other leaf material that can fuel wildfires, making the property more fire-resistant. The sheep also provide natural fertilization to the property, which has helped grass to grow on hilltops that have been eroded over time.
In addition to providing natural land management to Shannon Ridge's farms, the sheep also are a source of revenue, as the company provides grass-fed lamb to local restaurants and for special occasions.
The Ovis Cycle has proven to be one of the biggest differentiators between Shannon Ridge and many of its peers. "Whenever we go into a general sales meeting with a new client, people say `you're the sheep guys!," Shannon adds.
'Wine for Every Person'
In addition to its own property, the company farms and operates 2,500 acres of land on behalf of other vineyards. Although the company produced its first vintages in 2003, Clay Shannon's experience extends back to 1981 and includes work with and on behalf of several major players in the wine industry, including Sutter Home, Robert Mondavi and Kendall Jackson.
Shannon Ridge takes a direct, vertically integrated approach to wine production. "We are involved in every step in the business," Shannon says. "We manage vineyards, prune the vines, pick the grapes, make the wine, put it in bottles, work with distributors to supply wine and help sell it by working with retailers."
The company produces 180,000 cases of wine annually including varietals such as chardonnay, zinfandel, malbec and cabernet sauvignon. Shannon Ridge offers wines under different label names and at varied price points. The company's latest offerings are a cabernet sauvignon under its Buck Shack brand and a rose bearing its Vigilance label. Future varietals will include a pinot noir, for which Shannon Ridge recently planted 40 acres of grapes on property it acquired last year.
All of the company's products are produced with quality and accessibility in mind. "We want to be the go-to sustainable wine company with a product that is fairly priced in the market," Shannon says. "We want to make everyday wine for every person."
Shannon Ridge's wines can be found in independent retailers as well as large wine shop chains nationwide. Major retailers include the Harris Teeter grocery chain, which has stores in North Carolina, South Carolina and Virginia; Safeway and Ralphs stores in California; and Binny's and Mariano's stores in the Chicago area. The company also operates a tasting room and wine club, and intends to soon offer wine via its website.
The company's close relationships with retailers and distributors across the United States are a reflection of its overall philosophy. "We're ultimately in the customer service business," Shannon says. "We listen to our customers and are small enough and fast enough to keep them happy. By continuing to do this, I think in the next few years, we will be 50 percent larger than we are right now."