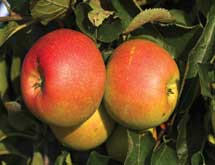 People often try to explain how long they've done a particular job by saying, "I grew up in this business." Sometimes, this statement is a bit of a stretch, but for Joe Shelton and his nephew Mike Shelton, it is definitely true of their time at Shelton Farms. "We worked in the dirt at our farm as kids," Mike Shelton explains. "We grew up in this business and learned about every aspect of it. This is the oldest food business in our local market, and we have poured our hearts into it."
Shelton Farms dates back to 1947, when Ethan and Rose Shelton – Joe's parents and Mike's grandparents – sold their grocery store in Chicago and moved their family to Berrien Center in Southeastern Michigan. The Sheltons started by selling their products from a stand under three large pine trees that were in front of their 40-acre farm.
Although Shelton Farms still has its original 40 acres, the company has added a few hundred more acres and sources product from a number of local growers. Its stand grew into a full-fledged market, and Shelton's Wholesale – owned by brothers Joe and Jim Shelton and Mike Shelton – distributes goods to foodservice and retail.
In a recent conversation with Food and Drink, co-owners Joe and Mike Shelton explained how Shelton Farms keeps its products so fresh while also providing a high level of service to its customers.
Food and Drink: How ingrained is Shelton Farms in the local community?
Joe Shelton: We are proud to be a part of this community and very involved. For example, I've been on the local school board for 14 years. We have a great team – a number of people here have grown up in the business with us. We call ourselves "the fresh specialists" – all of our employees are focused on providing fresh, quality produce and great service.
Mike Shelton: By being local, our customers can see that we are the real deal. We know produce from the ground up because we are growers, packers, shippers, receivers and distributors. We have our own storage and our own retail operations, which allow us to be close to consumers.
FAD: In your wholesale business, how is your system organized?
MS: We distribute to customers within a 150-mile radius of our farm in Niles, Mich. The facilities that we ship out of aren't huge, so we run a just-in-time operation. An order is shipped out as soon as we receive it because we want our customers to receive products that are as fresh as they can be.
In addition to our produce, we offer an extensive line of pre-cut fruits and vegetables. We use specially designed refrigerated trucks to transport our goods, and the trucks are equipped with air-ride suspensions so the products have a gentle ride and aren't bounced around a lot.
We are open 24/7, except for a brief time between Saturday night and Sunday morning. We track every order and review any mistakes to figure out what went wrong and keep it from happening again. As a result of all of this, we have a 99.8 percent fill rate.
FAD: How do you work with growers?
JS: We buy directly from our partners. Our trucks are continually loading product from all regions in the country. We buy from certain areas depending on the season. During our season, Michigan is our primary growing area – we grow products on our own farm and we have neighbors who grow for us.
MS: For retail customers, we really follow each crop, and only supply a crop during its seasonal window. We follow the crop through the different growing seasons around the country, and buy directly from suppliers in those areas.
JS: We grow our products on the same farms that we've had since this business started, so we relate to our growers and what they go through. Also, through our retail business, we are face-to-face with customers every day. We understand what end users need and want, which helps us be better distributors.
FAD: What's your vision?
MS: Our vision has been the same for many years – we want to be the recognized leader in our market because of our premier quality and service.
JS: We truly live that vision every day. We believe we are better than all of the competitors in the market, but it is better when our customers tell us that.
Our competition is good, and that makes us better.