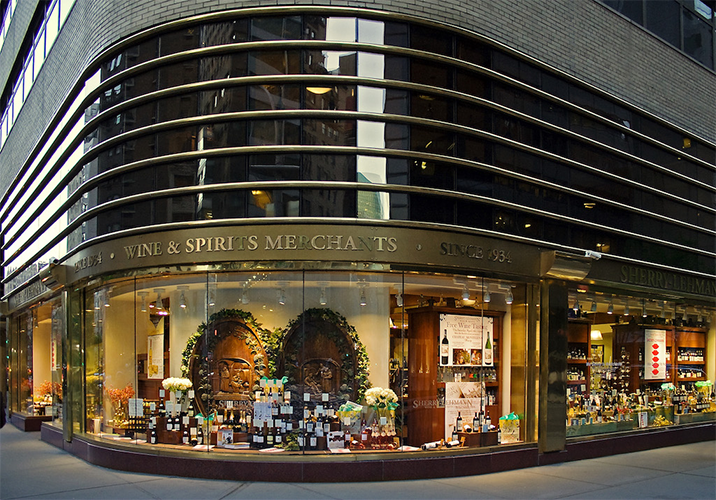 Fine wine merchant Sherry-Lehmann is an institution in New York City that continues to expand its reach throughout the country.
Jack Aaron was a bootlegger during Prohibition and known as a connoisseur of whiskey with a discerning palate for bourbon, rye and gin. By the time Prohibition was repealed, Aaron had built a strong client base, so he decided to get into the legal liquor business. Sherry Wine and Spirits Co. was founded in 1934 and has been introducing wine and spirits to the American market ever since.
"The vast majority of product was spirits and Jack had a reputation of procuring the best; he was always associated with the finest," CEO Chris Adams says. "It wasn't long after that Jack's brother, Sam Aaron, got into the wine end of the business. In the 1940s, as Sam's passion for wine developed, he befriended another wine and food lover, James Beard."
Beard would contribute articles, notes and a holiday dinner complete with wine selections to the Sherry Wine and Spirits catalog. He traveled abroad with Sam Aaron to discover the great wines of France, Italy and Germany. The duo brought the wine back for the American market or more specifically, New York City.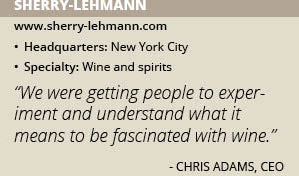 "At that time, the market didn't know a lot about wine besides what they were making in their garages or in the boroughs," Adams says. "Wine was a beverage hardly consumed in those days, but Beard and Aaron were on the cutting-edge of America's wine-loving culture. In the beginning, we were bringing product to market and telling our customers to take a bottle home to try. We were getting people to experiment and understand what it means to be fascinated with wine."
In 1929, a bottle of Château Latour sold for $3.25 and a case of Château Margaux 1928 sold for $30.50. In 1950, Château Mouton-Rothschild 1945 sold for $2.25 a bottle – today it sells for $12,000 a bottle.
In 1965, the company's name changed to Sherry-Lehmann after acquiring its largest competitor, M. Lehmann, a gourmet butcher shop and grocery store on Park Avenue in New York City. Today, Sherry-Lehmann continues to maintain its reputation as a fine wine merchant that specializes in introducing wines, champagnes and spirits to the American market.
Sherry-Lehman has grown its inventory from 1,500 items in a cellar to 7,000 items stored in temperature- and humidity-controlled warehouses. The company has been proud to introduce new products to the consumer throughout the years. Dom Pérignon, Chivas Regal and Georges Duboeuf's Beaujolais are just a few of the brands Sherry-Lehmann has introduced over the years to the United States.
Continuous Education
A lot has changed at Sherry-Lehmann since its first years when the Aaron brothers and Beard made up the entire staff. Today, the company has 70 employees and more than 200 during the holidays. "We hire people who have a fascination with wine and spirits and want to learn more," Adams says. "They don't have to be sommeliers. We want people who have the wine bug, want to meet great winemakers and be taught by them."
Sherry-Lehmann representatives travel to Europe more than 200 times a year to stay "on the ground" to taste new wines and reinforce relationships with winemakers and vineyards. At the Sherry-Lehmann store in New York City, not a week goes by when a winemaker isn't in the store working with the staff and teaching.
In addition to training its staff, Sherry-Lehmann focuses on the idea of presenting opportunities to the customer. "They can learn more and experience education through highly customized dinners and events that put them in front of the product," Adams says. "Upstairs we have education seminars, providing opportunities to learn about the history, soil and terroir. Every vintage has a new story – it's not about selling something that is replicated year after year, every vintage has its own thumbprint."
Acing Fulfillment
Sherry-Lehman owns and operates its three-floor and more than 9,000-square-foot store at 59th Street and Park Avenue in New York City, a 65,000-square-foot warehouse in Queens, N.Y., and it recently opened a 30,000-square-foot warehouse in Los Angeles. "One of the most significant changes in the industry is how customers are ordering," Adams says. "We work with our colleagues, salespeople and customer service representatives so they understand the industry and how we do business. It's more and more about fulfillment and proper allocation."
To ensure faster lead times and service its clientele better, Sherry-Lehmann in March opened its new 30,000-square-foot warehouse, tasting and showroom in Los Angeles. "We are extending the brand to a good market with a lot of fine wine lovers," Adams notes. "The new location will allow us to develop close relationships with wineries and the top producers, as well as provide greater access to goods."
Sherry-Lehmann ships its fine wine throughout the country. When the company first started in the 1930s through the 1950s, the wine and spirits industry was a carriage trade because at the time, no one wanted to be seen carrying a bag of liquor. "We were always delivering," Adams says. "Fulfillment was something we were already doing back then. The difference is now it's all about what makes us special on mobile and e-commerce platforms." Sherry-Lehmann prides itself on a transparent website that offers product details. The company does note that it can't list its entire inventory on the website or in its catalog because it is too vast, but asks clients to send inquiries about a particular request.
The Sherry-Lehmann catalog began in the 1930s and it is still a big marketing platform today with a mailing list that has grown to about 80,000 subscribers. "We are archiving all of our catalogs from the past eight decades and making sure we preserve them," Adams notes. "I received an email from a business school about a year ago who wanted to know about champagne pricing over the decades and they told me the Sherry-Lehmann catalog is the only record that exists."
Sherry-Lehmann's catalog, website, mobile app and Instagram are not going to single-handedly transform the business, but work together to reinforce the company's messages and enhance its level of communication. "We are in the process of updating and launching a new website," Adams notes.
Market Expansion
Sherry-Lehmann does not want to have 100 stores throughout the country. Rather, the company looks to penetrate new markets and continues to differentiate itself from the big-box stores as a fine wine merchant.
"We offer something different from our product supply and sourcing to different level of education and access to education," Adams says. "We do envision being in more markets and a successful fine wine brand against the tide of private labels and bigger box stores. We like cozying up to the fine wines and selling the virtue of those wines. The quality in the bottle will transcend it. We believe in being grounded in the market."
Moving forward, Sherry-Lehmann is focused on remembering its history and what has made the company what it is today while embracing the future and innovation. "The industry lends itself to new vintages, new discoveries throughout the globe and fine wines being introduced and brought to market," Adams says. "As a point of distinction, part of the Sherry-Lehmann legacy is having been there from the beginning as a fine wine merchant. It's an extraordinary thing to be a part of and Sherry-Lehmann is an institution in New York."