Let the good times roll
Approaching its 15th anniversary, Shuckin' Shack Oyster Bar shares its winning recipe for success
With a craving for fresh oysters, cold beer, and endless good times, Matt Piccinin and Sean Cook began to hatch a plan. First scribbled on a napkin, the idea of owning their own oyster bar soon became certifiably fresh in the minds of its creators. That initial concept, built upon a desire to drink beer and eat freshly prepared food with a group of buddies, would become the Shuckin' Shack Oyster Bar, which first opened its doors to customers in Carolina Beach, North Carolina, in 2007.
The sleepy beach community suddenly had a new name in town. That initial 900-square-foot spot, catering to a horde of hungry and enthusiastic locals, would soon be dwarfed by a rapidly increasing demand.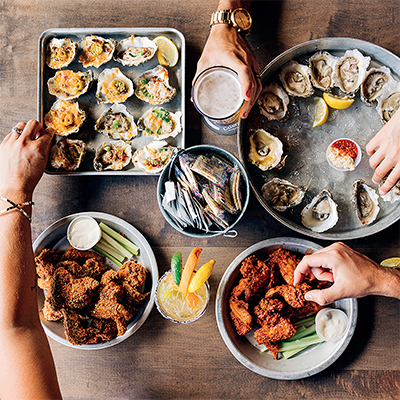 To start: cold crab dip with herbs and garlic toast points, fried jalapeno bottlecaps, or chilled shrimp cocktail. To follow: oysters offered on the half shell, wild American steamed shrimp, or a New England style Lobster Roll served with a southern remoulade. Paired with brilliant local beers or striking cocktails like the Shack Attack and Shucktini, it's safe to say the team were on to a winning formula.
"We pride ourselves on serving, when available, the best wild-caught American products," explains Shuckin' Shack CEO Jonathan Weathington, who joined the team in 2014. "We do not serve farm-raised shrimp that lacks flavor and has to be over-seasoned to be edible. Of course, we serve oysters of all varieties in several different ways: raw, fried, steamed, and chargrilled. But, following a significant recent menu expansion, we also now treat our land-loving clientele to an exceptional burger, sandwich options, and a wide array of non-seafood items. At the bar, you'll find the coldest local beers, imaginative and signature cocktails, and, most importantly, good times."
Following the immediate success of that formula, Shuckin' Shack continued to grow year-on-year, and dreams of a second location soon began to take hold. The dream came to fruition with the opening of a partner bar in Downtown Wilmington, NC, in late 2012. When you've come to be adored for a particular thing, following it up can always be daunting: you never know whether the high expectations that often follow success will be met. Fortunately, they were. With a larger location and more varied menu, the oyster bar was almost destined to be a hit with the local Wilmington community.
Sustainability goals
It was – but Shuckin' Shack's increasingly prominent presence struck a chord with the critics, too. Accolades such as 'Best Taste Award' from the Good Taste Awards, 'Top 22 Seafood Dives in America' from Coastal Living Magazine, a feature in Southern Living Magazine, as well as an award for 'Best Oysters' from Encore Magazine, proves that Shuckin' Shack mean business.
"We stand apart from our competitors because we know exactly who we are and how to meet the needs of our patrons," Jonathan continues. "Our bar is exceptional – about 30 percent of our annual sales come from alcohol, making Shuckin' Shack a true standout within the industry – and, more specifically, we don't feel the need to follow every industry trend. Put in simple terms, we're committed to being the best choice for American-caught seafood, tasty cocktails, and an authentic coastal environment. All of this makes me confident when I say this: Shuckin' Shack is poised to continue making its impact on the full-service restaurant scene."
Ironically, to make this impact, Shuckin' Shack wants to mitigate its own. "When we talk about sustainability, our goal isn't potential press coverage. It's altruistic: we take from the ocean and, as such, we've got to make that sure we're doing it sustainably. To achieve this goal, we're eliminating single-use plastics from our restaurants, sourcing eco-friendly takeout containers, asking customers to 'Skip the Straw', and partnering with vendors who practice sustainable fishing and transport methods. For our effort, we've been recognized by the Ocean Conservancy, Shellfish Growers Climate Coalition, and the James Beard Foundation's Smart Catch Program."
Even with the valuable addition of Jonathan in 2014, the close-knit team behind the brand could not do it alone. Without suppliers, especially those who have supported them over a number of years, the team would be stuck with just a great idea. As Jonathan makes clear, "Without suppliers, we have no product to serve, no equipment to cook that product with, and no building to operate in. Simply put, without suppliers, we wouldn't be where we are now.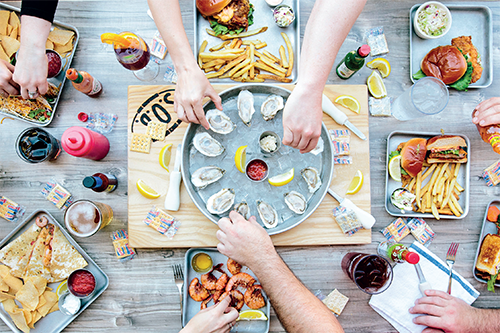 "Suppliers like Farriss Hospitality, for instance, make our jobs much easier. We can depend on industry experts from our partner companies since they recognize future opportunities and act with our best interests in mind. Without consistent suppliers and the relationships we have with them, the road would have been much longer and more difficult."
Franchise opportunities
Unsurprisingly, however, the pandemic caused a significant bump in the road. "As was the case for many full-service brands, the arrival of Covid-19 marks a major point in our story," Jonathan adds. "We were forced to temporarily close all our locations in accordance with local and state restrictions, which had a tremendous impact on our revenue. We learn from everything we do, and Covid-19 isn't exempt from that. The biggest lesson for us was that we could depend on our brand DNA to lead us through. We stayed hospitable, genuine, and connected with our customers. We didn't go dark with our communication. In fact, when we were finally able to re-open, we saw record sales and a surge in demand – so far, that demand hasn't stopped!"
To keep up with the demand, Shuckin' Shack has embraced the opportunities for growth afforded by the franchise model. "We began franchising in mid-2014," discusses Jonathan. "Primarily, we focused on expansion within North and South Carolina. However, by 2015, Shuckin' Shack had quickly expanded into several new markets. The brand continued to grow at a manageable pace between 2016 and 2019. Since then, our focus has shifted to national expansion. Shuckin' Shack now boasts 16 units in five different states, with new restaurants in additional states being planned by the end of the year."
For Shuckin' Shack, the role of the franchise owner within the wider service model is everything. As Jonathan observes; "No hospitality franchise can succeed without good owners who know the business inside and out. The franchise owner is, put simply, the lifeblood of the day-to-day success of the individual location. Not only does the franchise owner dictate a lot of the financial oversight and human resources, they're also the cultural leader, acting within those four walls that circumscribe their operation. In this sense, they dictate the tone of the bar and its staff."
In terms of its long-term strategy, Shuckin' Shack intends on keeping it simple: open healthy restaurants with people who want to serve their communities. "Brands often get caught in the trap of accepting check-writers and promise-makers," says Jonathan. "However, we're only interested in bringing good people into our system. While there are indeed financial factors involved, the most important qualification someone can possess is a desire to serve their community in a positive and personable way. Quantitatively, we'll double in size in the next three-to-five years. And we look forward to it."
www.theshuckinshack.com