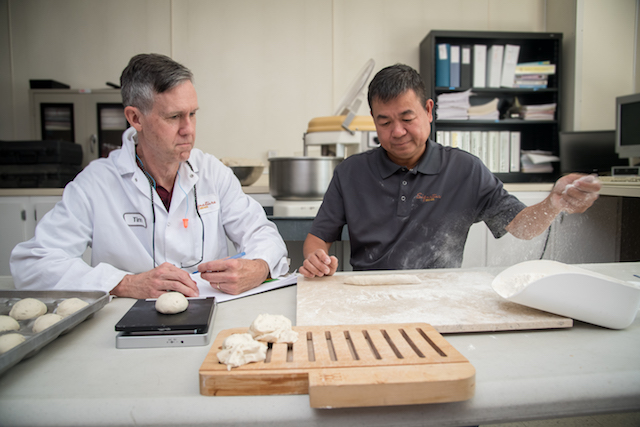 Signature Breads' most important ingredient is people who are passionately dedicated to producing perfectly par-baked bread from scratch daily.
Whether its collaborating with colleagues on innovative recipes to bake from scratch every day or breaking bread with family around the dinner table, food has an extraordinary ability to bring people together. For more than 30 years, Signature Breads' responsibility to people has been its daily source of inspiration.
Signature Breads was founded in 1981 as a par-baking company and developed its signature Rudi Roll, a European-style dinner roll. Pillsbury acquired the Chelsea, Mass.-based company in the 1990s and had plans to develop it into a larger company. But before they got too far, General Mills acquired Pillsbury and decided to divest itself of Signature Breads.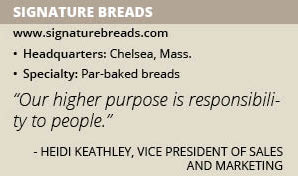 "I was a plant manager at the time with 10-plus years in supply chain with General Mills and Pillsbury, and there were a couple potential buyers for Signature Breads, but that only included shutting it down and taking the lines and products to their own plants," President Tony Rodriguez remembers. "Facing imminent closure, we got a group of employees together and several loans from local banks to put together a package that allowed us to make the acquisition happen."
Today, Signature Breads is an independent, employee-owned bakery specializing in par-baked breads for restaurants and supermarkets. "It was very risky, but we felt we could do something better with the business and everyone involved in the transaction was facing unemployment," Rodriguez says. "The employees successfully bought out Signature Breads and put the company back in the hands of its people."
Responsible and Sustainable
Heidi Keathley, vice president of sales and marketing, says the employee-owned company was built on compassion for people and inclusivity. "We remain grounded in our higher purpose to promote a way of doing business that is responsible to people," she adds. "We have 30 years of 'baking a difference' and it's people who bring that together. Our culture is about inclusivity and being responsible not just to our team members, but also to our community and partners we do business with."
As a Certified B Corporation endorsed by the international non-profit B Lab, Signature Breads is proud to be part of a global movement with more than 2,000 members today who are using "business as a force for good?." For example, the company donates overstock product to those in need through food banks and other food rescue programs.
Signature Breads diverts more than 97 percent of its waste from landfills by recycling, composting and turning food waste into animal feed. Last year, the company received the U.S. Environmental Protection Agency's Food Recovery Challenge award for donating its bread and diverting food waste. "Our B Corp. certification has validated all the good things we have done as a company over the years," Rodriguez notes.
Made from Scratch
Signature Breads bakes more than 100 varieties of baguettes, ciabatta, focaccia and one-of-a-kind sandwich and dinner rolls for foodservice and retail customers throughout the United States. "We focus heavily on function and diner appeal, and try to offer bread that performs best for restaurant menus and menu applications that chefs are bringing to life," Keathley says.
At Signature Breads, it's not all about eating bread, but how to make it. Its breads are more than 85 percent finished, cooled and frozen to seal in freshness. "Our bread can be thawed, served and enjoyed or customized with a topping and oven-finished in just minutes," Keathley explains. "Par-baked breads are a great option for reducing back-of-house space, labor and waste, while increasing bread consistency."
Leading the kitchen and product innovation are Tim Konicek, director of R&D and quality, who has been with Signature Breads for 32 years and Senior Team Leader and Master Baker Son Nguyen who has been with the company for 30 years. "I've been making bread all my life," Nguyen notes. "As we prepare for the future, we are looking at the consumer diet, natural ingredients and global flavors."
Signature Breads develops new products in-house to fill gaps in its customers' portfolios or satisfy a trend in the market. New products are launched in the spring and fall. The other channel for new product development is in private label where customers come to the company with an idea to replace an existing concept or to develop something new.
Food on-the-go and snack offerings have become a major trend in the food industry. To meet the demands of its customers, the company recently launched Ciaboppers, mini ciabatta bread that is ideal for mini size sandwiches, kids' menus and snacking.
Last year, the company launched a Torta-style bread, which is geared towards meeting the ethnic and globalization needs of its customers. "Globalization from a trend perspective is driving a lot of innovation in product type and flavor profiles," Konicek says. "Millennials have a much more welcoming attitude towards new and different types of foods and flavors."
While developing new products, Signature Breads also focuses on sustainable sourcing and choosing the highest-quality ingredients for its bread. "Clean label or ingredients consumers can read and understand is what they are looking for today," Konicek says. "Consumers want sustainability and ingredients that have a story. They want more from their food other than it being something to eat. They want to know who is growing the ingredients and where it comes from. For example, we make sure to sustainably source our palm oil as one of our key goals and to make sure we have a low impact on the environment."
Invested in the Future
As a food manufacturer, Signature Breads faces the same challenges as every other company when it comes to labor inflation and remaining cost-effective. "We attract folks because we offer competitive pay and a great work environment, but the challenge is to maintain that and advance our efforts to be cost-effective," Rodriguez says.
One of Signature Breads' greatest advantages is that it invests with the future of the company in mind, Rodriguez adds. "We don't intend to sell, so the work we tend to do is long-term," he adds. "We have made investments in automation and in equipment that will allow us to make the bread our customers want while we continue to progress along the cost efficiency curve," he says.
Adding automation to one of its lines has allowed Signature Breads to meet its customers' increasing demands for its bread. "We have some automated lines where a lot is done on a conveyor and touched very little by people, and then there are other breads where everything is handmade by a group of up to 20 people," Konicek adds. "It's a nice hybrid to stay true to the brand."
Moving forward, Signature Breads will continue to invest in the company to ensure it meets restaurant owners' needs and remain innovative. "We take pride in making great bread and work to constantly improve our craft," Keathley says. "And we understand that every day is a chance to start from scratch."