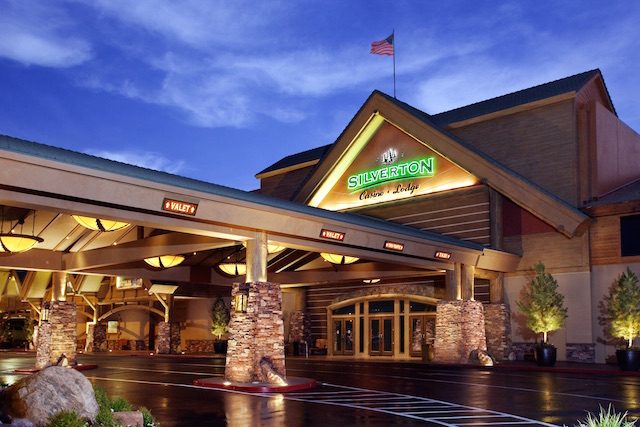 Silverton Casino prioritizes guest feedback as it develops dishes and drinks for its 10 restaurants.
With its famous shows, luxurious resorts and world-renowned casinos, Las Vegas is one of the premier tourist destinations in the United States. According to the Las Vegas Convention and Visitors Authority, 42.9 million people visited Sin City last year.
Most of those tourists head straight to the Las Vegas Strip, but locals know there are plenty of gaming and dining options away from the major resorts. Establishments such as the Silverton Casino, located about three miles south of the Strip, offer the excitement and flavors of Las Vegas at local-friendly prices.
Unlike the big casinos, Silverton draws its customers mostly from the Las Vegas area. For those regular customers, the food and dining atmosphere is just as important as being able to plop a stack of $20s down at a blackjack table.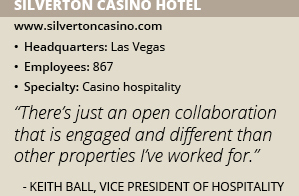 Local customers get to know their casinos in a way out-of-towners never could. They know which restaurant serves their favorite cocktail, where the best buffet deals are and which rewards club provides the best promotions, says Keith Ball, vice president of hospitality at Silverton Casino.
The local market is intensely competitive as casinos work hard to lure in nearby customers and transform them into loyal guests. Quality, consistency and price are crucial.
Diverse Options
Ball has extensive experience in managing food and beverage operations at casinos. Prior to joining Silverton Casino at the end of 2016, Ball served as the vice president of food and beverage for Westgate Las Vegas Resort and the Riviera Hotel Casino, and was the director of food and beverage at Valley View Casino & Hotel near San Diego and the Ameristar Black Hawk in Colorado.
Ball's mission is to continue to elevate Silverton's longstanding tradition for an excellent dining experience. The casino celebrated its 20th year in operation in July, providing an opportunity for its restaurants to build promotions around the anniversary. Rewards club members, for example, could receive 50 percent off dining and two-for-one buffet meals.
Ten restaurants are located within Silverton, including Twin Creeks, an award-winning steakhouse. "Twin Creeks is a hidden gem in Las Vegas," Ball says. "Many locals dine here frequentlyand we get visitors from all over the world that find us online." The restaurant uses meat products from Dakota, a supplier that prides itself on raising grass-fed beef.
The other restaurants include:
Mi Casa Grill Cantina, which offers Mexican inspired cuisine
Seasons, a high-quality Las Vegas buffet
Sundance Grill, a 24/7 grill and cafe
WuHu Noodle, an Asian-style noodle bowl and wok spot
Johnny Rockets, a '50s-style diner
Shady Grove Lounge, a bar and restaurant with an authentic 1950s Airstream trailer
Mermaid Restaurant & Lounge, a causal dining restaurant
Flare Bar, the center bar in the heat of the casino
Starbucks
Having a wide diversity of dining options ensures that every person who comes to Silverton can find something to enjoy. "You're trying to cover a wide demographic of guests that come to the property," Ball says.
Silverton frequently updates its restaurants to build upon those dining options. When changing menu items, it researchers what competitors are doing and identifies guest needs to create unique experiences.
Take the newest concept in development: a restaurant that will blend tacos with sushi, poke bowls and ramen to create a fusion of Mexican and Asian cuisine. The eatery will be located inside Mi Casa, allowing guests to order from either restaurant. "In most places, you couldn't walk into a sushi restaurant and get tacos as well, so it's a bit different," Ball says.
The innovation behind the project was made possible because of the encouragement from Silverton's ownership and marketing team. "If it makes sense for our guests, they're very supportive," Ball notes.
The supportive attitude is reflected in Silverton Casino President Rob Kunkle's hands-on management style. He often walks the casino floor, speaking with guests, security guards and hourly team members to find out what they need directly.
Ball points out that items as simple as a pad of paper or as complex as a machine repair can be equally important to a smooth operation. By interacting directly with team members, Silverton's management stays on top of those requests. "There's just an open collaboration that is engaged and different than other properties I've worked for," Ball says.
Ownership's desire to understand and interact directly with its customers filters down to every level of the organization, including hospitality. Managers and team members are also encouraged to survey guests on their experience and feedback can lead to new menu items. Twin Creeks added Kentucky mules, cucumber lemon drops and Triple Sec strawberry puree margaritas to its cocktail menu based on customer suggestions, and other restaurants, such as Sundance Grill, have reintroduced past favorites such as rib eye steaks and bottomless pasta.
Strengthening Relationships
Since joining the company in December, Ball has put more emphasis on fresh ingredients and specialty items from vendors to better distinguish Silverton's restaurants from others in the area. Limited-time dishes such as truffle mashed potatoes can surprise and excite longtime customers and keep them coming back.
Vendors usually offer special ingredients to priority customers first, which is why Ball works to establish strong relationships within the industry. The best suppliers will even actively work with Silverton to develop dishes.
When Twin Creeks began developing its new meat program, representatives from Dakota visited the steakhouse every day to ensure their beef met the quality and specifications Silverton wanted. "Having been around the city for a long time now, you just develop a rapport with a lot of the vendors," Ball says. "They know your likes and dislikes and expectations."
Developing those vendor relationships gives Silverton access to premium ingredients, but it still needs talented people to create the dishes. Like many foodservice businesses across the country, Silverton is looking for qualified individuals to work in its restaurants. "It's difficult to find not just chefs, but just people in general leadership-wise that want to work in the business," Ball says.
Silverton's strategy is to ensure that its team members feel valued and invested so they are more likely to stay. "It's all about developing our team members, engaging our managers and teaching them the things they don't know so they feel like they are learning something and growing both personally and professionally," Ball explains.