A slice for everyone
The achievements of Simple Simon's Pizza could not have been possible without its staff and the community that has come to love the franchise's food. In return, the company wants to continue to grow and share its success
What started out as a small pipe dream for Becky and BJ DuMond quickly expanded into a thriving network of empowered entrepreneurs and great pizza. Since the early 80s, Simple Simon's Pizza has continued to go beyond the common ingredients that form its menu to provide friendly service, a dedicated team and a commitment to its community. That first restaurant that Becky and BJ brought to life in Sand Springs, Oklahoma, has now expanded across ten states, with a total of 200 locations under the Simple Simon's Pizza name. They share with us how their pizzerias continue to be a staple ingredient in the heart of small town America.
Offering pizzas, sandwiches, calizones, wings, and even keto and gluten-friendly options, the company has been specializing in pizza for just over 35 years. "Anyone can make a pepperoni pizza, but it's how you prepare it that separates you from the competition," BJ begins. Since its inception, the business has had years of experience to perfect its dishes after starting from a continuous cycle of trial and error. "Ours is an interesting story. Becky and an employee were working for the pizza chain at the time when we were still finding our feet and experimenting with different recipes. One day, we hosted a buffet and Becky presented us with these giant pizza pockets stuffed with sausage, pepperoni, little bit of cheese and our special alpine sauce. Well, no one would eat them because they were so horrible," he shares and laughs, "so she kept working on them. What began as a mistake is now what we know today as our Original Calizone and it's the second best-selling item behind our pepperoni pizza," he adds.
There is no doubt that the past three decades had their challenges, yet under the DuMond's leadership, the team managed to persist through each obstacle, which set it in good stead to deal with the difficulties of Covid-19. "We were very proactive in responding to the pandemic and way ahead of most of our competitors. We had a 27 percent increase last year and opened up at least 15 new stores in the past 18 months," BJ shares. Although it is a business that is passionate about growth, the pandemic was also a period that reminded the management team of the original values that Becky and BJ wanted engrained into the company culture. According to BJ, each restaurant provided great support to its surrounding community during the unprecedented months of crisis. "Many people felt uncertain about the future, so we did our best to make sure that our employees and customers felt safe and comfortable when they came into our restaurants. We were on a mission to bring smiles behind the masks because in whatever way we could, we wanted to make our customers' day a little brighter and I think that played a huge part in why we were able to grow as quickly as we did. Our name became associated with friendliness and great service," he says, adding that food drives were the most practical example of how the company was supporting its communities and key workers.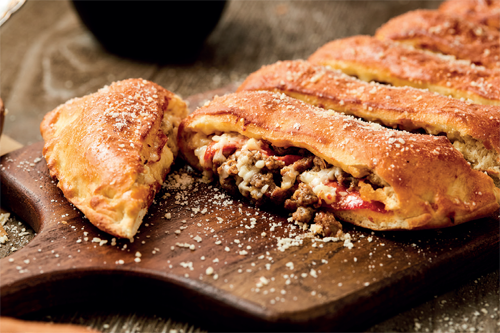 When essential services were under strain during the peak months of the pandemic, one example was when Simple Simon's partnered with the Bartlesville, OK Police Department to feed the staff of the local hospital. Assisted by a city police escort, the company safely delivered 450 sandwiches to every member working as a 'thank you' to the frontline heroes who had been fighting the spread of the virus. "As often as we could, we went to the police and fire stations and gave them gift cards and brought them food because these were the people in the trenches, and our entire team pulled together in such incredible ways to be part of the whole thing," says BJ.
Now, as the hospitality industry starts to come back to life, the business is keen to explore new streams of revenue. While Becky handles the technical side of future expansions, BJ is looking to strengthen his team and bring the Simple Simon's Pizza name to as many States as possible. "If we continue on the path that we're on now, we will absolutely hit another double-digit growth rate this year and the next. One of our goals would be to have 300 stores in the next two or three years," BJ adds.
Another new development that is currently underway to help the company achieve its future aspirations is SSP Express, which is a smaller kiosk version of the restaurant and offers grab-and-go items from its menu. "We have them scattered across Oklahoma, Texas and Kansas. The SSP Express locations can be found in convenience stores and grocery stores. Each kiosk has a sharp, clean aesthetic and most of them offer many of our full-size pizzas. We are having a lot of success with them and we're really proud of how well they're doing," he expresses.
A final key facet to the success of the Simple Simon's Pizza name lies in each franchise location and the support provided to new and established entrepreneurs who have the same dream as the DuMonds when they first began their journey. "One of the main aspects to our leadership is encouraging our franchisees. We want to continue to help and support them throughout their adventure with us and obviously guide them through any changes in the marketplace, because again, our company's growth really comes from the people who join our team," BJ declares. Despite being a widespread franchise, BJ and Becky are determined to maintain a presence in each pizza store to ensure that the store owners feel that help is always on-hand. "Whether its emails or cards, phone-calls or in-person visits, we want them to know that we are here for them," he adds.
It takes more than a few favorite toppings to make the perfect pizza. Becky and BJ have also peppered their restaurant experience with community involvement and accessible leadership for their team. This, they believe, will add the necessary flavor to maintain the company's success. "One of the slogans we had during the beginning of Covid-19 was 'Simply Better Together™' and that stuck because it's really our way of life as well. Our pillars of achievements are built by our Simple Simon's Pizza family, so we care about each member and we want them all to be successful," BJ concludes.