Six Flags Entertainment Group complements its thrilling attractions with picture-perfect dining options.
Six Flags Entertainment Group is the largest regional theme park company in the world with 18 parks that drew a record 30 million visitors last year. "Our success has been a direct result of a strategy that provides each park with "new news" each and every year, whether that be a themed attraction, record-breaking roller coaster, parade or special event," Senior Vice President of In-Park Services David McKillips says. "This strategy gives us something to talk about each year and a tremendous value platform to attract season pass members who can now visit each season throughout the year."
The Grand Prairie, Texas-based company's parks are located throughout the United States, along with a park in Mexico, one in Montreal, Canada, and now the brand is looking to broaden its reach globally. "We have announced several properties that are being developed throughout mainland China and also in the Dubai Parks and Resorts complex," McKillips notes. "The opportunities for our brand to expand on the worldwide stage is very exciting."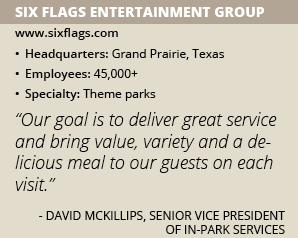 Six Flags' theme parks have always prospered in the spring and summer, but the company expanded its operating season to include events throughout fall and winter months, which McKillips says has been a huge growth area. "Six Flags is known as the industry's top Halloween destination with Fright Fest, which begins mid-September and runs through late October," he adds. "Now, the addition of our Holiday in the Park events in nine parks brings added benefits in the winter time period with a spectacular array of lights, Christmas-themed shows, and, of course, great food offerings and shopping."
To retain its season pass holders and continue to draw more people to the parks, Six Flags prides itself on featuring new rides that are on the cutting-edge. Last year, the company debuted virtual reality roller coasters and this year it will feature an extensive roster of Warner Bros- and DC Comics-branded rides and attractions, including the world debut of the next generation of the award-winning Justice League: Battle for Metropolis interactive dark ride.
Beyond the Ride
Although visitors come for the roller coasters, going to Six Flags is all about having an entire theme park experience, which includes dining and shopping. "We try to complement our guests' experiences with great food and other forms of entertainment inside our parks," McKillips says. "Our goal is to deliver great service and bring value, variety and a delicious meal to our guests on each visit."
Burgers, pizza and chicken wings are food people expect at a theme park, but Six Flags guests are also demanding more variety, indulgent snacks and even unique drinks they can enjoy during their visit. At Six Flags Great America located near Chicago, the company meets the needs of its guests with a variety of dining options, including a new concept launched in 2016 – Strutters. "This is a hand-breaded, fresh-dipped chicken restaurant," McKillips says. "We bread and batter each chicken strip by hand and build the chicken sandwich right in front of you. It's a fantastic presentation and we pair your entrée with a craft beer choice as well. This concept is on the mark with the growing trend of fresh chicken restaurants across the nation."
Over the past several years, Six Flags has been developing its own restaurant brands to continue meeting the needs of its guests. The company's Go Fresh Café is a better-for-you location that offers healthy alternatives to traditional theme park fare. "We do extensive research to determine what offerings are important to our guests," McKillips notes. "A day at Six Flags will certainly include our famous funnel cakes or other indulgent snacks, but our guests may want a better-for-you lunch option as well. We feature a healthy grilled chicken and apple salad, veggie and turkey burgers and turkey flatbreads."
For meat lovers, JB's Barbeque & Sports Bar is the place to go and indulge. In most parks, "BBQ brisket, pulled pork and smoked sausage, topped with a tangy barbecue sauce and Texas toast are featured on the menu," McKillips describes. "However, we customize the menu depending on regional preferences. For instance in Southern California at Six Flags Magic Mountain, the park features freshly smoked tri-tip barbecue and ribs. At any of our JB's locations, our guests can get their barbecue fix."
Six Flags also launched a new concept focused on Asian cuisine, Chop Six. The restaurant brand features orange chicken, beef and broccoli, as well as bubble tea and salted caramel Asian donuts. "We also feature customized menu items, such a wonton tacos, which are a guest favorite," McKillips adds. Six Flags sells more than 1.5 million turkey legs per year and more than 1.3 million funnel cakes. "Our world famous funnel cakes feature a proprietary recipe mix and have more than 25 different topping flavors throughout the year," McKillips notes. "A couple of guest-favorite flavors include s'mores, maple bacon walnut, tres leches and red velvet. We also featured several 'Limited Time Only' offerings with our brand partners, including an M&M and Snickers-topped funnel cake."
Testing the Market
The Six Flags culinary team works out of the company's test kitchen in Texas to develop restaurant brands and limited time offers. "We are always testing different recipes and are constantly looking at trends in the casual dining and fast food categories," McKillips says. "We have a strategic partnership with Coca-Cola and they help us identify guest preferences in the beverage category."
The company's most unique LTO's include chicken strips in a waffle cone drizzled with maple syrup, pork rind nachos, fresh churros, "Scare-Acha" boneless wings served at Six Flags' Fright Fest Halloween event, and fried everything, including pickles, bananas and Oreos at WTF – What The Fried! "These LTO's are fun, some indulgent and some are simply outrageous. We want our guests to have fun and try new things as they walk around the park with and enjoy," McKillips adds.
This year, Six Flags is hosting a Mardi Gras celebration at Six Flags Fiesta in San Antonio and Six Flags Mexico in Mexico City. The menu will include Cajun popcorn chicken po'boys, boudin balls, popcorn crawfish in a cone and Cajun popcorn shrimp in a cone, gumbo in a bread bowl, muffulettas with voodoo chips and jambalaya. Desserts include beignets, fried king cake and guests can wash it all down with a Southern Hurricane and Peachy SoCo Iced Tea. The culinary team did extensive research in New Orleans, studying recipes and consulting with Cajun chefs to develop menu offerings that will surely be authentic to the Mardi Gras experience.
Beverages are also a major focus at Six Flags parks, which feature everything from custom cocktails to craft beers. Six Flags is planning to debut its first-ever craft soda kiosk, in partnership with Coca-Cola, at its Six Flags Discovery Kingdom park in Vallejo, Calif. The company also recently announced a new multi-year agreement with The ICEE Company. In addition to cold beverages, Six Flags also partnered with Just Born Candy's Peeps® brand to develop a custom hot chocolate program during Fright Fest and Holiday in the Park. Each cup is served with a ghost or snowman-shaped Peep® during the respective special event season.
This spring, Six Flags Over Georgia near Atlanta will open a new candy store experience – Coaster Candy. "This will be Six Flags' most spectacular candy shop, combining the 'theater' of making homemade treats in front of our guests while also featuring the most popular brands that our guests' desire," McKillips says.
"The Coaster Candy shop will offer more than 20 different flavors of homemade fudge, caramel and candy apples, brittle, bark and our own line of candy under the Coaster Candy brand," he adds. "It will be the perfect complement to our fantastic relationships with our partners like M&M's and all of Mars Chocolate Brands, Just Born's Peeps, Mike & Ike, Hot Tamales brands. We are super excited and think this is going to be something very special for our guests."
Quality Service
Six Flags provides consistent training from park to park and continues to implement efficiencies to serve customers faster. "Theme park guests are accustomed to waiting in lines for rides, so we don't want them to experience a long wait for our restaurants too," McKillips says. "We are constantly looking at efficiencies – from reviewing kitchen design layouts to simplifying our menus to help guests make easier menu decisions. This summer, we will be testing self-service ordering kiosks and in-app ordering."
Moving to mobile ordering is no small task for this big operator; for guests to order from the Six Flags App, the team has to consider the operational flow of its restaurants because it will need pick-up windows. "Not every restaurant was built with that in mind, so we need to look at each location and how we can service the meals to our guests in the most efficient manner, but we are adapting," McKillips adds.
Six Flags' 'Picture Perfect' program helps its culinary staff members deliver the perfect menu item every time. "We provide pictures of our menu items and place them in our kitchens so employees know what a custom burger, for example, looks like when building them," McKillips explains. "We have more than 12,000 employees in our in-park services team and many are seasonal and working in a kitchen environment for the first time, so they need to know a consistent training tool to manage portion size, how to build an entrée and how it should look for our guests."
Last season, Six Flags launched the "Tastes of Six Flags," platform, which invited guests into its kitchens to see its scratch-made, unique and sometimes outrageous offerings that are featured at the theme parks. The 'Taste' segments were featured on the Six Flags website as well as promoted through vignettes on its in-park TV Network, Six Flags TV. "We received great feedback from our guests about the campaign and plan to roll-out another set of content this season," McKillips says.
Moving forward, Six Flags will continue to create concepts that drive value and variety, as well as revenue. "We are trying to elevate our total culinary offering, striving for operational excellence, great tasting snacks, entrees, and beverages all while keeping our lines moving so our guests can enjoy their day at Six Flags," McKillips says. "And the best and tastiest days are still to come!"