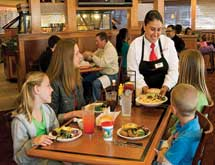 If clothes make the man, a restaurant's décor can draw attention and new business to it. Sizzler USA franchisee Murray Gast, co-owner of 11 Sizzler locations in Oregon, emphasizes that his customers are attracted by the extensive makeover of his restaurant in Medford, Ore. "I think it's very exciting," he says about the remodeling. "It's modern and attractive to younger guests. It's bright, and it adds lots of color."
He recently remodeled his restaurant using Sizzler USA's new prototype design and included a lot of deferred maintenance, too. This involved removing an old greenhouse addition; resurfacing the parking lot and putting in new sidewalks; converting the space previously occupied by a walk-in freezer to dining room space; adding handicapped accessibility to washrooms; removing a unisex handicapped washroom, the space for which was converted to dining room space; and moving the entrance from the east to the south side of the building.
The extreme makeover included new tile, carpet, upholstery, lighting, trim, menu boards and interior and exterior paint. Much of the exterior work could be performed while the restaurant was open, but it had to be closed for four weeks to complete the extensive interior work.
Gast credits the ambitious makeover for an increase in business of 50 to 60 percent during November and Dec­ember 2010 over the same period in 2009. He also credits the addition of the chain's new food program. "Making more and more prepared items from scratch is very popular with our guests," Gast reports.
This is the second location where Gast has incorporated the new format. The first was in Newport, Ore. "Newport is a small market, and the growth potential isn't there like it is in Medford," Gast points out. "They needed something – because it's been a number of years [since we remodeled] – so we took advantage of the recommendation from Sizzler USA on color scheme and did that one last April."
He intends to keep remodeling other locations using the new design; next up are Sizzlers in Grants Pass and Salem, Ore. They should see a similar boost in traffic as in Medford, where new customers have stopped in because they had never noticed the restaurant was there.
But now, "It's real eye-catching with the crown on top, the new signage, the LED lighting around the outside of the building, the rock and the oak doors, the colors and the red roof," Gast says. "We're seeing a lot more professionals at lunch time, and with the modern décor, the TV set, the LED lighting and the pictures on the walls, we're seeing more families with children since the remodel."
Gast is not alone in experiencing immediate returns on his remodeling investments. Another franchisee revamped a unit shuttered by a previous owner, reopening to record sales of almost $90,000 a week. Since updating a vintage, 1970s location in Los Angeles, Sizzler USA has enjoyed sales improvements topping 25 percent. "When franchisees see the franchisor investing in the brand – and getting good results – it gives them the confidence to make the leap and improve their restaurants," says Kerry Kramp, Sizzler USA president and CEO.
Remodeling Goal
Kramp agrees with Gast that the purpose of the remodeling is to draw attention to the food's freshness and enhanced flavors, the in-house fresh-cut steaks and fresh fish that is being introduced, as well as the expanded dessert offerings that make up Sizzler's new Value Menus. In other words, to reflect and enhance the changes the restaurants have made since the previous design was introduced in 2003.
"The new look is the perfect stage to showcase all of these great consumer offerings," Kramp says. "We felt that this new look best complements our salad and food bars as well as creating a warm and comfortable dining environment for our guests." The color palette was chosen to provide an upbeat and fun look and feel, Kramp explains.
"The light woods provide a connection with hand-crafted [and] home-made, which is how we prepare our food," Kramp adds. "The graphic elements depict an active lifestyle, which we feel is a perfect balance of eating healthy and enjoying the outdoors, family and community." The layered rock represents the company's firm foundation in its community. "You can count on us to be solid and counted on for a great meal and community engagement," he explains.
The main selling point of the remodeling – which was introduced to franchisees in September 2009 – is the favorable guest feedback and increased sales experienced with it, Kramp points out. Sizzler USA also offers its franchisees a "Remodel Rebate" incentive. This rebates to each franchisee that invests in remodeling his or her restaurant a portion of the royalty on additional sales as a contribution to the remodeling costs. The program is in place through the end of calendar year 2011.
"Our key consideration in this remodel was to allow all of our franchisees to participate in at least a minimum level of facility upgrade," Kramp explains. "Times are tough, and capital is certainly a precious thing, and we respect that. We have developed a virtual 'kit of parts' that allow our franchisees to evaluate their facility needs and then choose the features of the remodel that complement their needs as well as are affordable based on their financial capability. Our hope is to have our whole system either remodeled by the end of calendar year 2011 or at least have a plan in place for soon thereafter."
Kramp also notes that the new design was developed to work well with both remodels and conversions.
New Business
Sizzler USA's largest franchisee – BMW Management Inc. of Temecula, Calif., – helped Sizzler USA develop the current prototype. It pioneered many of the concepts when it updated restaurants throughout California. Most recently, BMW, which has 25 restaurants, has remodeled its Murrieta, Calif., unit, located between Los Angeles and San Diego.
At the Murrieta restaurant, BMW Man­agement has installed a live salad bar display station. Guests can watch the salads' fresh ingredients being sliced, diced, peeled, chopped and tossed. The company also replaced the restaurant's counters and cash registers with free-standing ordering pods. These ordering pods are designed to improve efficiency and create more interaction with guests.
"Every remodel we do is an opportunity for innovation," says Gary Myers, president and CEO of BMW Management. Testing new concepts is critical to remaining competitive. "When you invest in keeping your restaurants fresh and exciting, it pays off many times over and for years to come," Myers emphasizes.
Additional California Sizzler restaurants being remodeled or recently updated are in Culver City, Oceanside, Lake Forest, Montebello, Palmdale, Lancaster, San Bernardino and Santa Clara.
Sizzler USA owns or franchises more than 175 restaurants in the U.S., and regional variations in the new look are possible, the company says. It hopes the new, updated look encourages customers who have not tried the restaurant to visit, and those who have not tried it lately to revisit.
"Our broad appeal is enhanced with this new look and feel, and [the makeover] provides a more updated dining ambiance. That – combined with our many food quality and menu improvements, and a new focus on service – has resulted in great feedback from our guests, as well as our franchisees," Kramp continues.
Target Demographics
Sizzler's target is adults aged 25 to 54 and their families who enjoy good food at their own pace. They are middle-class and living in urban areas. Many come to Sizzler as an alternative to cooking at home and for the "come as you are" atmosphere.
Sizzler believes its restaurants appeal to all ethnicities, with a large con­cen­tration of Hispanics and African Americans. "We have the largest propensity to attract African Americans of any concept," the company maintains. "Hispanics often come to Sizzler with their families as a treat and place of calm."
Adds Kramp: "We believe that the Sizzler menu has broad appeal to a wide range of consumers of all ages and demographics. Between our updated menu, fresh and healthy focus, great prices, and new updated look, we believe that new consumers who have not tried us yet or those who haven't been to us in awhile will revisit us and get reminded of the great experience that Sizzler has to offer."
Sizzler – which claims to have invented the salad bar – believes its restaurants are great for families and for people who want to eat healthy food – such as a fresh variety of salad offerings – and steak eaters.
"We are great for celebrating with steak and lobster or colossal shrimp or just for a quick great cheeseburger or chicken sandwich with soup and a salad on a short dining time," Kramp adds.
Quality improvements on the salad bar include freshly prepared guacamole and pico de gallo; hand-tossed salads made from scratch; soups; fresh steaks hand-cut daily; cooked-to-order dishes; better quality ingredients; and made-from-scratch sauces. The company focuses on a healthy lifestyle partnership and promotes healthy dining with "better for you" items on menu. These help guests make educated choices.