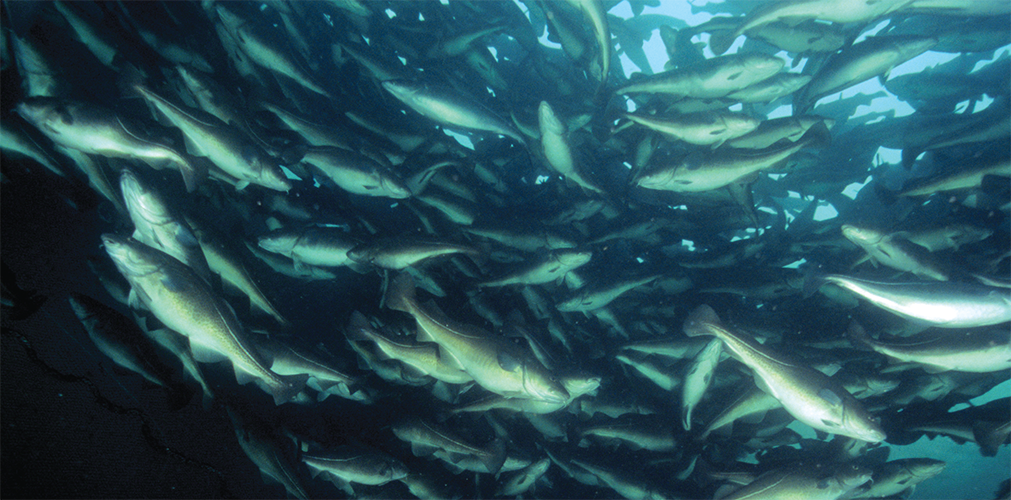 Crystal clear
With state-of-the-art technology, the world leader in aquaculture feed producer, Skretting, maintains consumers' trust
Going as far back as 100 years ago, Skretting in Norway started out in the agriculture business. In 1960 it started producing fish feed and from 1989, it has been fully committed to the aquaculture trade, selling fish feed to the Norwegian salmon and trout industry. Being the company's main customers, the Norwegian fish farmers are supplied all of the 400,000 tonnes of fish feed produced by Skretting in Norway and, in turn, export close to 100 per cent of this production.
Skretting is owned by Nutreco Holding NV, an international animal nutrition and fish feed company, which creates value through food chain expertise. This Dutch company holds selective downstream positions in the poultry and fish chains and has aims to regain solid profit growth, reduce earnings volatility and improve return on invested capital. Skretting has an annual production of more than 1.2 million tonnes of fish feed to over 50 species of farmed fish, such as salmon, trout, sea bream, sea bass, yellowtail, turbot, halibut, cod and eel. Production takes place in dedicated feed manufacturing facilities in Australia, Canada, Chile, France, Ireland, Italy, Japan, Norway, Spain and the UK.
Handling operations that turnover 3.3 billion Norwegian kroner (almost £300 million), managing director of Skretting Norway, Hans Abrahamsen, is the man responsible for the success in Norway. Recognised as one of the top three companies on environmental issues in 2004, Skretting is known for its quality products that are strictly monitored. Its industry depends very much on raw materials, both from fisheries and agriculture sectors. Due to the fact that the company only uses sustainable resources, it works very hard and closely with its suppliers to ensure that it always uses materials, which are harvested or taken from suitable industries. From Skretting's point of view, using proper natural supplies is its main challenge and is taken very seriously. The company also riaises very closely with governments from different countries in order to guarantee that inappropriate unrefined materials are not exploited or used. This strategy is also used all the way down the value chain to the supermarkets, letting them know how Skretting handles this important issue.
To ensure that consumers are made aware of its quality, Skretting has a full electronic traceability system that shows its clients, end-users and the supermarkets where it gets the raw materials. They are also able to check the quality, giving them peace of mind because they are aware of what they're buying. Skretting is very aware that fish is regarded as a very healthy product and therefore, want to confirm that its customers are producing clean and reliable stock, and with this advanced system, one that can be traced all the way through to its suppliers.
Skretting has a very active profile and by utilising this technology there is an open dialogue with its consumers, making the company very transparent. Customers are able to have a full view, any time they choose to, on what the company deals with and how it is going about doing this. Hans strongly believes that in order to be number one in the business and to survive in this competitive world, it is vital to build up this trust with the end-users.
Being the first company worldwide within the aquaculture industry with an internal electronic traceability system, Skretting works actively with its research and development team, other companies and the EU, in order to strive to establish a global traceability platform, making it much easier for end-users and supermarkets to get access to all the data the company already has.
Nutreco Holding owns this research and development team. Having a dedicated company to concentrate on the growth and delve into the analysis required ensures Skretting continues to provide the best quality fish food and maintain being the best at what it does.
Not only a company that focuses on quality products, Skretting also makes certain that it invests in its employees. There is ongoing training using internal programmes, and these schemes are organised by some of its best people. An exam is always held after these courses and the production, sales and marketing staff at Skretting sits this. Skretting also uses external sources to increase competence levels. Another key issue is management training as Skretting believes that good managers make good staff. The company has witnessed an intensive increase in competence in all of its employees in all areas.
Expansion is always on the horizon for Skretting with continuous organic growth a constant target for the business. However, currently, the Norwegian aquaculture market is stable and Hans mentioned that there are no further expansion plans, as he is satisfied with the capacity of the company to cater for the next period. Today it specialises in producing and supplying fish feed for salmon and trout but also provides fish feed to new marine farmed species such as cod and halibut. Over the next five to ten years, Hans believes there will be an expansion into feeding of these new marine farmed species.
Being a world leader, Skretting has always aimed to remain a step ahead of all of its competitors. Hans believes that there are various aspects that differentiates it from others including its innovation in all areas. It also deals directly with the production management, in sales and marketing, and also logistics. Hans believes that Skretting is far ahead of its competitors when it comes to both inbound and outbound logistics. The company also has to handle 400,000 tones of raw materials each year and these are then used to produce fish feed which again is delivered to all the small and big farmers – that's a lot of vessels and trucks.
Many businesses are drawing benefits from the current Norwegian market situation. However, it's not the same for the aquaculture industry since the country is not yet a member of the EU. Over the last ten to 15 years, the company has been actively having discussions with the EU. Hans states that fish farmers in Scotland are claiming that fish from Norway are being sold too cheaply, and are not happy about the competition. He agrees that the market is a little bit unstable but it is very important for Norwegian salmon to have full market access.
When asked about the company's success, Hans mentions that the main reason Skretting is where it is today is due to it being very open and transparent and ensuring that it is doing everything sustainably. Another important aspect is the flat organisational structure, which makes people responsible in different areas. A positive internal atmosphere emphasises this responsibility and the need to be innovative every day.
Hans also points out its very close relationship with some of the NGOs (Non- Governmental Organisations), including Bellona in Norway. There are open dialogues where Skretting is able discuss everything with regards to sustainability, pollution and all the challenges that the industry face. This close co-operation, in turn, helps Skretting achieve much more.
Hans is very optimistic that Skretting will still be number one in its business five years ahead. He predicts that it will still own more than 40 per cent of the market share, if not more, making it the leader in the industry. Skretting wants to be and remain at the forefront and will have to work that extra bit harder, if needed. Hans adds that he is also very proud to say that Skretting has very high ambitions and will certainly see them through.