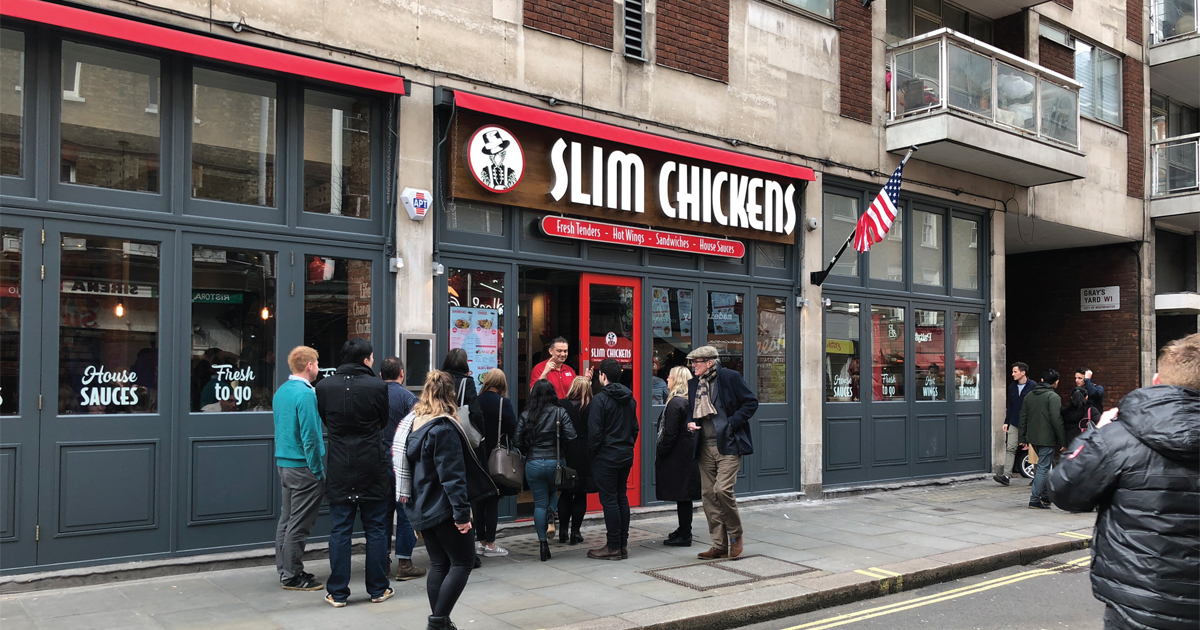 Something to crow about
With chicken that is cooked-to-order from hand crafted recipes, Slim Chickens' fast-casual dining experience has truly taken off in the United States and could be set to do the same imminently in the UK
With its rich history and deep cultural roots, it is hard to believe that the Arkansas Delta is one of the more commonly overlooked regions within the southern US state. Stretching from north to
south to the borders of Missouri and Louisiana, the region has in fact been a farming and agricultural giant for some 200 years, while today's inhabitants revere the Delta as being a place where the food is honest, meals are social and the door is always open.
One company that was formed with a mission to bring a dose of this 'southern hospitality' to a fast, casual setting was Slim Chickens. Starting from their garage, where many great start ups begin as they proclaim, founders Tom Gordon and Greg Smart embarked on a journey to bring quality fresh chicken that was cooked-to-order to customers in the local area. The result was the opening of the first Slim Chickens restaurant in Fayetteville in 2003. Two years later the second store followed, with the third coming five years after the Fayetteville opening. Now, in 2018, the chain stands at 73 units and counting.
"Every product we sell is hand crafted and cooked to a recipe that was created specifically by us, either in those early days in our garage or currently in our product development kitchen," Tom begins. "Each item on our menu is a unique creation, from our Buffalo wing flavours, hand-breaded chicken tenders, sandwiches, salads, and wraps, or our 17 different dipping sauces. Beyond the great products that we make, we also take immense pride in how our restaurants look, the branding elements, and of course the superior service that our teams deliver, which is both fun and inclusive. That is what we live for, for our guests to embrace and enjoy every aspect of the brand."
First UK site
Having experienced fantastic success in the United States, Tom and Greg are now looking to increase awareness of the Slim Chickens name in the UK, where it currently has a restaurant in London on the busy James Street. In 2017, it struck an important franchise partnership with Boparan Restaurant Group, owners of the Giraffe and Ed's Easy Diner chains. Boparan Restaurant Group is the developer and proprietor of all Slim Chickens restaurants in the UK.
"The location of our first UK site on James Street is fantastic and is blessed with excellent foot fall and motor traffic," Tom explains, before going into greater detail as to why the UK is the ideal next step for the business. "The 'fast casual' market is in its infancy in the UK, and brands that serve quality products in a more casual atmosphere are continuing to be well received. Our products,
the variety of our menu, and our flavour profiles are entirely new to this market and we are excited to work with Boparan Restaurant Group to bring them to these shores.
"Our menu is so defined that we've seen fast acceptance in the UK. There just isn't anything like our chicken tenders, wraps, sandwiches, salads and jar desserts on the market today, and response to date from our customers has been fantastic. We made some necessary modifications when we first entered the UK, and we will continue to monitor the feedback we receive, but we have hit on a good product mix that our guests really seem to enjoy. For that reason, Boparan intends to work towards the opening of one-to-two further restaurants in the London metro area by the end of 2018, as we look forward to establishing a big footprint in the capital and beyond."
Ambitious targets
With no signs of growth slowing down across its operations, the company's long-term goal is open up a further 600 stateside restaurants in the coming years, a task that, on the face of things, seems immense, but that Tom and Greg are confident of achieving. "Opening every individual restaurant is, ultimately, a significant task in itself," Tom says. "We have found, however, that through our dedicated network of franchisees and corporate operators, we have been able to open stores, while also scaling up our support staff and mechanisms to manage this growth. By continuing this process, we can stay in pursuit of opening 600 Slim Chickens restaurants, with more than 50 being opened per year by 2020."
In addition to working to maximise efficiencies in its smaller footprint stores, such as that on James Street, the Slim Chickens team are also committed to supporting its existing franchise partners and to developing its restaurants. "While we have achieved a great deal of expansion in recent times, in the UK and beyond, we believe it is always important to let people know that the company leadership remains what it was when we had only a handful of stores," Tom adds. "At the end of the day, we are normal folks who just want to serve a quality product in a great atmosphere, while also supporting the communities in which we exist. That is what the Slim Chickens brand is all about, and we are ready for more people to experience this in the future."