Sly Fox Brewhouse & Eatery
When Pete Giannopoulos founded Sly Fox Brewhouse & Eatery in Phoenixville, Pa., he didn't realize the level of success and growth Sly Fox would achieve. But 15 years later, Sly Fox has expanded to two locations and has grown to offer beer through wholesale for customers to enjoy at home or in other bars in Pennsylvania, New York and New Jersey.
"When Sly Fox was founded back in 1995, we didn't really anticipate being anything more than a single-location brewpub," Giannopoulos says. "Without the support of my brother John at the end of my corporate sales career, we wouldn't be in existence. His encouragement gave me the willpower to start my own company, and then he joined me on this incredible journey.
"I started making beer in my kitchen and so did John. He became our fist head brewer and liked to walk around the brewery singing, 'Don't worry, be hoppy!' while he was brewing. But, things have a funny way of changing your life and as time went on, we got our legs under ourselves. As you start a new business, some things you anticipate, but there are a whole lot of things you can't anticipate.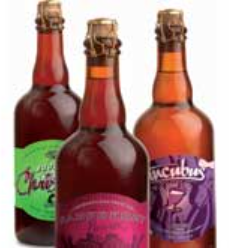 "We admittedly built on the familiarity the area had with my dad, who was one of the area's few family doctors when he started his practice right out of the Army," Giannopoulos continues. "My brother Harry also pitched in by taking care of the accounting. His 'real job' is as a company banker for an international pharmaceutical services firm."
However, when Sly Fox hired award-winning brewmaster Brian O'Reilly, the Giannopoulos family began to realize the potential for growth and success. O'Reilly is a multiple gold-, silver- and bronze-medal winner at the Great American Beer Festival, and with his help, Sly Fox brews unique beers that are a hit with customers.
"In the opinion of many people in our industry, he is considered to be in the upper echelon of brewers nationwide," Giannopoulos says. "I knew a long time ago that Brian was a talented brewer, but talented brewers aren't always successful. Success is kind of the whole recipe, and Brian is a major ingredient."
O'Reilly has brewed more than 100 different styles of beer, many that mimic popular styles from all over the world – Belgian and English ales and lagers, Irish stouts, and German and Czechoslovakian pilsners. He has also been brewing the increasingly popular "big beers." These beers became popular out West and like everything else it seems, they found their way East. They are called "big" because they are substantially higher in alcohol content as well as flavor. "Brewers enjoy brewing them because they can be even more creative with hops and malts and other different ingredients," he says.
Sly Fox's three most popular beers are the Pikeland Pils – which is a multiple gold-winner – Phoenix Pale Ale and O'Reilly's Stout. Whether offering those or a seasonal brew, Giannopoulos says the brewery is known for its variety and versatility. "Rotating our offerings is what makes us stand out, because we focus on making and kegging seasonal beers that bars can put on tap depending upon the season," he notes.
Perfect Pairing
Matching food with alcoholic beverages is an age-old practice, but until recently, many only thought to serve courses with wine. Today, the artful pairing of foods with complementary beers is growing in popularity, and Sly Fox's menu options go well with certain beer selections. "Chef Nick is working on a new menu right now, which will feature some new creative beer pairings I know people will love," Giannopoulos notes.
The brewpubs serve up what Giannopoulos calls classic comfort food. "The portions are hearty, the prices are value-oriented and everything is made to order," he says. "That's why the food really matches the beer and the beer really matches the food."
The Sly Fox's two Brewpub locations have capacities of 200 and 300, and their interiors feature warm colors, including dark red carpeting, wood accents and hunter green tabletops. "When you go to either location, you feel almost like you're spending your time in someone's great room or family room," Giannopoulos says. "Comfort food, handcrafted beers and our warm surroundings make a great recipe. It's all about food, beer and atmosphere."