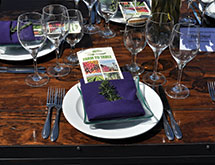 SMG – Premier Food Services
With its unique perspective and approach to foodservice, Premier Food Services plans to expand its footprint by becoming the company of choice for venues throughout the western United States. "We do our homework to understand," Managing Director Paul Tazar says. "We spend time talking to customers and meeting planners to understand their needs. That's the key differential and is symbolized by our logo."
Founded 30 years ago by George E. Karetas, Premier brought with it a history of success, a creative vision and currently serves 31 diverse facilities, including Del Mar Fairgrounds and Racetrack, the University of California, San Diego Faculty Club, nine convention centers including Moscone Convention Center, seven arenas and multiple business dining accounts.
"The goal is to grow Premier as a West Coast business with standalone contracts through our three pillars of focus, which are hospitality, community and taste," Tazar notes. "We will provide exceptional hospitality, continue our involvement in the community, be good stewards of the environment and remain chef-driven, creating culinary concepts around the California essence and flair."
A Fresh Approach
Premier embodies the farm-to-table concept with its chef-driven, seasonal menus with locally sourced ingredients. "We are definitely farm-to-table; we are even egg-to-table," Tazar says. "Just 20 miles from our San Diego businesses, we purchase eggs from Hillikers Ranch Fresh Eggs, which is a family business founded in 1942. You can't get any fresher than that. We embrace sustainable practices and will continue to move forward in that platform as we expand."
Headquartered in San Diego and supported by more than 130 food and beverage managers throughout California, Premier is "just a drive away" from its clients and suppliers providing Premier a competitive edge. "We are maintaining offices nearby and we are streamlined too," Tazar says. "We have the depth, resources, knowledge and expertise of large corporations and are very accomplished at what we do."
A streamlined approach allows for quick decision-making because there are not layers of bureaucracy, Tazar explains. This is especially helpful for buyers who are engaging with local companies in the community because it allows them to purchase on the spot. "We engage with local companies on an expedited basis," he adds. "We have the highest standards, of course, but are not mandated by corporate purchasing. We identify local companies we can source from and do our best to help them succeed too."
Rich Experiences
Premier's goal at every event is to create an experience through foodservice. Its chefs are onsite, engaged and involved in the communities to bring new ideas back to the company. Premier looks for cutting-edge and creative culinary professionals, as well as up-and-comers in the industry. "Our industry is very close and we find people through word of mouth," Tazar says. "Good people know good people. Another avenue for us is through associations; relationships are what it's all about."
To find new talent, Premier partners with local culinary schools and hires students and recent graduates, who make up about 21 percent of the company's staff at select venues. Working for Premier provides students with the opportunity to gain real-life, hands-on experiences, which Tazar says can help accelerate their learning. "We collaborate with the local marketplace when we are busy and draw upon the talent pool," he explains. "It's about community collaboration and creating the right experience for the guest. It doesn't do the racetrack, convention center or hotel any good if the experiences are inconsistent."
Its team of culinary professionals is always looking for ways to improve guests' experiences and personalize events for attendees. For example, Premier paired its farm-to-table menu with craft beers from local breweries and wine from local wineries at Del Mar Fairgrounds and Racetrack. "It was a great outdoor experience that is intrinsic to southern California," Tazar says.
Convention centers draw attendees from all over the world and the demographics are usually very different, which makes personalization all the more important. "Attendees and their expectations are very different," Tazar explains. "It's all about personalization. Do they want grab and go food options because they don't have time to socialize and are running to multiple conferences? Maybe they only have five minutes to grab something and get to a different room. We personalize our foodservice to that conference and group."
Premier's California roots drive its craving for creative dishes, chef-driven menus, and passion for eating seasonally. Inspired by California and adapted for each community, Premier infuses a sense of place on every plate to suit the local palates. Premier prides itself on creating a sense of community at its venues because every location has a story.
"The hospitality element – the guest experience and service Premier provides – is what makes a difference and differentiates the company," Tazar says. "This is nothing we have to initiate or aspire to because it is just how we approach the business."