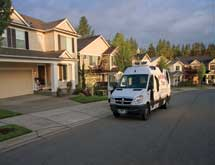 At first glance, Smith Brothers Farms seems to offer a trip back in time to when the neighborhood milkman made his weekly route, dropping bottles of fresh milk on the porch.
While the company – which delivers milk and other dairy products to 40,000 homes a week in the Puget Sound region around Seattle – prides itself on friendly service and making a connection with its customers in a way that recalls a simpler era, it offers more than warm memories.
"Our customers are interested in healthy local products," President Scott Highland says. "We're unique in that we deliver to their door, and they appreciate that we've been around a long time, but they don't use us out of nostalgic thought, they use us because we fulfill a food need of theirs."
Roughly 60 percent of the company's sales are through home delivery; the remainder is wholesale business and serving as the milk provider for several schools. "We start them young," Highland says with a laugh. "We hear stories all the time about kids who won't drink milk other than what comes from our company because it tastes fresher to them."
The company pasteurizes and packages its own milk and supports local Washington dairy farmers. One hundred percent of the milk used by Smith Brothers is from local farms.
New Developments
This year marks Smith Brothers Farms' 90th anniversary, an occasion for its employees and leaders to reminisce and embrace the company's future. This year, the company is recognizing its past by offering a "throwback" label based on a 1960s-era design, as well as looking to the present by increasing its use of technology through social networking sites like Facebook as well as an online ordering system, Sales Manager Brian Soudant says.
Other recent company developments include an effort to create a consistent customer experience through its delivery system. Historically, the company has contracted with independent milkmen not directly employed by Smith Brothers to deliver its products, leading to some inconsistency in pricing, branding and offerings.
"In the last six months, we've brought many of these routes into our business and are running them through our delivery department, whose mission it is to have a consistent and high-quality service," Highland says.
Another change the company is exploring is adding more complementary products such as coffee and breakfast foods to its deliveries. Smith Brothers prides itself on providing fresh products produced by local companies, he adds.
The Personal Touch
While the company's internal operations are embracing new technology and opportunities, Smith Brothers Farms is not losing the personal touch that has earned it a loyal following among generations of families for 90 years.
Friendly delivery and customer service are a high priority for the company, whether on the doorstep or on the phone, and Smith Brothers strives to make placing orders and asking questions easy for the customer. "There's something nice about calling a company and getting your problem solved without going through a complicated phone system," Soudant says.
This personal approach and the company's unique offerings and approach help it thrive in a difficult economy. "We lost some business in this recession, but we think the people that have left us are sad to leave," Highland says.
For the majority of customers, the products and service Smith Brothers Farms offers is worth keeping. "We think we're fortunate in that when people are pressed financially, the last thing they will cut is something they think is best for themselves and their families from a health perspective," Highland says.
All milk offered by Smith Brothers is hormone-free; organic and standard dairy products are offered. "People have asked us how we've stayed in business for so long; on one hand, it's the quality of the milk that people keep coming back for, but it's also the service," Soudant says.
"We believe we are well-loved here, and we want more people to love us."