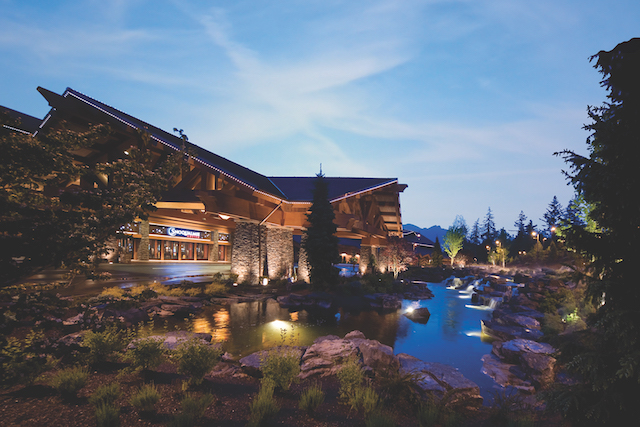 Snoqualmie Casino's food and beverage offerings are critical to its guest experience.
Snoqualmie Casino works tirelessly to provide its guests with a high-quality experience from the moment they arrive on its property. "We focus on every detail from when you first drive in to our parking structure, all the way until you exit," Executive Chef Jeffrey Slemaker says. "Our mission is to be the premier casino in the Pacific Northwest."
Located roughly 30 miles east of Seattle, the Snoqualmie, Wash., casino is the closest gaming property in proximity to the city.
The 170,000-square-foot casino features eight restaurants, lounges and bars; a 51,000-square-foot gaming floor and an 11,000-square-foot ballroom that hosts concerts and special events.
The casino's food and beverage venues play a critical role in the overall experience it offers guests. "People come here for the complete experience – I want them to have fun and enjoy themselves when they come into our food and beverage venues," Slemaker says.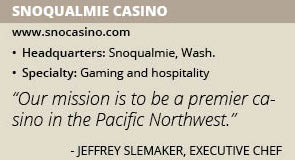 "We believe that food should be enjoyed enthusiastically down to the last bite, and as our guests walk out, their last thought should be about the great food and the great time they just had," he adds.
A Breathtaking Vista
The pride and joy of the casino's food and beverage offerings is the Vista steakhouse, where highly trained chefs create meals and experiences that combine classic fare such as steaks and seafood with modern methods. Many of the ingredients used at Vista are locally sourced. "We are preparing food that was just on a farm a few days previous," Slemaker says.
Vista also offers tableside preparation of classic dishes including shrimp scampi flambe style, bananas foster and cherries jubilee. All guests leave with a high-end chocolate truffle as a parting gift, he adds.
Vista also includes a full-service bar with a large selection of wines and other libations. Like the restaurant itself, the bar offers incomparable views of the surrounding Snoqualmie Valley, the casino notes.
Over the Moons
Snoqualmie Casino's other food and beverage options include 12 Moons, which specializes in Asian cuisine including roasted duck as well a wok-fired dishes from the around the world. The restaurant also includes an elegant, 13-seat sushi bar.
The restaurant reflects the casino's promise to feature high quality and diverse offerings.
In the last two decades, the Pacific Northwest has drawn a large number of people who migrated south from Vancouver, where they initially settled following Hong Kong's conversion to mainland Chinese rule in 1997. "We want to offer them a place to enjoy the unique flavors originating from those Asian roots," Slemaker notes.
The casino recently hired Jack Wynne, a new head chef for 12 Moons, who studied sushi preparation in Japan and has several years of experience in Chinese and Japanese cuisine. "We try to please different palates," Slemaker says.
Culinary Variety
The casino keeps Asian and other guests in mind with the variety of foods served at its Falls Buffet, which was recently voted "Best Buffet" by readers of 425 Magazine, a local publication.
The buffet offers five stations including a Mongolian station, where chefs prepare dishes fresh for each customer; a Chinese station, where dishes including General Tso's Chicken are cooked in a wok; and an Italian station featuring pasta and pizzas. Falls Buffet also offers a carving station and a rotating selection of featured items for each day of the week such as crab on Tuesday night. Other offerings include soup, salad and dessert bars.
Snoqualmie Casino's quick service food options include Drip, a coffee bar that features local blends including Seattle-based Caffe D'Arte; Sno Café, an American-style diner and Sno Deli, which offers banh mi-style sandwiches, pizza and beverages.
The casino's bar options include the Mist Bar, a circular bar located at the center of the property. The bar was recently remodeled to include a programmable light feature, Slemaker notes.
Upcoming improvements to the casino's offerings include remodeling the Sno Café to combine it with the Sno Deli. The current café space will be remodeled in August to become a private players' club. "There are celebrities and high-end personnel who like to play here, so we want to offer them their own, private space," he adds.
Building a Team
Casino employees can take exclusive advantage of another of the property's food venues – the Mountain View dining room, a 24-hour cafeteria offering a wide variety of cuisine.
The dining room is just of several perks offered to Snoqualmie Casino's employees. "We constantly recognize our team members for all of their contributions here," Slemaker says.
The casino regularly hosts events and activities for employees including ice cream socials and monthly banquets recognizing its "best of the best" team members. Prize drawings are also regularly held for employees who are recognized by their peers for their work, he adds.
Slemaker credits the success of its employees to its extensive training program. New employees are given an eight-hour orientation session that introduces them to the casino's facilities. The casino's vision and guest promise – to delight guests, pay attention to details and help other team members succeed – are also covered.
Following the orientation, new employees meet with their lead chefs or other managers to determine their schedules. All new members go through a 90-day probationary period that includes extensive training on matters both within their department as well as casino wide. Supervisors meet with employees on a weekly basis to keep apprised of their progress, Slemaker says.
After the new employee's first 60 days on the job, they check in with the casino's human resources, training and development departments to offer feedback. "Up until that point, we're reviewing their program, but at the 60-day mark, they tell us how we're doing," he adds.
'The People Business'
The casino's approach to training and employee recognition reflects its values of teamwork, accountability, respect, ethics and having the "leadership to plan for future endeavors and react proactively." These values are instilled in the casino by its owners, the Snoqualmie Tribe of native Americans.
"The casino is a huge community where everyone works as a team 365 days a year," Slemaker says. "We produce at a very high volume here, so there is a complete effort being made on everyone's part, which is a source of pride for me.
"I tell everyone that we are in the people business, so interdepartmental cooperation is key," he adds. "There are so many elements that come together to make things happen, and we have a lot of fun doing it."
Staying Involved
Snoqualmie Casino's owners, the Snoqualmie Tribe, are involved in a number of community organizations and activities. Since 2010, the tribe has donated more than $5 million within Washington state to causes including assisting the victims of the 2014 mudslide in Oso, Wash., Executive Chef Jeffrey Slemaker says.