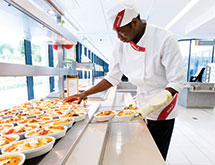 Founded in 1966, Sodexo is widely recognized as one of the world's largest foodservice and facilities management businesses. However, the French multinational company has made huge strides in recent years to be known as much more than that, billing itself as a company that provides "integrated quality of life services to its clients." Certainly, the term "quality of life" covers a wide spectrum; it can mean so many different things. What does Sodexo mean by it? In a nutshell, the company's aim is to take care of everything that surrounds a client's business so that the client can focus on its main service.
With more than 400,000 employees across 33,000 sites, Sodexo serves more than 75 million customers worldwide. It is the only company to integrate a complete offering of innovative services, based on more than 100 professions. As a global leader in its industry, it operates offices in more than 80 countries, including its Colombian branch, which was established 20 years ago. The Bogota-based office continues to thrive, particularly in the facilities management sector.
Colombian Business
Sodexo Colombia's director of operations, Oswaldo Ferrin, is a fierce advocate of his company's global mission-driven values. His main objective is to provide and uphold the quality-of-life services specific to the needs of the region. While Sodexo worldwide attends to schools, corporations, clinics, government centers, shopping malls and remote sites, among others, Ferrin says Colombia's largest demand comes from the corporate segment. Internationally well-known names including P&G, Unilever and IBM come to Sodexo for its full suite of services.
One of the nation's biggest companies, Bancolombia, is another notable client. The country's largest commercial bank has 820 offices – including some large buildings – and 20,000 ATMs. Sodexo provides facilities management to all of its offices, including its LEED-certified headquarters in Medellin, which measures 120,000 square meters. Management includes everything from handling utility repairs and payments to cleaning, elevator maintenance, fire safety and TV circuits.
"The bank dedicates itself to its main service of finances while we take care of everything else they aren't experts on," Ferrin says. "This includes food services. There is a restaurant in the building, where we supply the food for the employees. The amplitude of our services is huge."
Quality of Life
Sodexo's foodservice is clearly a representation of the company's mission toward the betterment of quality of life. According to Ferrin, the meals provided to corporate kitchens must be fresh. Food is cooked on site, not frozen nor transported. Many corporations in Colombia provide breakfast, lunch and dinner for employees. It's not uncommon for a plant to offer subsidized meals to its workers.
"Imagine if an entire plant got sick because of contaminated food," Ferrin notes. It would go further than sick people; it could affect the entire production at the plant. "Quality is very important," he adds. "We guarantee our food to be healthy and to taste good because when employees have an enjoyable experience while eating, that's a better quality of life, which makes for a more loyal employee."
Certifications in place include ISO 9001, ISO 14000 and ISO 22000 (formerly known as HACCP)
Like every company across all industries, Sodexo is met with the continuous challenges of its cost-driven competition. There is always the need to find ways to reduce costs, but Sodexo refuses to give up quality to do so. Its focus remains on improving quality of life.
"This is important," Ferrin expresses, "because we have a direct impact on this. The moment a person consumes our food, it should contribute to their quality of life, contribute to their nutrition, contribute to their health."
More than Food
As Ferrin emphasizes, Sodexo's mission is more than providing food; it's the whole package. A thorough cleaning service, for example, eliminates contamination and germs, which leads to better health. An efficient air-conditioning unit provides a comfortable work environment. "These things end up impacting clients because guaranteeing a good atmosphere helps retain talent, which is an issue for all companies," Ferrin notes. "More and more young people are staying less time at one business."
Sometimes the challenge lies in figuring out what quality of life means at a specific place of business. Sodexo works to connect the needs of clients and their employees. For some, quality of life might mean going into and leaving work later. For others, it means not having to wear a tie. Some value an area of leisure. Sodexo´s role is to identify the needs and incorporate them.
Though traditionally Sodexo has been known for its foodservice, the company's facilities management division is what is growing in demand, particularly throughout Latin America and Asia.
"Clients are looking for integral services," Ferrin says. "Not too many companies can integrate all we do. Our clients feel a more complete satisfaction in the ability to give all the work to one sole partner."