Dominic Losacco already knows Sonny's BBQ restaurants serve great food. The challenge for the franchise is getting a new crowd to come into its restaurants and give its brand of barbecue a try.
"Sonny's average customer is 55 or older," Losacco says. "We're trying to not only still appeal to that audience, but entice a new crowd into our restaurants."
The first Sonny's restaurant opened in 1968 in Gainesville, Fla., and was the invention of Floyd "Sonny" Tillman and his wife, Lucille. Word of its brand of slow-smoked, Southern barbecue quickly spread, which led to the opening of several additional restaurants within Florida as well as Alabama, Georgia, Kentucky, Louisiana, Mississippi, North Carolina, South Carolina and Tennessee.
It is currently the third-largest barbecue franchise in the country, but Losacco hopes its changes will boost it up the ranks. "The brand has been very successful over the years," he notes. "We wanted to update some things – we looked at everything from the restaurant design down to the uniforms." One thing the company knew it wouldn't have to alter was its food.
He says that although the chain will add more menu offerings, such as new sandwiches and desserts, the original recipes will remain unchanged. "We will continue to offer quality cuts of meat prepared fresh and with the same Sonny's barbecue sauces that our customers love," Losacco says. "[Sonny's] barbecue is fantastic."
Change for the Better
Celebrating its 45th anniversary, the franchise thought it was time to change Sonny's image to become more than just Mom and Dad's favorite barbecue restaurant. "We realize that we need to stay current," Losacco notes. "The brand isn't really broken, it just needs a refresh."
Aesthetically, the franchise is evaluating everything from its restaurant design to its logo, website, uniforms and even the ambient music. "We will be making changes to our restaurants to ensure they meet our updated brand," Losacco says. "New restaurants will be built with that in mind and the franchise will provide a retrofitting package to existing Sonny's operations."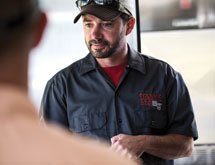 Sonny's is also determining the best way to showcase its best asset: the food. Whereas some of the older restaurants hid the meat smokers in the back kitchen, Sonny's has plans to make the meat and the smokers more visible for all the customers to see.
"I think there can be a perception that barbecue food isn't fresh when it is served quickly," Losacco says. "Our food is smoked for several hours and is pulled fresh out of the smoker and served straight to the table. We want customers to witness the food being prepped, cut and seasoned by the pit master and to see the smoke billowing from the smokers themselves."
Additionally, a new music program was incorporated that plays more energetic music to heighten the fun vibe. "We wanted to make it more exciting and fun not only for our patrons, but for our crew members, too," Losacco asserts.
Sonny's also wanted more consistency in the team members' uniforms. "Different stores let their employees wear variations of the basic uniform — in some cases, even t-shirts designed for consumer wear," Losacco says. "We wanted more consistency, but a look that conveys that our crew is friendly and approachable." The new uniform combines distressed jeans and a black t-shirt with a red apron emblazoned with Sonny's new logo.
"If the crew is comfortable we believe they provide better service and that energy can carry over to the customer, as well," he explains.
Local Flavor
All of the efforts are a push to make Sonny's everyone's "local" barbecue restaurant. "We're throwing a local barbecue for our neighbors," Losacco says.  "We will continue to serve great food, but make the whole experience of dining at Sonny's more memorable."
To enhance this neighborly vibe, each restaurant will staff a pit master who will oversee all of the barbecue preparation and be on hand to answer any customer questions. There will also be a "pit master pick" menu option available for those wanting to try something new.
To spearhead this initiative, Brandon Manly, the head pit master and COO, will oversee all of the pit master training. Called the PIT (pit masters in training) academy, the intensive program features presentations by meat experts, sauce professionals and other barbecue specialist to understand the science of smoking meats.
During the course of training, candidates are encouraged to compete at regional barbecue competitions to learn from outside sources, as well. The training will culminate in a rib competition where teams will compete among each other to create the best rub and sauce.
When the pit master becomes certified, he or she will be issued a special uniform that designates that person as the pit master of that location. "Each one of the pit masters will have his or her name embroidered on the uniform," Losacco says. "But the shirt will have the special barbecue name that the pit master earns – it's kind of like the names Top Gun candidates earn."
"We want to make sure we keep the local feel of the restaurants," Losacco relates. "We want our customers to feel welcome at Sonny's and be part of our community."
Meaty Menu
Serving a variety of pork cuts, beef brisket, chicken and turkey, some of which is smoked up to 12 hours over oak wood, Sonny's offers a range of barbecue fare. From slow-smoked baby back ribs served with its famous sweet BBQ sauce to beef brisket prepared with its signature dry rub, Sonny's offers its patrons a range of regional flavors, in a barbecue sense.
"In the South, pork is the favored meat," Losacco says. "In Texas and Oklahoma, beef brisket is more popular." He adds that more-vinegary barbecue sauces have evolved from South Carolina while St. Louis-style yields a sweeter type of sauce. Sonny's offers six different sauces, from sweet to spicy as well as mustard barbecue and brisket sauces.
Sandwich offerings include the Sweet Carolina sandwich, which is pulled pork topped with coleslaw and mustard barbecue sauce. The Smokin' Gun sandwich features smoked sausage, chopped beef brisket, banana peppers and red onion crowned with Sonny's sweet and smoky barbecue sauce. Grilled steak burgers, chicken breasts and fried shrimp round out the entrees.
A selection of side orders, called "sidekicks," includes original recipe BBQ beans, homestyle macaroni and cheese, crinkle-cut fries and homemade coleslaw, as well as steamed green beans, baked sweet potatoes and corn on the cob. Three types of salads, as well as a bottomless salad bar option, can be served as prepared or topped with a favorite signature BBQ meat. Dessert helpings include Southern favorites like homemade fruit cobbler and homestyle banana pudding. To satisfy cocoa-philes, Double Chocolate Brownie Bliss – a brownie topped with ice cream, hot fudge, whipped cream and a cherry – is offered.
As part of the brand refresh, Sonny's will introduce new menu items. One of the sandwiches, named the "Lucille" in homage to the original owner, will be a barbecue twist on the club sandwich. Layered with sliced turkey and pork, the sandwich will include bacon, lettuce and tomatoes in addition and a secret sauce.
"Part of our new mission statement is to spread the spirit of barbecue," Losacco says. "We want to offer our customers the best barbecue as well as a fun experience." He adds, "We're still a local barbecue joint, focused on slow-smoked, Southern barbecue served up where people can feel right at home."