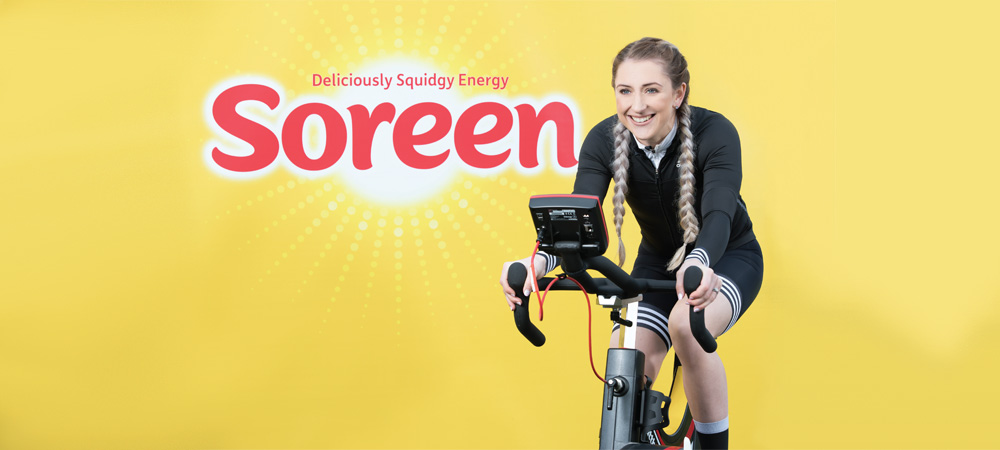 Full of energy
To get the most out of each day the body needs fuel. Now at the age of 80 years old, Soreen is on a mission to provide consumers with delicious energising snacks suitable for all ages and occasions
When John Rahbek Sorensen, originally from Denmark, made the long voyage from Melbourne to the UK in 1920 he brought with him his considerable baking skills which allowed him to expertly
bake every type of cake imaginable. Most famous of all was unquestionably his squidgy 'Sorensen Malt Cake', and 80 years on from its founding the Soreen brand of malt loaf products which derives its name from its creator continues to go from strength-to-strength.
"It was in 1938 that John Sorensen decided he would sell his bakery business to one William Mason in a move that would lead to the formation of Imperial Bakeries Limited and the trading name of Soreen," begins Soreen's Managing Director, Mark Simester. "Remaining in its birthplace of Manchester, where it has been located ever since, Soreen quickly became a hugely popular product in the North West providing a great tasting, value for money source of energy for hard working families."
In the years that followed, the company would go on to be owned by Warburtons. During this time, the brand first appeared on television screens, firstly in the Granada region, gaining a new following, many of whom would come to recognise it for its advertising catchphrase of 'Where's the Soreen, Doreen?'
It was then, in the 1980s, that the marketing efforts of the company turned to promoting the health benefits of Soreen and how the complex carbs contained in each loaf were perfect for providing longer lasting energy. Teaming up with global brands such as Adidas and FIFA, the company's new health campaign targeted causes such as improving the diets of children and encouraging participation in sports.
Lasting appeal
During the course of the next several decades, Soreen would go on to become a sponsor of Bolton Wanderers Football Club in 1999, the official sponsor of Leigh Centurions Rugby team in 2000, and sign a four-year sponsorship deal with Sir Chris Hoy in 2006. Fast forward to 2014, and the company became part of the Samworth Brothers family, with the last four years bringing with it renewed investment and support as Soreen continues down what it calls its 'yellow brick road'.
"Throughout the course of our 80-year journey, the UK public has always retained a soft spot for Soreen," Mark continues. "Taking bits from the bread making and cake making processes, it is a product that falls into its own unique category thanks to its soft, squidgy, indulgent texture and its delicious malty flavor. Operating from our bakery in Trafford Park, our highly skilled and talented team of 140 men and women are responsible for producing two million products per week in various formats, sizes and flavours. These then end up on the shelves of stores throughout the UK and in some 20 different export markets where they are often enjoyed by British ex-pats seeking a taste of home."
Soreen clearly has a lasting appeal, however, as Mark goes on to explain, it is far from a sunset brand, winning new fans with each passing year. "Soreen sales in the last several years have really been on the up, with revenues increasing by some 35 per cent in the previous five years alone, and there are not many mature food and drink brands that can say that at 80 years old," he declares.
"As for the reasons behind this growth spurt, as it were, one of the biggest has been the introduction of small, on-the-go Soreen lunchbox bars in 2012," Mark adds. "Created as an alternative to chocolates or biscuits that children would typically have in their lunchboxes at school, lunchbox loafs are now recommended by Public Health England's Change For Life campaign as an under 100 calorie snack. Individually wrapped and portion controlled, the malt variant of these bars is only 91 calories, and has just 5.1g of sugar and 0.8g of fat per portion, and these nutritional values have proven hugely popular as the health credentials of Soreen have become more widely known."
The long-held perception of Soreen as an indulgent afternoon tea or supper time treat has certainly been transformed as the brand has evolved and been repositioned in the last few decades. "For a lot of people, their first experience of trying Soreen takes them back to a time when they used to visit their grandparents' house, and we want to retain that warmth while at the same time pushing forward Soreen's properties as an energy snack," Mark states. "While the iconic Soreen loaf, which is still often accompanied by lashings of butter or other toppings, will always remain part of our offering, we have listened closely to consumers and it is clear that they are increasingly demanding healthier snack options. For us, Soreen really is the perfect snack in this respect, offering as it does delicious taste with best-in-class nutrition."
Marketing campaign
Being a milestone year for the company, it should come as little surprise that it has taken the opportunity to both celebrate and publicise its 80th birthday. In addition to holding a large family event this past summer for its team and their families, the company has partnered with a number of its large retail customers to deliver in-store displays and promotions. The event has also helped to generate considerable PR opportunities for Soreen, with the likes of ITV News, BBC Northwest News and Channel 4's Food Unwrapped series filming material at its bakery, and with more television appearences to come.
At the time of writing, the company was in the midst of its most successful pre-Halloween season to date, with its new toffee apple and chocolate and blood orange Soreen Halloween Lunchbox products being purchased in abundance, and gearing up for the winter season and the return of its 39hugely popular winter spiced loaf. In the meantime, the behind the scenes transition towards making Soreen a well-known energy snack continues unabated.
"The beginning of 2019 will be a massively important time for us and will mark our biggest ever marketing campaign across television, radio, print and social media, as we look to put out to millions of people across the UK the message that Soreen is a low fat, high energy snack that is lower in sugar than its competitors and can be enjoyed by the whole family," Mark concludes. "We will also continue our long-standing association with sport, partnering with the likes of British Cycling, various cycling brands, and events such as the Tour de Yorkshire and the Tour of Britain, as we work towards our goal of getting more British get on their bikes and enjoying an active lifestyle."