South Bend Chocolate Company produces and sells high-quality chocolate, while supporting its Midwest community.
For 25 years, South Bend Chocolate Company has offered the highest-quality chocolate at the lowest price. Chocolate fans can visit any one of its 17 locations throughout Indiana, as well as one in St. Joseph, Mich., and two in Ohio to purchase truffles, fudge, toffee and more. The company owns 13 of the stores while the other four operate as franchises.
Owner and Founder Mark Tarner says South Bend Chocolate Company is unusual in that it both manufactures its product in an 80,000-square-foot plant and sells it at the retail level. "We roast nuts, we pop our own popcorn, we caramelize our own stuff; we don't outsource anything," he says. "For retail, we make everything in store. We're a fully integrated company. I can't think of anyone that's structured like us. To take a step forward, we took a step back in time. We wanted to focus on quality of life and going back to life with a chocolate shop on every corner."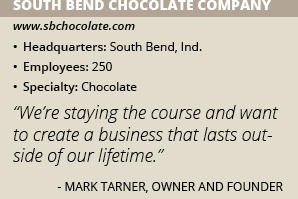 Aside from the physical locations, South Bend Chocolate Company sells wholesale in the United States – with its biggest accounts in New York City and the California Bay Area – along with Canada and England. Tarner says he thinks this will translate into the company becoming more global in the years to come. The company plans to do this by building a new manufacturing plant [where at?] and potentially taking on new partners to grow the business further.
Tarner is a second-generation chocolate maker with his father having started a chocolate company in the 1970s. He worked for his father for several years before deciding he wanted to strike out on his own. He founded South Bend Chocolate Company in 1991, making chocolates under a license from the University of Notre Dame. Its first three products were the Domer, Rockne and Nuts licensed products for the university. Now South Bend Chocolate Company produces more than 500 items, using locally sourced ingredients to support the Midwest.
Being a part of the Midwest and supporting its people are important to the company. But it's also a challenging area to start a business in terms of marketing. South Bend Chocolate Company views marketing as taking it one customer at a time, along with utilizing the name recognition of Notre Dame.
"Indiana is the crossroads, and it's the test market for many companies," Tarner says. "If it's successful here, it can be successful anywhere. The people here are hard to please when it comes to price, quality and service."
25 Years
South Bend Chocolate Company's 10,000-square-foot flagship store is the largest chocolate store in the country, complete with a patio and live music four days a week. Tarner and his wife opened the store by remodeling a house built in 1870 in the heart of downtown South Bend. Since then, Tarner's family has donated to help revitalize the area through funding streetlights and statues and supporting several local charities.
"I'm probably too involved," Tarner says, laughing. "But we were one of the first companies to see our desolate downtown grow with restaurants and shops. Our greatest contribution outside of our work is helping revitalize the downtown area."
Tarner says he couldn't grow the business without the help of the passionate people at South Bend Chocolate Company, including his son and daughter, who both work for the company. He says he tries to create an environment where people want to do something for more than just a paycheck. He also wants his company to reflect the diverse state of the world, which is why 77 percent of his employees are minorities and female.
"I love my job, and I'm very passionate about it and that either attracts or naturally rejects certain types of people," he explains. "People care about each other, and we embrace diversity. We reflect where the country is going to be in 25 years. The mission to work is that we create opportunities and jobs for each other. It's creating a great environment where people can live their life and put their lives into my business."
Tarner has always been very hands-on when it comes to managing South Bend Chocolate Company. He goes to every tradeshow, sends personalized emails to customers and writes handwritten thank-you notes. "When you get a handwritten thank you these days, it's something special," he explains. "People open it and remember it. I was at a show in Miami, and a buyer came up and said, 'Oh, you're the one who sent me a handwritten note!'"
South Bend Chocolate Company will celebrate 25 years with a big party at its flagship location, and the entire town will be invited. But Tarner says he doesn't dwell on anniversaries.
"I see our best years in front of us," he says. "Everyone wants to celebrate but me. I envision creating a business that lasts. I'm not surprised it's been 25 years, but I'm looking forward to seeing 50 or 100 years; to be a company that can create a lot of jobs and be around for a long time. We're staying the course and want to create a business that lasts outside of our lifetime."