Cream of the crop
Over 80 years since its founding, South Caernarfon Creameries remains dedicated to local Welsh produce and its flagship 'Dragon' brand
The South Caernarfon Creameries (SCC) story began back in 1938, with John Owen Roberts. As the company's founder, he was on a mission to help local dairy farmers work together in order to brand and market their own milk. From his original group, a modest collection of 63 local farmers, SCC grew over the next eight decades into Wales's largest dairy co-operative. To this day, the company stays true to its Welsh heritage by only processing Welsh milk, and ensuring the Welsh language is featured on the packaging of each and every product produced under its Dragon brand.
"The site for the Creamery was carefully chosen. Rhydygwystl was selected due to its convenient location, being on the border between Llyn and Eifionydd. These two areas of North West Wales continue to be renowned for their grass growing capabilities, as they enjoy mild drifts from the gulf streams of the Atlantic," explains Managing Director, Alan Wyn Jones.
"There was an old woolen mill on the site, which is where the laboratory stands today. It provided the ideal space to house milk processing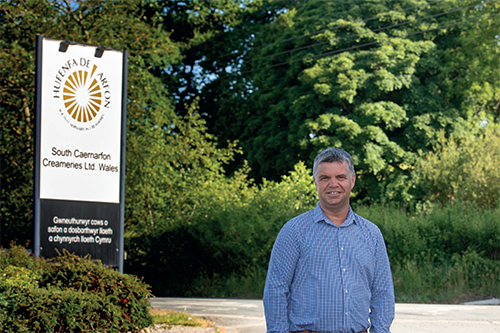 equipment, as well as the very first pasteurizer in the country. Even in its infancy, the directors knew the advantages of investing in the best and most modern technology of the time; this is something that the company still practices today," he adds.
In the 1950s, milk production reached a record high, and the co-operative leaders decided to start making cheese in order to use up the excess milk. The growth trend has continued to this day, with 15,000 tons of cheese now being produced annually.
Today, SCC offers a range of products, which are available across the UK. "Our current range is extensive: we offer a choice of Cheddars, from mild and creamy, to vintage cheeses that are matured on site for up to 18 months. In addition, we offer traditional territorial cheeses such as Double Gloucester, Red Leicester and, of course, Welsh Caerphilly. To meet people's dietary requirements, we also developed lighter cheddar, which was launched in 2012. Our lighter cheese is 30 percent lower in fat than the standard Dragon mature cheese range, and now we offer a half fat option too," says Alan.
The Welsh environment plays an important role in producing South Caernarfon Creameries' cheese and butter. As Alan confirms: "Monitoring our environmental impact is a key area for us, and we are repeatedly investing in our green credentials. We are continually working towards successfully managing, and minimizing, our environmental impact, and we are integrating sustainable business practices into our everyday operations. Last year we achieved 'Level Three' of the Welsh Green Dragon Environmental standard, and are now working towards 'Level Four'."
One product that epitomizes how the company works in harmony with the Welsh countryside is its unique Cavern Aged Cheddar: "This cheese is made to a special bespoke recipe, and matured for a minimum of 11 months," reveals Alan. "It is then transported from the Creameries to local Welsh Slate Caverns, an UNESCO World Heritage Site and continues to age 500 feet underground. This traditional ageing process takes place in old mining caverns, which have been converted into cheese caves. This process adds unique characteristics to the taste and texture of our cheese.
"We were inspired to develop a signature cheese that enhanced our great cheddar and made it into a truly delicious and different product. Cavern Cheddar has true provenance, and its story is steeped in Welsh history."
Alongside the cheese caves, SCC also makes use of some more conventional production facilities: "Unlike many cheese companies these days, all of our cheese is produced and packaged on site. Our flexible manufacturing system is able to make a range of different cheeses to meet the demands of our customers, and milk is delivered direct to site from our members' farms to be processed," Alan states.
"Additionally, we continue to store and mature our cheese on site, in order to monitor the maturation process, and ensure we deliver the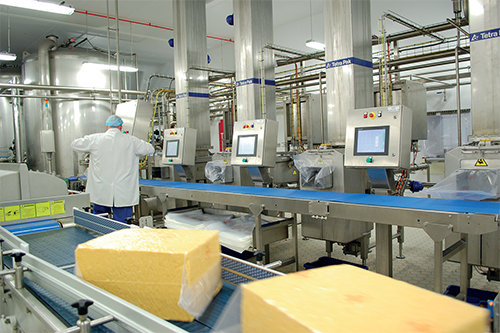 highest quality cheeses possible."
Made up of over 140 farms, SCC is a dedicated network of farmers and workers, who in many cases have generational relationships with one another. "We have close bonds with all our farmers, and we know that they really care about their herds and the milk they produce. All of our members are Red Tractor assured, and work hard to conserve the Welsh countryside. The cows graze on lush grass and enjoy some of the most spectacular views that Wales has to offer – including the Llyn Peninsula and Snowdonia National Park," affirms Alan.
The people behind SCC are also integral to its success, as Alan speaks to the company's positive inter-personal dynamic: "Our business is only as good as the people who work for it, which is why company culture is so important," he says.
"The key to this success is an open management style, a positive working environment, competitive salaries and employee benefits, training and job promotion opportunities, and good communication with clearly defined expectations. Our farmers work together, have a say in their future and that of the Creamery. As our members, they do not just supply us with milk they also own a share in the company," he continues.
Thanks to the dedication of its farmer network, South Caernarfon Creameries continues to grow. "Our three-year, £14.4 million expansion plan will increase cheese production by a further 50 percent, and create some 30 additional roles by 2024," Alan explains.
"The Welsh Government is backing the investment with a £5 million grant from the Rural Communities' Rural Development Program. The creamery will increase production from its current level of 15,000 tons of cheese a year to 23,000 tons, and the growth is projected to increase demand for Welsh milk, from the current level of 130 million to more than 200 million liters a year as turnover ramps up," he adds.
With 80 years of success under its belt, and further expansion on the horizon, South Caernarfon Creameries hopes to move further into the European market; as Alan announces: "We are working closely with our export partners, who will help us identify key customers in our target markets, therefore enabling us to forge strong relationships, and deliver quality Welsh cheese to the continent.
"We hope to expand by operating a balanced market portfolio, which will allow us to quickly take advantage of any new opportunities, whilst also reducing business risk. Currently export makes up approximately five percent of our market portfolio, something we're hoping to grow to 15 percent over the next five years."
The company's long-term plans are even more impressive, as Alan reveals: "Following our £11 million investment back in 2016 and our planned £14m investment over the next few years, we aim to become the leading mid-tier cheese manufacturer in the UK. Sustainability and environmental performance will be at the heart of what we do in order to achieve our objectives.
"Having already more than doubled our turnover and profitability in the last five years, our medium-term objective is to deliver on our ambitious growth targets from £60 million to £85 million over the next three years. We also aim to continue delivering the best milk manufacturing price in Wales to our farmers and provide sustainable opportunities to our wider stakeholders," he concludes.
www.sccwales.co.uk
www.dragonwales.co.uk