Southern Eagle Distributing
For President Philip A. Busch, his company's ranking last year as one of the top-30 Anheuser-Busch distributors out of 550 nationwide was a sure sign that Southern Eagle Distributing is progressing into the very motto their team lives by: "to be the greatest beverage company in the eyes of all of our retailers and customers, but until then, we all have more work to do."
The Fort Pierce, Fla., company services some 1,300 accounts, including restaurants, bars and other fine retailers. Busch himself comes from a family of beer lineage. He is the great-great-grandson of Adolphus Busch, who started the Anheuser-Busch Co. in the 1860s. Among Adolphus Busch's contributions was the introduction of pasteurization, laying the groundwork for the modern success of Anheuser-Busch Co.
Busch's father, Peter W. Busch, purchased Southern Eagle Distributing in 1984 with 28 employees, eight SKU's and 800,000 cases with a 34 percent market share. Peter Busch grew the company over the past 30 years to a four million case distributor with 690 SKU's, 150 employees and 73 percent market share. After Peter Busch's retirement in 2012, Philip Busch assumed the role of president and has achieved great success in a short amount of time.
Southern Eagle advanced from Anheuser-Busch distributors' silver tier to gold status and achieved its "Ambassador of Excellence" (AOE) award in 2013.
Changing Tastes
The modern beer marketplace is shifting quickly, and craft beer brands and breweries are surging. Although Southern Eagle remains loyal to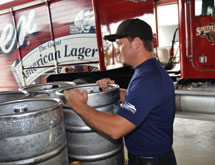 Anheuser-Busch – which still accounts for 88 percent of its business – Southern Eagle is focusing more attention on craft brands, developing and reinforcing relationships with local breweries and taking this movement seriously, Busch explains.
"I don't think anyone can take the craft brewing movement as a joke," he says. "Southern Eagle has seen double digit growth within this category. People are now enjoying more varieties, as well as the local breweries who brew them."
An Important Role
Some might underestimate the importance of beer distributors, thinking of them solely as middlemen, but Busch highlights the important role that companies such as his play.
Southern Eagle has taken pride in giving back to the community that has facilitated in growing its business to what it is today.
Since 1984, SED has donated to numerous organizations within the community. These donations have helped more than 75 different causes including military, city restoration, child abuse, food for the hungry, medical care for the sick or injured, community projects, animal rehabilitation and many more.
Distributors must also stay on top of federal, state and local regulations as protecting the community is a high priority for Southern Eagle.
It works with local law enforcement to run PSA's during peak consumption times of their alcoholic beverage portfolio and provide programs like Street Smart for local schools to educate students on alcohol/drug abuse, texting while driving and all-around appropriate behavior.
Given the success within the Busch family, Southern Eagle is on a clear path to becoming the greatest beverage company around. It starts with its leadership and will continue to trickle down to all levels within their company.
"Everyone should be working together as one team, knowing each other's ultimate goals," Busch says. "We are going above and beyond for our employees and we ask the same. In return, they can expect not only to be appreciated, but be rewarded for outstanding performance. We are one team with one dream."