Southern Foodservice has a broad reach with its dining services.
When Southern Foodservice Management Inc. manages an onsite dining program, it does so with a "tailored" approach. "With each client, we listen closely, observe then develop a tailored program that fits their specific needs," President Mike Barclay says. "That allows us to have success with a large variety of the onsite dining venues in our industry, whether it's a manufacturing plant, federal building, private school, bank headquarters, military base or a zoo."
Based in Birmingham, Ala., Southern Foodservice provides onsite dining services for clients in the business, industry, education, sports and leisure, and government markets. Barclay notes that Birmingham's McDorman, Berry and Liles families started the company in the 1950s, after one family began by operating a restaurant in downtown Birmingham.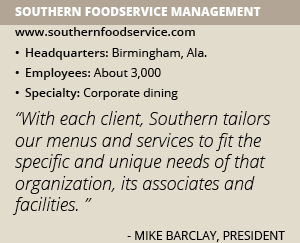 The business then branched out by providing onsite services for local manufacturing and corporate facilities. After the company experienced success in the Alabama area, "That led to the addition of government and corporate clients around the Southeast then eventually on a national level," Barclay explains.
Southern Foodservice serves clients in 19 states today. "In September, we'll be [up to] 86 operations around the country," he says, noting that the company projects to generate sales of approximately $90 million this year.
At the same time, Southern's No. 1 focus is client retention, Barclay asserts. "Some people believe a private corporation like this should focus strongly on profits," he says. "However, what has led to Southern's success is a clear focus on recruiting the right people who then do the right things each and every day allowing the company to retain its accounts and grow the business each year."
Southern Foodservice's clients recognize its hard work. "Our company has been recognized by the U.S government their operator of the year in federal building dining services," he says. Barclay himself recently won the International Foodservice Manufacturers Association's 2016 Silver Plate Award.
"It's a tremendous recognition for our industry," he says. "and I'm honored to have received this award for the Southern Team."
Fitting Needs
Southern Foodservice strives to implement innovative products and tailored solutions for its clients, Barclay says. Among its latest additions include unmanned micro markets. With this concept, "You have a wider variety of products offered and everything is self-served, including payment for your meal," he explains. "Our customers swipe their card [to pay] then out they exit promptly with exactly what they came to get."
Another industry innovation gaining Southern's interest is the return of food trucks which can operate in connection with other services on corporate and other campuses. "The modern trucks enable offerings to be delivered to facilities and areas which otherwise might be limited solely to vending services," he says.
These innovations help Southern Foodservice stay flexible with its services, which is yet another important factor in its success, Barclay asserts. "We don't have one answer that fits all our clients, other than flexibility," he says.
Key Components
Southern Foodservice constantly strives to strengthen and sustain its Team. "In my opinion, Human Resources has always been the No. 1 challenge in our industry," Barclay says. "How do you recruit, develop and retain skilled people in the world of onsite dining. One of the keys to achieving those goals is to constantly find ways to allow movement up the ladder for those interested in doing so your organization. Success for your staff means success for your client and your company.
"We're very proud to have people who stay with us a long, long time," he says, noting that individual members of its regional and executive management team average over two decades with the company. "Our daily goal is to recruit people who are willing to buy into Southern's strategy, which is 'something extra in onsite dining,' then assist them with accomplishing just that."
Southern is fortunate to have a lot of All Stars including Senior Vice President – Operations Fred Hoefer, who has been with the company for nearly 35 years. "Fred is a Cornell grad and a true industry professional who is a key component of the Southern management structure," Barclay says.
Making People Happy
Customer service training is an important part of Southern Foodservice's operations, particularly in the areas of safety and sanitation, Barclay says. "One of our favorite staff training programs is FISH, [which] reminds Southern employees every day to not only show up but to choose the right attitude, enjoy the day and help make each customer enjoy his or her experience in the dining facility," he says.
"FISH has several tools that teach employees to engage their customers and to make them comfortable with their visit to the dining facility. So, servers are not just glancing at the customers then looking at the floor while serving," he says. "The most unique thing for the onsite dining industry is (for the most part) we're feeding the same people each and every day.
"It would be easy for those same customers to become bored if you're not making them feel good about what they're eating, how they're being treated and the positive environment they're in," he says. "In the at-work dining venue, we must work hard to keep our client's employees interested in visiting the cafeteria regularly instead of jumping in the car and heading to a drive-through operation."
A Comfortable Place
Southern Foodservice operates with a family environment, Barclay says. "My day-to-day experience at corporate headquarters here is very much like what we try to create in the operations environment, [with] everyone pulling in the same direction," he says.
"We recognize staff members for their "something extra" efforts and also for their growing tenure with Southern," he says. This helps makes people comfortable with being a Team Member for Southern Foodservice and comfortable with each other. And that helps achieve consistently solid operating results and company growth.
Barclay sees a strong future for Southern Foodservice. "While (in many ways) our industry is … evolving at a faster rate these days, primary challenges like human resources are always going to be in front of us," he says. "We must continue to evolve [and] stay up to speed on our clients' needs and what Southern and the onsite dining industry must do to fully address those needs."
Barclay plans to attend the Society for Hospitality and Foodservice Management's national conference in Phoenix this fall. This annual event is yet another tool which has helped keep Southern Foodservice "in touch with what's going on in the onsite dining industry," he says.
The company also will stay focused on its three primary goals, Barclay adds. "The first is client retention, the second is client additions and the third is solid operating results," he concludes.